What's Your Workplace Sick Leave Policy Missing?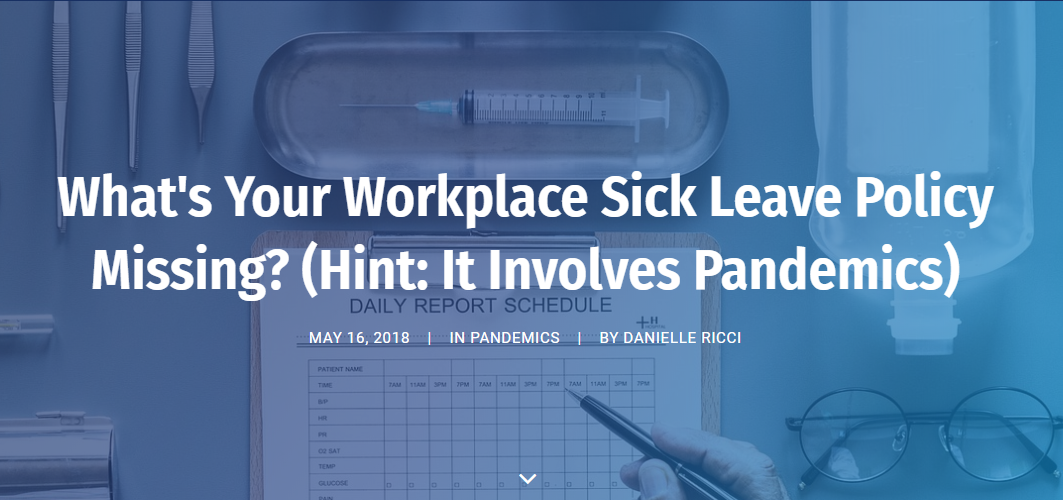 All companies have a sick leave policy that addresses the standard illness or injuries. But how frequently do you see a sick leave policy that factors in what the business will do if there's a major outbreak? The possibility of a pandemic, like the influenza virus, is certainly real and should be acknowledged and planned for in your sick leave policy.
The UK National Risk Register estimates that the odds of a major pandemic occurring in the next five years are between 1-in-20 and 1-in-2. With that forecast in mind, this is the time for emergency preparedness and human resources professionals to work together to update their company's sick leave policy.
What Is Your Duty of Care?
During a recent AlertFind webinar, emergency preparedness and business continuity expert Robert A. Clark said companies owe a duty of care to their employees in the event of a pandemic. He added, however, that the duty should not end there.
"A responsible company should consider not just its employees, but anyone who comes into contact with them – such as their customers and suppliers," he said. "They should encourage employees and visitors to their premises to follow proper coughing and sneezing etiquette. This includes sneezing into our elbows, for example, and using paper towels to dry your hands, because there is a major exposure risk."
He also said companies need to be meticulous about cleaning and sanitizing common spots like door handles, key entry security pads, elevator buttons, escalators, toilet seats and other office equipment.
"The average keyboard is 400 times more infected than toilet seats. Common areas like break rooms and refrigerators are particularly dangerous when it comes to spreading influenza because people regularly touch them," Clark said. "You cannot completely mitigate the risk of disease transmission but regular cleaning can make a huge difference in preventing infection."
Be Proactive About Absence Management
As previously discussed, wide-scale absenteeism is a byproduct of a pandemic. Human resources departments should collaborate with local emergency and health services to determine when to activate their absence management program; triggers often include when the work location is closed, cannot be reached (by mass transportation, for example) or when a certain percentage of employees or the general public are ill. In even worse cases, it would be when there is a curfew or travel restrictions placed on the city.
The sick leave policy and absence management program should address options for remote work and social distancing as well as provisions for employees who need to care for family members. Additionally, it should take a pragmatic view of when employees should return to work.
"Develop policies that do not penalize sick employees. If you're encouraging employees who have influenza to come back as soon as possible, they can still infect others if they feel pressure to return. You need to allow time for the infection to run its course," Clark said. The CDC and other agencies, he added, will make information available about the expected duration of an outbreak or pandemic.
Pandemics can claim lives very quickly. In one case late last year, a woman died of the flu only 24 hours after her diagnosis. Your planning should include how to handle a rapid escalation in your employee absences.
Start Preemptive Planning Now
Promoting employee health year-round is also a key part of your sick leave policy. Start by establishing a flu clinic just before the start of each flu season. It will take some time and resources, but most employees will be glad to take 10 minutes during their workday to get a free vaccination administered by a healthcare professional.
With a healthy workforce, you can better ensure that you meet what Clark describes as the "minimum business continuity objective." Post-pandemic, "your organization could survive working at maybe 20% or 50% of its normal capacity for a period of time," he said.
As populations and businesses expand, pandemics become a greater risk and planning for employees absences will help protect your business operations.
For more insight from Bob Clark about how a pandemic can impact your organization, watch the recent webinar, "Pandemics: Preparing For Business's Next Big Threat."
Unlike other ENS providers, AlertFind offers a simple and affordable plan structure, giving customers the choice between Unlimited Messages or Unlimited Users—which means you can scale your usage at any time without ever worrying about additional costs. This unmatched affordability, combined with comprehensive features and functionality, makes AlertFind your one-stop solution for maintaining safety and business continuity whenever disaster strikes.
More on