Why you should enter your organization in the BCI Regional Awards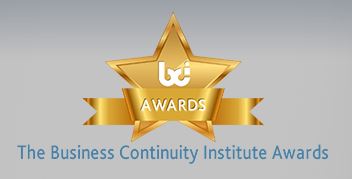 The BCI Awards celebrate excellence in business continuity & resilience. It's the most prestigious event in the business continuity calendar, honouring organizations and professionals worldwide.
Why enter?
Entering your organization is not only a great way to celebrate but to acknowledge your achievements and to be recognised for your outstanding contributions of business continuity, risk and resilience in the industry.
It is also a great way to:
1. Reward employees and motivate your team
Winning awards are a great way to recognise the hard work achieved as a team and can be a huge confidence boost for your employees.
2. An opportunity to attract new talent
Who doesn't want to work for an award-winning organization? Winning awards can provide external validation and credibility within the industry.
3. Stand out amongst competition
Awards create the perfect platform to share your success with the wider industry as well as benchmark your work.
And that's not all…Regional Award Winners are automatically entered into the BCI Global Awards, which coincides with the annual BCI World Conference & Exhibition in November.
You can enter your organization in the following categories:
Your organization, or your client's organization, has suffered significantly from the impact of an incident or crisis and managed to 'bounce back' and demonstrate resilience.
The judges will be looking at how effective the recovery was based on the quality of the planning, response that led to the effective recovery and the enhanced resilience level achieved as a result. Evidence should be provided on how effective the organization's business continuity arrangements were in surviving the disruption, what lessons were learnt during the process and how these lessons will help to continually improve and enhance ongoing levels of resilience within the organization.
Continuity and Resilience Team
This category is specifically for teams working in continuity and resilience with dedicated members within large organizations.
The judges will be looking at how well the team is led, how the team works together but also at how it works across all disciplines within the organization. Major challenges that the team has faced, and how these were dealt with, would add weight to entries. Evidence of implementing business continuity and improving organizational resilience should be provided as part of the entry. Please include an outline of the team profile, their experience and their performance.
Continuity and Resilience Provider (Service/Provider)
The winner of this Award will be recognised as providing an outstanding service, or product, relevant to the continuity and resilience profession. The type of service may include but is not limited to: training and education; IT disaster recovery services; physical disaster recovery services; consultancy and advisory services and auditing that contributes to good practice in the industry. Products may include, but are not limited to: hardware, software, automated notification systems, tools, templates, publications or events that support and contribute good practice in the industry.
The judges will be looking for a first-class service or product backed up with excellent customer feedback and support. Three customer references must form part of this application.
Continuity and Resilience Innovation
In this category, the judges will consider innovations which must be a new commercial product or service, or an in-house initiative developed to help deliver a more effective continuity and resilience programme.
The judges will be looking to see how the innovation, which must have been launched in the past 12 months, is being used to practical advantage by customers or colleagues. Three customer or colleague references must form part of this.
For more details on how to enter the BCI Awards, please click here.
More on