BCI Pandemic Recovery Course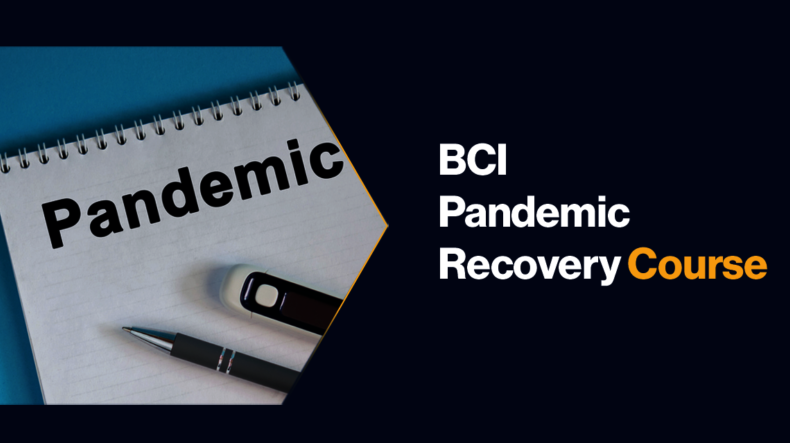 None of us have ever seen anything before like the current COVID-19 pandemic crisis. It's stretched many organizations to breaking point and beyond. Even those organizations with tried and tested Business Continuity arrangements and plans for generic pandemic scenarios have struggled to adapt to the sheer scale of COVID-19 - leading to us into the most dynamic, real-time emergency any organization - large or small - has faced!
This new BCI course is designed to help organizations of any size or sector to look ahead and start to take stock of their organization's current position, and to define the new norms that will emerge from the COVID-19 pandemic. It will also help you plan a return to profitable operations so your business can play its full part in the recovery of the global economy.
Who is this course for?
The course is for business continuity professionals and teams that are involved in planning for the implementation of robust return to work policies and developing continuity processes for systems that have undergone intensive and sudden change.
This course is also applicable to those who manage or own SMEs with some prior knowledge of business continuity that need to plan for their recovery
What does the course cover?
The course is broken down into four modules, exploring the concept of recovery as well as the practical application using a number of different organizational starting points (e.g. a front-line organization, a moth-balled organization, a re-purposed organization etc.). It takes a practical, non-theoretical approach and you can use your own organization as a case study.
Modules:
Module 1: The Business Continuity challenges of COVID-19 - Ability to recognize the different types of business continuity challenges that COVID-19 poses to a business, so that their specific impacts can be determined.
Module 2: Understanding the post-pandemic environment - Be able to use a range of business planning tools to anticipate the future internal and external environment for the business.
Module 3: Understanding the current organizational situation - Ability to analyse the current situation of the business. Understand how leadership teams will look at strategy using tools such a SWOT, PESTLE and SIPOC etc.
Module 4: Planning the restoration of the new normal business - Understand the different processes involved in the restoration including introduction to stakeholder engagement, communication, and organizational change management.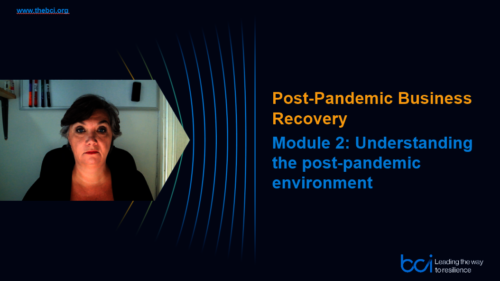 How is the course delivered?
Each module is delivered via a pre-recorded webcast, it contains a full slide deck and narration by Dr Sandy Bell. The course comes with PDF to complete notes, and in each module there are exercises to get you thinking about your own organization's recovery.
Please note that once purchased you will be sent an access email that will usually take up to 1 working day (UK office times) to arrive.