Case study: Ross-on-Wye Town Council Hotline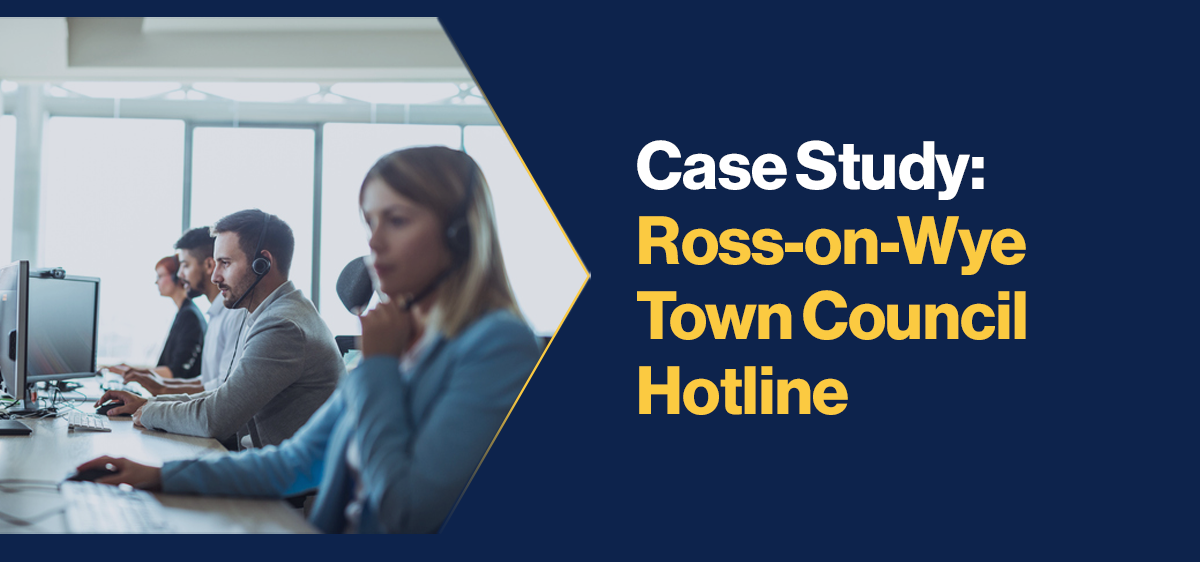 Ross-on-Wye is a pretty English market town with a population of around 10,000. It sits in the Wye Valley, an area of outstanding natural beauty, and in normal times is popular with tourists during the summer months. Ross is also home to a large community of retired people. Ross-on-Wye Town Council is the most local level of government, and is chaired by the Mayor, Councillor Jane Roberts, who is also chair of the Ross-on-Wye Community Development Trust.
The problem
When Covid-19 struck, a simple way for vulnerable and isolated residents to make contact if they needed assistance was needed. Not a channel for emergencies, but rather a place where people could request grocery deliveries, get a dog walked or perhaps simply link up for a chat.
They asked the newly-established Community Development Trust to help, but they, like the Town Council, didn't have access to anything but simple voicemail systems with no form of message management, and which can't easily be accessed remotely.
The solution
Through the Community Development Trust volunteer network Sentinel Hotline was identified as the most likely solution and was provided to the Town Council free of charge by Yudu for three months.
Councillor Jane Roberts, Mayor of Ross-on-Wye, said:
"The Ross Community Development Trust is a new charity that had minimal access to funds so the ability to use Sentinel Hotline has really kick-started our Good Neighbour Scheme and enabled us to be a great help to the elderly and isolated in our community who do not have internet access. We are grateful to Yudu for their responsiveness, and for being able to have access to such a new and effective system at this time."
Typically, Hotline is used to reach out to an organisation's audiences with updates and messages. Ross Community Development Trust are using it as a sophisticated message management system to meet the Town Council's needs. A phone-based system was deemed important as not all older people have smartphones or any access to the internet.
The Hotline coordinator in Ross said:
"Sentinel Hotline is unobtrusively enabling us to provide an excellent service from a completely novice team of volunteers, really doing what we want without drama. Really impressive was that from initial conversation with Yudu to actually taking calls before the lockdown was a matter of days."
The Community Development Trust has publicised their Hotline standard-rate phone number which people can call. Hotline allows the caller to leave a message requesting support. Hundreds of calls have come in with volunteers phoning back during office hours and weekends to discuss and process requirements.
Because Hotline can be accessed remotely those tasked with picking up the messages are able to work from home and can action requests while at the same time maintaining social distancing. Something they couldn't have done, had they attempted to use the council switchboard or even the IT Suite made available to the Community Development Trust.
Even if callers are unable to leave a message the number is logged, and a volunteer calls back if only to check their well-being.
Contained within the Hotline dashboard is a page where volunteers and administrators can take notes on who messages were passed to, what action was taken and to log the fact that the call has been actioned successfully.
The Hotline has also received messages from friends and relatives who live outside the area who have been unable to do the usual shopping for elderly parents, asking if someone can check they are safe and have all they need. The Hotline is also taking messages from the NHS and Herefordshire Council as being the most effective means of transferring responsibility to the local level.
Ross-on-Wye Community Development Trust and Town Council has found a new and innovative way to use Hotline which is proving very successful. They are considering how it might support their Good Neighbour Scheme once the current health emergency is over.