Coronavirus and Organizational Resilience: What you need to do right now to make sure you are prepared for a new normal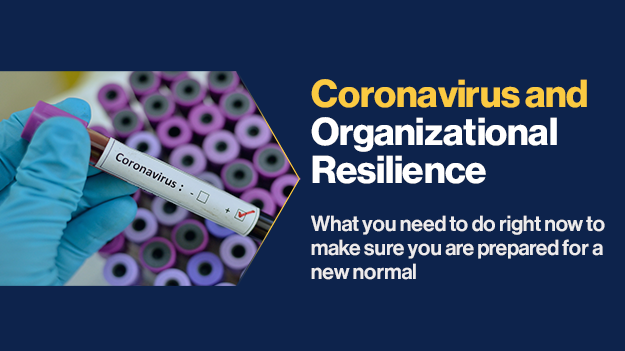 Every global crisis leaves a legacy. Some of the changes are short term, surviving only as long as the collective memory. Some of the changes are localized and related to specific traumatic or heroic events. But many changes are long-term and structural, impacting both how we live our lives and how business is done.
Although it may seem premature or selfish to think about how to leverage competitive advantage in a post COVID-19 world especially as the death toll continues to rise, a vaccine is many months away and we are being warned that the economy will be precarious for well over a year, but this is exactly what organizations need to be doing right now.
Being resilient as an organization means being able to absorb and adapt to survive and prosper. Over the past few weeks, we have seen some great survival examples, the vast majority enabled through the discipline of Business Continuity. At the onset of disruption, well prepared organisations had already agreed priorities and knew how to continue and protect their value creating operations. This allowed them to almost seamlessly transition to alternative ways of working such as homeworking and alternative distribution models. As the disruption continues, we see governments stepping in to provide packages of measures to help businesses cope with the consequences of government imposed measures such as "lockdowns" and "social distancing" designed to save lives and delay the spread of the virus.
However, this acute phase will end and if we are to avoid a severe and long-term economic recession, organisations need to make sure that they can not only survive the current situation but are well positioned for the environment that emerges.
So – what is this new normal likely to look like and what can businesses do to prepare for it?
The first change is likely to be a rapid acceleration of digitalisation. Many organisations have been on a digital transformation journey for several years. However, the vast majority of transformations have been driven by a wish to reduce costs and increase IT reliability and are best described as digitisation as opposed to digitalisation. Digitisation involves keeping the business outcome and process essentially the same but converting analogue to digital. For example, moving from newspapers to online news websites or storing contracts in digital form rather than in a filing cabinet. Digitalisation involves doing completely different things facilitated by technology. For example, working and meeting remotely, e-commerce etc.
Working from home (sometimes known as teleworking) is not universally popular[1]. People are social animals and corporate value creation usually relies on cooperation. Having people in one place facilitates organisational and personal activities, such as management and social interaction, to take place to foster mutual trust and responsibility. Likewise, it allows the easy mobilisation of information fuelling knowledge and creativity[2].
However, the various social distancing strategies that are being deployed due to coronavirus has forced people to work from home, and over the past few weeks we have seen an explosion of innovation around virtual meetings and knowledge sharing. Collaboration tools that were hitherto confined to tech savvy early adopters have now become mainstream while people experiment with new ways of doing business.
It is highly unlikely that people, and businesses alike, will want to return to pre-coronavirus patterns of working due to the enhanced work-life balance, reduced carbon footprint, and increased collaboration they have found by being forced to innovate with digitalization. This change will therefore open up new business opportunities that could transform many sectors including education, health and social care where travel restrictions and closures will have rapidly accelerated moves toward on-line delivery.
The second change is likely to be a re-think of supply chains. COVID-19 has brought into sharp focus the dangers of relying heavily or solely on factories localized in single countries. For example, China is now the developmental base of choice for sectors such as big data, cloud computing, smart grid, renewable energy and alternative energy vehicles[3], and over the past 18 years it has more than doubled its share of trade with the rest of the world and now represents 16% of world GDP[4]. Yet many global companies are unaware of all the locations and companies within their hyper-extended Asian supply chains and therefore unaware of their risk exposure. At the time of writing, the Chinese government has quarantined approximately 50% of the population which will undoubtedly have a negative and sustained impact throughout the world.
Resilient organizations will find a way to mitigate the negative impact and, as we know that innovation and manufacturing are closely related, we will probably see an upsurge of manufacturing throughout the world which, although largely positive, will no doubt hit China's economy hard.
A third change is likely to be an increase in public health awareness and civic responsibility. Hong Kong was at the epicenter of the 2003 SARS outbreak and the traumatic experience has resulted in long term behavioral changes[5]. Surgical masks are a common sight, people often use tissues to open doors and the disinfection regimes of public places are scrupulously maintained and widely communicated. Unlike SARS, the traumatic experiences associated with COVID-19 are on a global scale, suggesting that the types of behavioral changes seen in Hong Kong and the associated business adaptions and opportunities will also become global.
Likewise, business adaption and opportunity are also likely to stem from increased government spending on healthcare. The global macroeconomic impacts of COVID-19 are predicted to be unprecedented and many commentators are suggesting that it will promote greater investment in public health systems particularly in less developed countries[6].
What do organizations need to do now to ensure they are in the best possible position for the environment that emerges?
Survive: This may seem like a trite and obvious thing to say, but the next few months are going to be extremely tough on business and survival will require sustained effort. You will need to deal with reduced staff numbers, supply shortages and demand downturns due to measures such as "lockdowns" designed to preserve life. Any Business Continuity planning that has been done in the past will provide a great foundation but the executives of your organisation will need to be agile and prepared to fight their corner. To focus attention – put someone in charge and make sure they are supported with relevant information and empowered to make, and implement, rapid strategic decisions.
Understand in detail how your business works: As part of any Business Continuity activity a Business Impact Analysis (BIA) should have been done that analyses priority activities and the impact of a disruption on them. This is a good start – but you need to expand to all activities and dependencies and dig right down into your supply chain and up into your demand. You may have employed consultants in the past to help with performance improvement – get in touch with them as they will have carried out an analysis phase, the results of which will prove invaluable for mapping the business changes required for the new normal that emerges.
Collaborate: Consider convening regular meetings with your supply base and customer representatives where you can pool ideas with the other businesses and create joint opportunities.
Plan for success: Set up a team whose sole responsibility is to optimise the business post COVID-19.
References
More on
About the author

CEO & Founder The Business Resilience Company