Coronavirus: Organizational Preparedness - Learnings from our fortnightly survey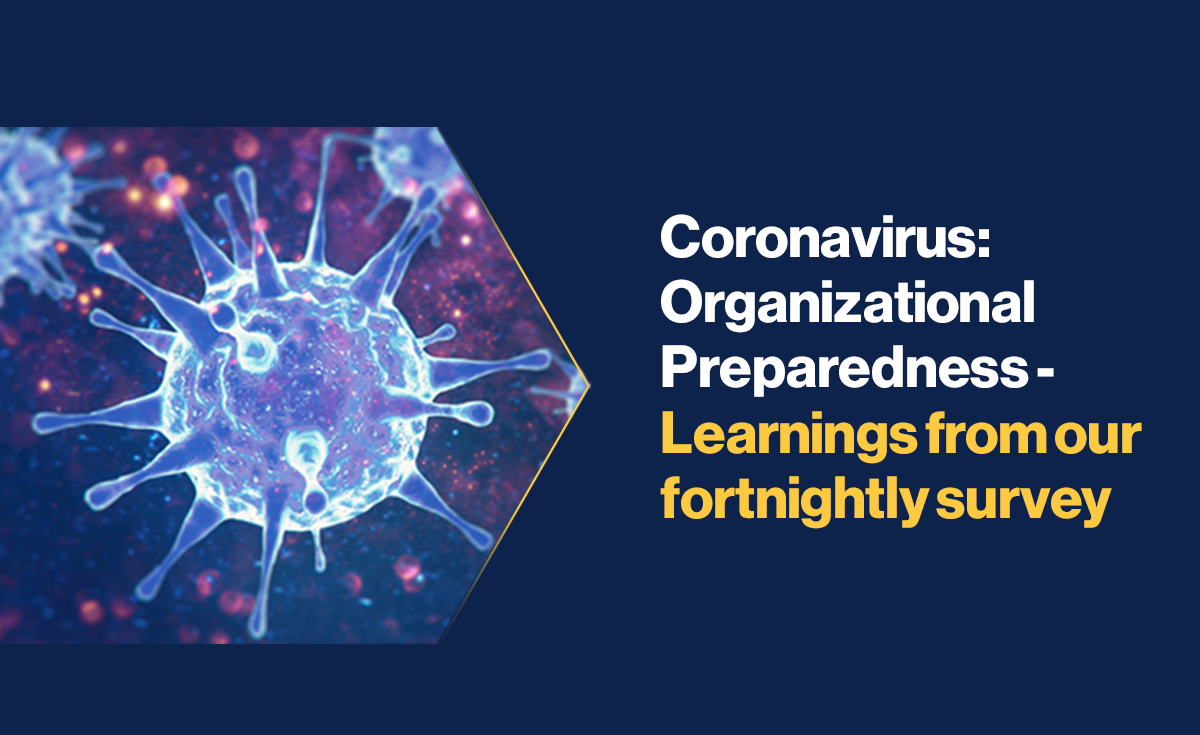 When news of Coronavirus first hit the press on 1st January 2020, there was little palpable concern about the virus which, at least for the time being, appeared to be a flu-like illness confined to a small part of China.
However, in just a few weeks the virus started to spread globally and as schools, factories started to close, and global supply chains started to be affected, it soon became clear that the COVID-19 was going to result into a global crisis. At the beginning of April, COVID-19 had caused the death of over 70,000 people worldwide – and it is still far from being under control.
Since the start of the pandemic, news has focused on individual government response to the pandemic, the epidemiology and the illness, and how countries' healthcare systems are coping with the virus. Meanwhile, organizations started forming their internal guidelines, based on the information available from the WHO and the guidelines provided by the local governments.
In this process, one of the major questions was: should organizations look at what their peers were doing in other countries where the pandemic hit earlier? Or should they take a more relaxed attitude in order to stop the panic amongst staff?
To try and address this and other questions that were arising from specific issues – such as HR, supply chain, travel, technology and business continuity arrangements - the BCI launched its first COVID-19 Organizational Preparedness Survey.
The intention was to of run the survey every two weeks to determine the measures that organizations were taking to deal with the pandemic. The survey questions would be also adapted according to the stage of the global pandemic, with the final updates focusing on recovery and getting back to 'business as usual', albeit in a very different world.
At the start of the pandemic, 'company survival' was put ahead of staff wellbeing, but organizations are now increasingly putting their employees' wellbeing at the top of the agenda.
The first report, published on 19th March, showed mixed views of preparedness. At this point, two-thirds (66.4%) of organizations had implemented a work-from-home policy for some employees, and a similar proportion (67.0%) had introduced policies to allow quarantining staff to work from home. However, when it came to measures geared to helping employees with family arrangements, the picture was less rosy: only just over half (58.4%) of organizations were allowing staff time off to look after children and less than half (49.7%) were allowing staff time off to care for sick relatives.
This picture changed dramatically to the positive within a fortnight. The results from 3rd April showed that over four in five organizations (81.3%) were allowing staff to fit work around childcare duties, and nearly three-quarters (70.6%) were allowing staff time off to care for sick relatives.
The pandemic hit organizations with very little warning, and many rushed into survival mode almost immediately without considering how it would impact the mental wellbeing of their staff. However, as companies settled into a new normality, the psychological issues associated with isolation started to be more widely discussed - with Forbes, the British Medical Journal and Personnel Today all picking up on the issue.
Organizations are adapting their plans to accommodate for such issues, but there is still some way to go. In the most recent report from 3rd April, just 57.8% of organizations has considered the psychological aspects of COVID-19 as part of their response plan.
Interestingly, the psychological elements of response are more considered in North America than anywhere else in the world. 72.2% of North American organizations have considered the psychological aspects of COVID-19 in their response plans. We also noted that a higher proportion of organizations in North America are allowing staff to work flexibly to look after children who are affected by school closures (82.5%) and also allowing staff time off to care for sick relatives (73.0%).
Technology is helping organizations to thrive despite offices being closed – although some were slow to react.
Organizations have increasingly embraced technology in order to facilitate working practices, with 99.7% of organizations now moving meetings to conference calls and/or videoconferencing where appropriate; up from 87.4% two weeks ago. With many videoconferencing providers now offering free services to all or limited customer groups during the pandemic, smaller organizations are also now able to embrace the benefits of videoconferencing services which may have been cost prohibitive before the pandemic.
At the start of the pandemic, many organizations struggled to get staff working from home effectively in a reasonable timeframe. For example, in the call centre industry around 10-20% of staff typically worked from home and many organizations struggled to get laptops rolled out to staff in time to adhere to government guidelines advising all non-essential workers should work from home . Furthermore, many organizations have been unable to purchase new equipment to for workers as hardware items have been selling out.
With a large number of staff working remotely, cyber-security has been also high up in the agenda for organizations. Encouragingly, most organizations have adopted appropriate measures: 88.9% have ensured remote staff have acceptable cyber-security arrangements in place, and 86.1% have reviewed arrangements to ensure security in case of mass staff absences.
Whilst this is a substantial improvement on the survey carried out two weeks prior, there is still work to be done: only just over half (59.1%) have reviewed the IT disaster recovery plan in the event of a cyber security threat and less than two-thirds (61.6%) have provided additional cyber-security training to staff working from home.
Although it is encouraging to see measured improvements week-on-week, the figures do suggest a lack of preparedness in the early weeks of the pandemic and point to plans not being in place and/or not rehearsed effectively prior to the pandemic breaking out.
Supply chain issues are changing as the pandemic progresses.
When news of the pandemic first broke, many global organizations who relied on China for manufacturing facilities were quick to source alternative suppliers. However, with news that Chinese factories are re-opening for business, organizations are finding that their global production is being affected - whether through factory closure or factory repurposing e.g. Tesla was reported as repurposing its manufacturing plants to make ventilators and sportswear manufacturer Kalas has repurposed its factory to produce face masks.
It might be expected that the supply chain would be one of the first matters to attend to by organizations, but the survey results published on 3rd April revealed that only two-thirds (68.9%) of organizations had reviewed their business continuity plans of key suppliers and just over three-quarters (76.3%) had identified a list of critical suppliers in response to COVID-19. Given that 25% of organizations have reported changing suppliers to ensure continuity of goods, the review process is critical. It would also be advisable to carry out regular reviews (more frequently than once a month depending on their criticality) of suppliers at this point in the pandemic due to the constantly evolving nature of the pandemic.
Business continuity plans are now well underway – but what about recovery?
Four out of five organizations have now activated their incident management teams (82.8%) and strategic crisis management teams (79.6%), a 10-percentage point increase for both over the past two weeks. Although this suggests some organizations were slow to activate these crucial teams, it demonstrates that most organizations now have the right teams engaged to ensure their organizations can get through the current crisis.
However, a critical difference to this pandemic vs a 'standard' crisis is the undefined end and the truly global nature of this pandemic. Therefore, it is critical to consider how sustainable the business continuity response is and review the BIA to reflect on the changing priorities as the pandemic progresses. At this point in time, 70.3% of organizations have considered the former and just 61.4% the latter. Given the unknown nature and conclusion of this pandemic, both these points should be reviewed in order to ensure that organizations can continue to cope. A "worst case scenario" in terms of timescale is worth considering.
A noticeable point coming out of the most recent survey is the number of organizations who have drawn up recovery plans and considered how the organization will move from the response to recovery stage. Last week's survey revealed that under half of organizations (46.0%) have drawn up recovery plans, only 51.6% had established a Working Recovery Group and 59.1% had identified trigger points for plan implementation and recovery planning. At this point, it may be worth looking at Asia where many nations are around six weeks ahead of their global counterparts in terms of planning. Here, around 70.0% of organizations have drawn up recovery plans and 80.0% have identified trigger points for plan implementation and recovery planning. Given the speed at which Asian organizations have managed to reopen post-pandemic, these statistics do ring true. However, with concerns over a second wave, history will tell whether reopening businesses so quickly was the right decision.
It is great to see that this fortnightly publication is helping us to learn more about organizations' response to this global pandemic and we hope that this study can serve as a useful guide to organizations to see if they are doing enough or are lagging behind the curve in terms of actions taken.
In a sea of uncertainty, we await to see which actions were the right ones and which were of lesser importance. However, what we do know is that those organizations who have made comprehensive plans and reacted quickly to the pandemic are those which will be best placed to thrive once we start to witness the green shoots of recovery.
The BCI Coronavirus: Organizational Preparedness second edition is available for download in the Knowledge Library.
Log-in into your profile to download your copy!
More on
About the author
Head of Thought Leadership (The BCI)
I am Head of Thought Leadership and I am happy to talk about BCI Research with any members. I'm happy to present research for Chapter meetings, for Corporate Partners and other relevant events. English is my primary language, but I can also speak French and have a basic understanding of Japanese.
Offical bio: Rachael has twenty years' experience leading commercial research within organizations such as HSBC, BDO LLP, Marakon Associates, CBRE and BCMS. She has particular expertise in the technology & telecoms, retail, manufacturing and real estate sectors. Her research has been used in Parliament to help develop government industrial strategy and the BDO High Street Sales Tracker, which Rachael was instrumental in developing, is still the UK's primary barometer for tracking high street sales performance. She maintains a keen interest in competitive intelligence and investigative research techniques.