Crisis Leadership for the "long-haul"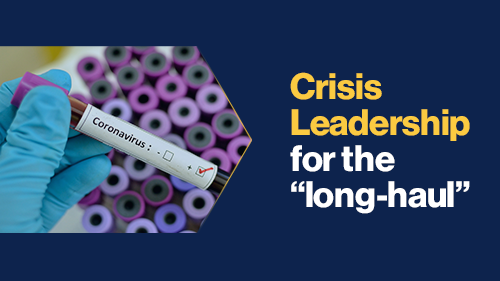 Following Jenny Harries', the UK's Deputy Chief Medical Officer, warnings yesterday that normal UK life may not return for 6 months, I thought it worthwhile looking at the role of the Crisis Leader.
Successful crisis leadership used to be guaranteed by restoring the status quo through effective direct command and control and heroics[1]. The ability to keep a cool head, make rational decisions and manage the actions of others were the qualities businesses sought in selecting who to lead them in a crisis. So too were being action-oriented, displaying directive leadership, an ability to communicate widely with honesty and being able to manage multi-disciplinary teams in fast moving and stressful situations.
These qualities are still important, and essential for acute organisational crises such as those facing healthcare providers across the world right now. However, if businesses are going to be able to emerge the other side of COVID-19 intact they are going to need Crisis Leaders who can additionally: inspire and motivate their staff, suppliers and stakeholders to achieve exceptional feats for an extended period of time even though they are remote; foster the acceptance of group goals even though it may mean individual sacrifice; and, because the world that emerges post-COVID-19 is likely to be significantly different[2], they need to be able to promote organisational agility and implement rapid and effective organisational change[3].
Research shows that Crisis Leaders who achieve these have four things in common[4]:
Charisma & Vision
It was once thought that charisma was an enigmatic attribute that was only possessed by a few individuals. However, there are behaviours that are commonly exhibited by charismatic leaders that can be coached[5]. Likewise, charismatic leaders all construct viable, emotionally engaging visions in which people are willing to invest their identity primary influencing mechanism to which there is an art and science that can be learned[6].
Charismatic leaders simultaneously project their own value while making others feel valued thus prompting people to follow them. Techniques such as Active Listening[7], whereby the listener observes and interprets the speaker's behaviour and body language to develop a more accurate understanding of the message, can be used to great effect by a Crisis Leader to ensure people feel valued. Likewise, a Crisis Leader who is able to master their own body language, for example by portraying strength and trust through a good and open posture or diction, can help the Crisis Leader project their own value and display the gravitas and confidence to inspire followers[8].
Whilst there is a science to the visions that charismatic leaders use it must appear authentic and not contrived. Inclusivity is the key to authenticity or the Crisis Leader. A Crisis Leaders who works inclusively with their crisis teams to create visions that meet the following five criteria are likely to construct authentic visions that can inspire:
It must present a positive path to solving the crisis.
It must encourage participation in this future in positive, emotionally evocative terms.
Investment in the vision must create a sense of personal identity.
The vision must be able to promote a shared identity.
The vision must be capable of being characterised as a functional social system with norms, standards and values.
Strategic Thinking
Research on historical organisational crises shows that there are two facets of strategic thinking that are particularly useful for the Crisis Leader[9]:
The ability to analyse the situation (sometimes called Mission Analysis)
Understanding the big picture
Being able to analyse the situation involves the ability to see beyond tactical actions to mitigate symptoms. To do this, in addition to being expert at the rational learned activities such as information gathering, structured sensemaking, determining constraints and root cause analysis, the Crisis Leader also needs to be able to promote the unearthing of innovative information and ideas from their followers and challenge habitual thinking.
Understanding the big picture requires a fusion of emotional intelligence and information fusion that allows the Crisis Leader to create a narrative of the situation that takes into account not simply the raw data and information but the nuances of where the data and information came from.
In fast moving uncertain situations, it is easy for the Crisis Leader to be drawn into the detail and wield what is often called the "long-handled screwdriver". When dealing with long-haul crises, effective Crisis Leaders often use Executive Coaching to ensure that they can rise above the tactical and concentrate on the strategy.
Expressing Emotion
During "business as usual" research shows that it is generally not a great idea for leaders to express their emotions in public[10].
Displays of anger are often seen as a lack of self-control, sadness is often seen as emotionally instability and erodes confidence, and laughing when there is nothing to laugh about makes you look inauthentic. However, in organisational crisis situations, being able to express sadness and compassion as a leader signals that you care about the plight of other people[11].
Organisational crises often create feelings of fear, stress, anxiety and grief in employees, clients, suppliers and other stakeholders. In extreme circumstances, such as the current COVID-19 pandemic, these feelings may be so extreme that people exhibit intense physical and emotional reactions which can result in an inability to react to the situation[12]. Although the current crisis may be long-haul, there will be times over the coming months when speed is of the essence for specific actions, and paralysis or inaction will greatly reduce the chances of a successful outcome. For example, it is extremely likely that there will be multiple periods of lockdown and it is important that these are swiftly implemented. Therefore, Crisis Leaders who can regulate their own emotions to such an extent that they can exhibit emotional reactions specifically to influence the behaviours of their followers will be the most effective.
In Summary
A crisis is a decisive moment for any organisation. It is often a time of great danger, but equally a turning point that, if handled well, will result in increased corporate value.
Although a "team-sport", the outcome largely rests on the ability of the Crisis Leader to create a positive vision for the future, construct a viable path to it and inspire others to follow.
There is a rational element to crisis leadership that involves making timely decisions and managing the actions of others. However, what sets effective Crisis Leaders apart, especially in long-haul crises, is their ability to be authentic whilst making their own difficult judgement calls under stress.
Charisma, vision, strategic thinking and emotional intelligence are therefore most likely going to be the COVID-19 Crisis Leaders' best weapons against the long haul.
References
About the author

CEO & Founder The Business Resilience Company