Cyber breaches survey 2019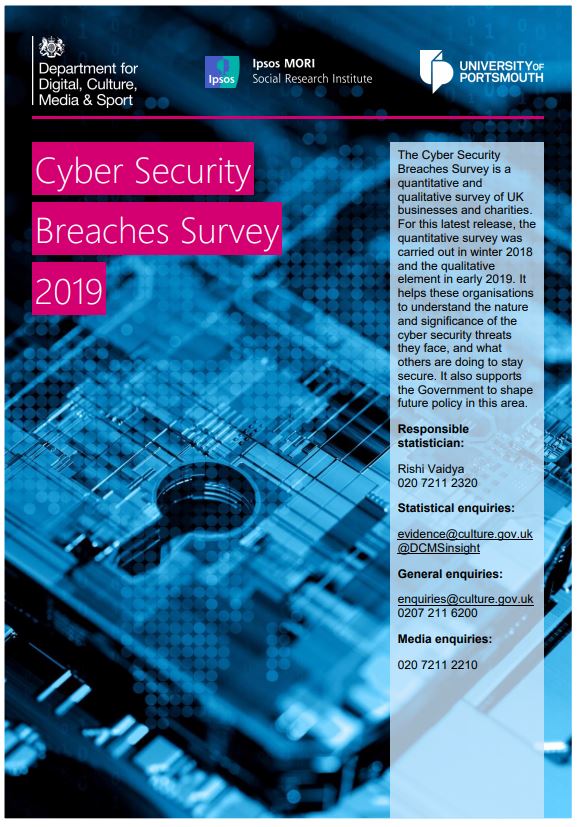 The UK government Department for Digital, Culture, Media & Sport has released their 2019 Cyber Security Breaches Survey.
The Cyber Security Breaches Survey is a quantitative and qualitative survey of UK businesses and charities. For this latest release, the quantitative survey was carried out in winter 2018 and the qualitative element in early 2019. It helps these organisations to understand the nature and significance of the cyber security threats they face, and what others are doing to stay secure. It also supports the Government to shape future policy in this area.
Key findings from the report include;
Around a third (32%) of businesses and two in ten charities (22%) report having cyber security breaches or attacks in the last 12 months. As in previous years, this is much higher specifically among medium businesses (60%), large businesses (61%) and high-income charities (52%).

Among this 32 per cent of businesses and 22 per cent of charities facing breaches or attacks, the most common types are:
phishing attacks (identified by 80% of these businesses and 81% of these charities)
others impersonating an organisation in emails or online (28% of these businesses and 20% of these charities)
viruses, spyware or malware, including ransomware attacks (27% of these businesses and 18% of these charities).
The full report can be downloaded here.
Advertisment