Key questions to ask when choosing a DR partner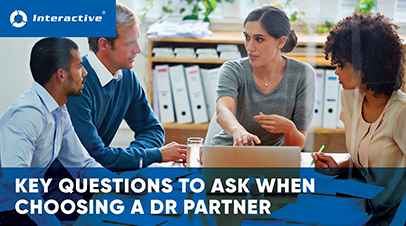 BCI Partner, Interactive, have developed a white paper on What should you consider when selecting a Business Continuity service provider:
Developing a comprehensive Business Continuity Plan is a complex but critical endeavour that every organisation should consider undertaking. To create an appropriate BCP, a business is required to review all the internal and external elements of their company that could be at risk in the wake of a disaster. The audit and development process demands significant time, effort, and resources but assists the business in the prevention and recovery of any disrupted operations.
However, creating a BCP is only the initial step for a business when developing a strategy to manage a disaster. For a Business Continuity Plan to be effective, it must be executed with a service provider who best suits your business and its functions.
But how do you know you have chosen the right partner before disaster strikes? Are there key questions to ask that help you pick one that can support your business? What criteria should you use to make the final selection? As many businesses know, the process of developing a Business Continuity Plan is to ensure your business does not leave its operations up to chance. Choosing the right partner to help ensure continuity of your operations when a disaster strikes must be part of your resiliency efforts.
It can be a significant decision for any business. This decision can also be the make-or-break detail in your plan. Because we believe that a business's resiliency relies on collaborating with a partner that has a proven track record and industry experience, Interactive has put together a complimentary guide to help you make your decision. The document outlines several key areas for consideration and smart questions to refer to when making your final selection of a Business Continuity Partner. We believe these questions will allow any business to create a sensible decision when choosing the best service provider for your business.