Team-Working Tools for Resilience Professionals
We all know that when a Site Emergency & Continuity Recovery Team are convened, this can be a very tense run of meetings. Anything in terms of tools used in these meetings which assists the team, and especially the Leaders can be so valuable to ensure the team is effective and not distracted from its objectives. Such tools can help a Team to keep calm, think logically & clearly, keep a current situational understanding and get the right control and recovery actions in motion. Tools are useful to save time, cover the ground and allow the team to concentrate on working the problem rather than the method.
For our Teams, [working within a large corporate with Contact Centres, depots and power generation], we reference a number of tools from the JESIP model, in the knowledge they have been forged in the white heat of battle. [See https://www.jesip.org.uk/home]
METHANE is perhaps the most famous acrostic 'thinking tool' for getting a handle quickly on a site/situational emergency – and so useful for crystallising out the pithy and pertinent statements used in the first comms to waiting stakeholders and management.
I have a second tool that we use after METHANE, developed in the same vain - it's called WWILD and for our internal Team use only.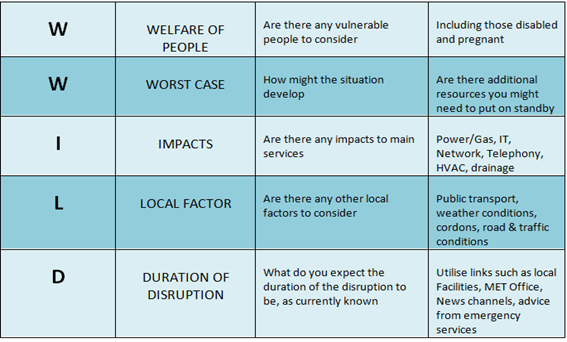 It means the team now start to think clearly about likely durations to any site disruptions - to decide early whether to formally invoke continuity responses and consider what could next go wrong - and if it's at all possible, to ensure the worst doesn't materialise or can be reduced in impact! Discuss!
So over to you …..
What method 'Tool' would you put in your Recovery Plan if you were a Team Leader and why is it worthy of acceptance? It can be 'on paper' or electronic; it can reference the Response, Recovery or the Reflection phases of the plan. It might be unique to your industry, but be adaptable for wider use? Share!
About the author

Senior Resilience and Security Specialist
I have 15 years' experience in designing, implementing, operating and leading programs in :
resilience
corporate security
crisis management
business continuity
emergency management and prepardness
in UK utilities [energy and water] and in the the National Health Service.  
I have complimentary experience in facilities management, IT & information security, IT & telecommunication networks, IT audit and control. 
I was the category Winner of 'Most Effective Recovery' at the European Awards of the Business Continuity Institute and at the CIR Continuity Awards UK - both in 2015. 
I have chaired the East Midlands Forum of the Business Continuity Institute in 2017 and remain on the Leadership. 
MBCI     Member of the Business Continuity Institute [CBCI - 2009 & 2018] 
BSI         ISO 22301 - Internal Auditor
CPP        Certified Protection Professional – Member of ASIS [Lapsed 2019] 
ITIL         Foundation Certificate  
To relax, I play the trumpet, enjoy hiking, jogging and cycling, having cycled over many famous cols seen in 'Le Tour de France'. I volunteer my time at social action charity projects in Nottingham including fundraising. 
If you would like to discuss your Continuity project then contact me:  [email protected]    or call 07507 806663