The retail sector v Covid - 19: Post lockdown challenges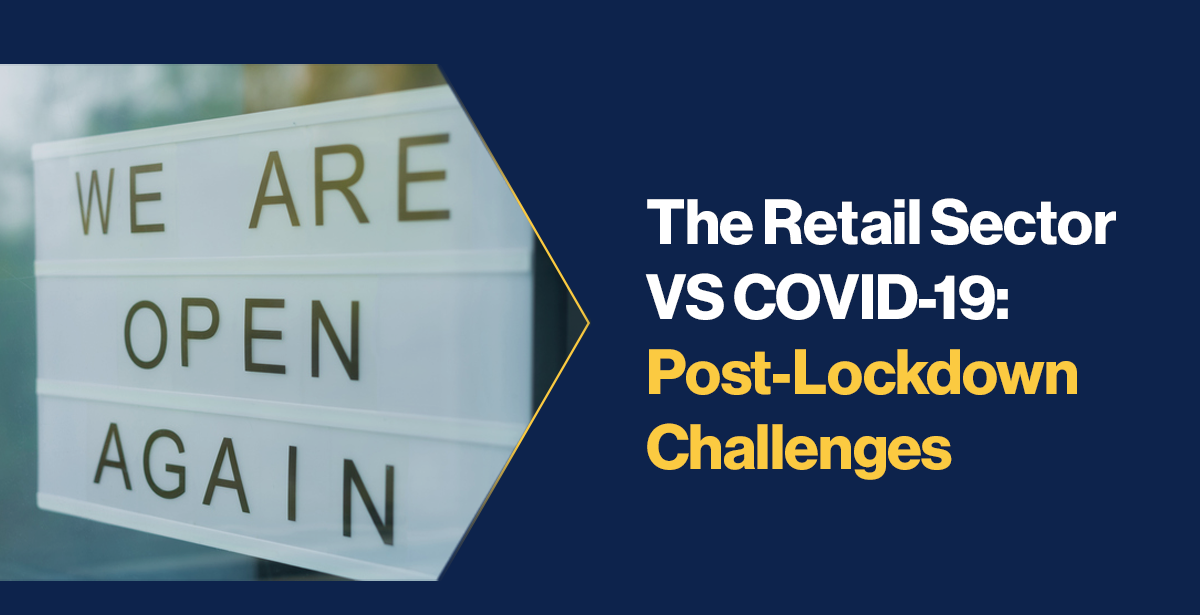 After months of limitations caused by the Covid-19 lockdown - which has led to the closing of many stores and restrictions on purchases - activities are returning to normal. The retail sector is slowly recovering and trying to meet the new consumers' needs and observe the pandemic containment measures implemented at country level.

According to an analysis conducted by KMPG, there are five key areas where retail executives should be focusing their attention in today's highly-fluid social, economic and health environment, namely: managing demand fluctuation, shoring up cash reserve, protecting people, think about long-term supply challenges and talking to customers.

Various reports also revealed that - although during the lockdown period there was a surge in online purchases - the majority of people say they still want to opt for physical store shopping. Therefore, safety will be a key element in attracting the consumer, and actually – as pointed out by different surveys carried-out during these months - more than 50% of people plan to attend the shops that can guarantee the maximum hygiene and safety conditions. As a result, a sense of safety and security will need to be communicated and conveyed to attract visitors back, together with new paradigms to be adopted to make the shop experience pleasant and rewarding, despite the need of protective equipment (i.e. masks, gloves, sanitizing gels, etc.) and the respect of social distancing measures.
The evolving scenario

The scenario of consumers is divided between those who want to "re-discover" human contact within stores - through the presence of staff, in-store assistants or promoters - and those who would prefer rely more on digital technologies -i.e. "click&collect" or "click&drive" model, virtual assistants and artificial intelligence systems - which can help to maintain a high level of safety & security at the point of sale.
In addition, the Large-scale Distribution Sector, in the short/medium term, will no longer invest in the opening of new stores and will focus more on the conversion of formats, by reinventing the "omnichannel" consumer's experience. According to market analysts, in the forthcoming months, as the situation continues, the retail scenario will suffer the following evolution:
• Hypermarkets - They were already in deep crisis before the Covid-19, struggling to secure a balanced income vs. the closure of commercial galleries that generated, however, cash flows. In this post-lockdown phase, consumers will continue to avoid going to crowded places and, as a result, operators will be forced to consider different models. The Hypermarket will be converted into a real logistics hub to meet "click&collect" model, through a "cultural" change in terms technological investments and acquisition of digital skills of the workforce in order to manage the "discontinuity" of the new model.
Supermarkets - They have demonstrated the limitations of queue management and the inability to respond dynamically to customer's changing needs, although technological applications exist to manage the flow of people by "booking " the "entrance" to the store and avoiding queuing in front of it and safeguarding citizens.
Hard Discount Retailers - They suffered from the inadequacy of their model during the lockdown and will evolve by in e-commerce and digital solutions, as well as maintaining their store upgrades and network expansion in the long term. Assortments will continue to evolve to cover more shopper needs and enable Hard Discount Retailers to remain relevant, while major discounters - as Aldi and Lidl - will work to re-affirm their position as a value and convenient shopping destination.
The so-called "Proximity Commerce" Retailers - During the lockdown period we experienced the return to "traditional" small neighborhood and grocery stores. This trend will continue in the forthcoming months since it implies the "re-discovery" of human relationships with those who are "behind the counter". However, normal small proximity commerce retailers will obliged to adopt digital innovation by replacing the sales through Whatsupp or Instagram, with the "click&collect" model to develop further their business and meet the customers' "on-life" approach, i.e. a mix of on-line and off-line "modus operandi".
Looking ahead: new challenges for the retail sector

In the near future the retail sector will inevitably face several challenges in terms of:
Reorganization – Social distancing has created the challenge of online spending. The Large-scale Distribution Sector resulted unable to manage efficiently this challenge, since internet platforms have, in many cases, failed to meet the massive number of accesses vs. the considerable increase in store operations and logistical services. Therefore, processes should be reorganized and the omnichannel approach be guaranteed as much as possible. At the same time, the sector will have to deal more efficiently with queue management by employing more staff dedicated to managing flows or by implementing software applications to "dematerialize" the wait and ensure a further increase of e-commerce channel by implementing the "click&collect" model.
Recruitment – The evolution of the retail sector will inevitably imply new key skills to efficiently address uncertainty and contingent discontinuity, namely:
Flexibility/Adaptability
Digital & Cyber Security Culture
Risk Management & Business Continuity
Staff must be able to support the workload and adapt quickly to contingent situations in order to ensure efficiency and monitor the evolving situation. The reorganization of processes will imply the same collaborative tools used for smart-working to interact with customers and partners, thus combining collaboration and e-learning platforms to minimize the number of applications or devices that IT function needs to support and people need to learn.

In addition, the contingent situation will require Security Manager, Risk Manager & Continuity Manager keep improving and growing their skills and knowledge, thus demonstrating a holistic approach to the context and increasingly ensure the resilience of the Retail sector.
Safety measures vs. Covid-19 – The retail sector must be ready and prepared to respond adequately to the challenge of workplace and store safety, more now than ever. In this perspective, many governmental entities and organization have issued "Covid-19 Retail Protocol Guidelines" to provide support to the industry - in terms of attention to the health and safety of employees, suppliers & other third parties throughout the value chain, and even customers - in compliance to the social distancing measures issued at country level.

Security, risk management & business continuity as necessary levers

Security - Security is a "conditio sine qua non" since a holistic and interdisciplinary approach is urged to "embrace" all technological and organizational areas.

The retail sector, like a chameleon, is changing its sales strategies and models to accommodate the measures of social distancing and continuous sanitization of environments by relying both on security technologies (i.e. dual use of thermo-scanners or thermal cameras) and private security forces & security personnel to safeguard health.
Risk Management & Business Continuity – The retail companies are reinventing themselves, relying more on online sales and adopting "click&collect" model and "cashless" software applications, etc… This massive use of technology will imply, consequently, a more focus on the cyber security of systems and regulatory compliance in terms of the management of platforms (which are subject to strict regulations on remote sales). Therefore, various retail players and service companies will need to improve the collection and analysis of reliable data related to cyber-crime incidents and install analytical tools to better monitor transactions or counterparties and to assess and predict the criminal incidents and the vulnerability of areas and outlets.

In order to meet the principles of Risk Management & Business Continuity, the retail companies will need to:
Ensure the preservation of IoT systems used to interact with logistic partners (that have a more and more integrated role in the distribution process).
Consider bringing back functions or areas within the organization, such as:

Cleaning or sanitization that could become strategic - in the event of new infections - and give continuity to both commercial activities and workplaces.
IT First & second-level help desks that, before the Covid-19, were generally outsourced and are now considered critical in a smart working environment.

Manage the risk of absenteeism and/or the social distancing of workers – mainly in Large-scale Distribution companies - which can lead to a significant, if not disastrous, decline in productivity.
Manage stock reduction and prioritization by efficiently sharing priorities with both Large-scale Distribution companies and manufacturers, in order to avoid supply chain disruption and efficiently manage inventory problems in an emergency.
Conclusion

Those retail players who will survive through the COVID-19 crisis are the ones who are able to meet the contingency challenges and cope with the required changes, by demonstrating a stronger and more competitive approach. However, in order to do this, they will necessarily have to undergo – as previously said - a cultural change and to adopt new paradigms in order to respond efficiently to the customer's new habits by experimenting new solutions and taking into consideration the lessons learned from this pandemic.

Additionally, the Retail sector, in order to react quickly to the current so-called world of V.U.C.A.(Velocity, Uncertainty, Complexity, Ambiguity) urges to create a strong relationship with their people by forming agile and fast teams, able to meet the organization's needs- at all levels - and translate them into immediate actions. This approach will require - of course - safe contexts, characterized by a deep trust and strong partnership with customers and suppliers, in order to be able to: create value and establish alliances and networks among the various players in the sector, in a holistic and resilience perspective; ensure continuous experimentation and share solutions; adapt to an ever-changing environment.

As Darwin said: "It is not the strongest species that survives nor the smartest, but the one most receptive to change".

About the author

Business Continuity & Risk Management Consultant
Certified in Business Continuity (AMBCI BCI, UK) and in Risk Management (FERMA Rimap ®), she is a consultant in Business Continuity & Risk Management and promote the culture of resilience at various institutions and universities in Italy.
She has an extensive,recognized managerial experience in several corporate functions, particularly in administration management, institutional relations & events, facility & procurement management with main international companies.
Deputy Leader of the BCI Italy Chapter, Italian representative of the Business Continuity Institute (BCI), UK and member of the BCI Professional Conduct Committee, UK, she is also a member of the following associations:  ANRA, FERMA, AIPSA, CLUSIT and UNI. 
Lecturer in "ISO 22301 - Business Continuity & Resilience" Introductory Modules at the "Cyber Strategy & Governance" Course, created in partnership by POLYTECHNIC MILAN and BOCCONI UNIVERSITY.
Author of several articles on Business Continuity & Risk Management topics published by several online journals, such as DigitalAgenda360, Cybersecurity360, AI4Business, Risk Management360, EnergyUp, Blockchain4Innovation, Internet4Things, Industry4Business, ANRA - RM Magazine, ISPI Online, Insurance Review, UNI Magazine online, Safety&Security Magazine, Leadership&Management Magazine.