Organizational Crisis Leadership E-Learning Course
15% discount available from 1st-30th September 2023 on single course purchases, discount codes are available below.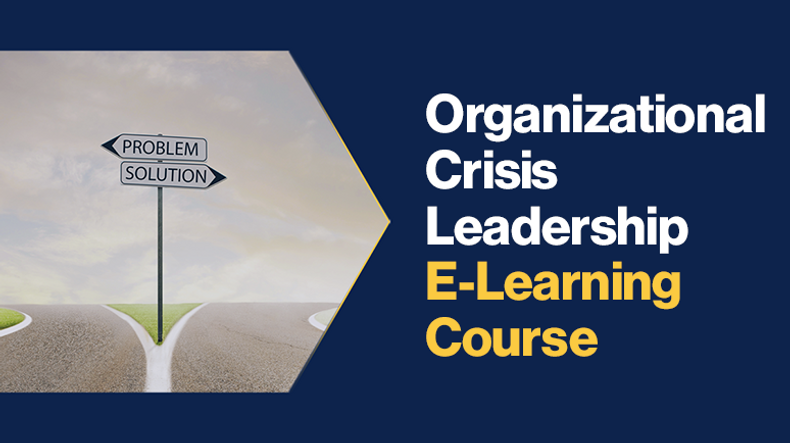 15% discount available from 1st-30th September 2023 on single course purchases, use discount codes below:
AUS$ - Edu23OrgCrisisLeadAU
CAN$ - Edu23OrgCrisisLeadCA
EURO€ - Edu23OrgCrisisLeadEU
GBP£ - Edu23OrgCrisisLeadUK
US$ - Edu23OrgCrisisLeadUS
---
This E-Learning course introduces the skills needed in Crisis Leadership. The course takes an in-depth look at the key elements of leadership, how to develop leadership styles & skills, the emotional & behavioural elements of leadership, as well as managing multiple stakeholders.
This is an advanced-level course, which will provide you with practical guidance and access to crisis expert discussions; it also features case studies and references to academic research.
The Crisis Leadership Course is designed for anyone who may find themselves leading, or participating in, a crisis response on behalf of their organization. This includes:
Practitioners

Consultants

BCM or OR professionals

Chief Risk Officers

Chief Resilience Officers

Crisis Management team members
What is an organizational crisis and what does a leader do to solve one?

The key elements of Crisis Leadership

Developing successful Crisis Leadership styles & skills

The emotional and behavioural elements of Crisis Leadership

Managing the tensions of multiple stakeholders

A conversation with Crisis Experts
Each module is delivered via a pre-recorded webcast, it contains a full slide deck and narration by Dr Sandy Bell. The course can be accessed on mobile, tablet and desktop. The course comes with PDF to complete notes, and in each module, there are exercises to get you thinking.
By purchasing this course, you will have 60 days of access from the date you receive your registration E-Learning link.
The course should take around 7-10 hours to complete. You will have access to the course for 60 days from the date of registration.
Please note that this product is copyrighted by The BCI and will be supplied for the sole use of the purchaser. Once purchased you will be sent an access email that will usually take up to 1 working day (UK office times) to arrive.
Time Extension Policy
Please note that short time extensions on the course completion deadline will only be granted in the event of suddenly arising extenuating circumstances, such as a medical emergency. A medical certificate will be required.
We will not grant time extensions on the course completion deadline for work-related or holiday/vacation reasons, so please check your calendar before you purchase the course.
Please note: By purchasing this online course you will lose your right to a refund within 14 days under the UK Distance Selling Regulations once the above email is delivered.