2020 Business Continuity Benchmark Report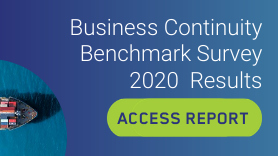 What Do Business Continuity Managers Really think?
Recent events such as the COVID-19 pandemic and the Australian bushfires have shown us just how quickly our way of life can be overturned, substantially impacting businesses and global economies. During this unprecedented time, we've seen disruptions impacting small enterprises and global corporations alike, demonstrating how fragile global infrastructures and supply chains can be. The world has changed, and organizations need to change along with it.
BCI partner SAI Global's Business Continuity Benchmark study offers valuable insight into the difference between what businesses want versus what is actually being committed to achieving it. The research shows this gap left many businesses vulnerable in the face of the COVID-19 pandemic.
As you will see in the report, SAI Globals research demonstrates that operational resilience is front of mind for decision-makers, however, there remains a clear difference between being aware that something needs to be done and investing enough to ensure you're prepared.
The end result is that business continuity professionals are challenged with a lack of resources and executive buy-in at a point where their role and organization are being put through its biggest test and operational resilience is more important than ever.
Other key findings include:
More than half of respondents don't use software to execute their BCM program
A quarter don't have a vendor risk program and treat it separately
46% report that they do not regularly update their board of directors on business continuity program statuses
More on