5 ways to embed Business Continuity into your organization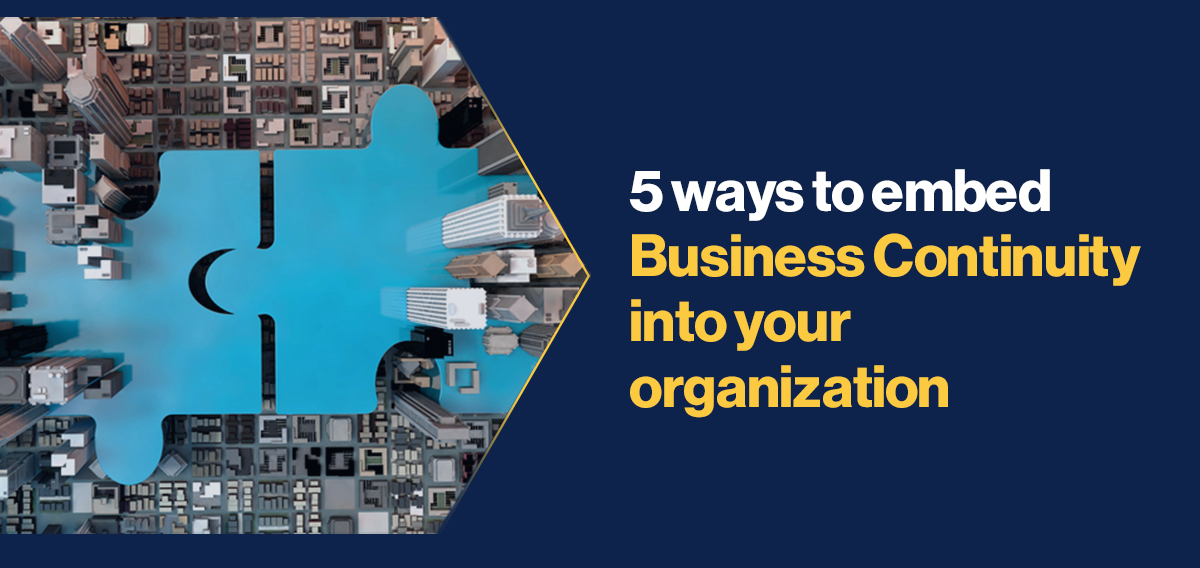 Embedding business continuity into your organization is a fundamental step to integrate business continuity awareness and practice into business as usual activities and organizational culture. This stage of the Business Continuity Management (BCM) lifecycle is a critical one and also one of the most difficult - as changing the culture of an organization is not always easy.
Here are some top tips to help you embed business continuity within your organization:
1. Use a collaborative approach
Collaboration is an essential factor at every stage of the BCM lifecycle. When it comes to embedding business continuity you can use this approach to get all teams and departments on board and effectively change the culture of your organization.
Make sure you involve all teams in the process, including top management, and that you communicate the benefits and opportunities that business continuity brings to the table. This will help each team understand how they can benefit from business continuity and how collaborating with other teams can make them more resilient.
The BCI offers a wide range of thought leadership resources that show the benefits of business continuity in the short and long-term. Why not share these with your teams and have them come together to discuss how business continuity can benefit their activities?
2. Make sure top-management is involved
This is probably the tricky part. Getting top-management involved is not always as easy, but to embed business continuity change needs to happen from the top down, so you will need your board members, CEO, etc. next to you in this process.
So how do you get them involved? Introduce the concept of business continuity within strategic meetings and show them the long-term benefits of embedding business continuity and focus particularly on the financial side. With a business continuity plan in place, your organization could save a lot of money and resources in case of a disruption!
3. Engage your staff
Why not build a team of influential individuals within the organization who understand the benefits of business continuity and building organizational resilience that can act as advocates or 'champions'? This is a great way to not only attract the attention of your employees, but make them engage with business continuity.
The BCI offers its corporate partners a free annual licence to its incident simulation game. This is a great tool to get your employees to listen and understand the importance of business continuity.
4. Raise awareness in an innovative way
Awareness campaigns are one of the best ways to embed business continuity. Have you ever heard of Business Continuity Awareness Week (BCAW) or Education Month? These are great campaigns that offer a wide range of resources, including webinars, posters, white papers, training opportunities and more.
5. Invest in your team
Training and educating your staff about business continuity is absolutely the best thing you can do if you wish to embed business continuity within your organization. How? There are lots of resources out there - white papers, research reports, blogs that you can share with your employees.
However, you can also rely on online training. As part of the BCI Corporate Partnership offer you can now invest in your team's development with a 20% discount on BCI e-Learning corporate licences that can be shared across your organization.
Interested in becoming a BCI Corporate Partner?
The BCI Corporate Partnership supports organizations across the globe in embedding business continuity and building organizational resilience. To learn more about all the opportunities that a BCI corporate partnership can offer please contact [email protected] or call +44 (0) 118-947 8215
More on