An institution's innovative response to Covid-19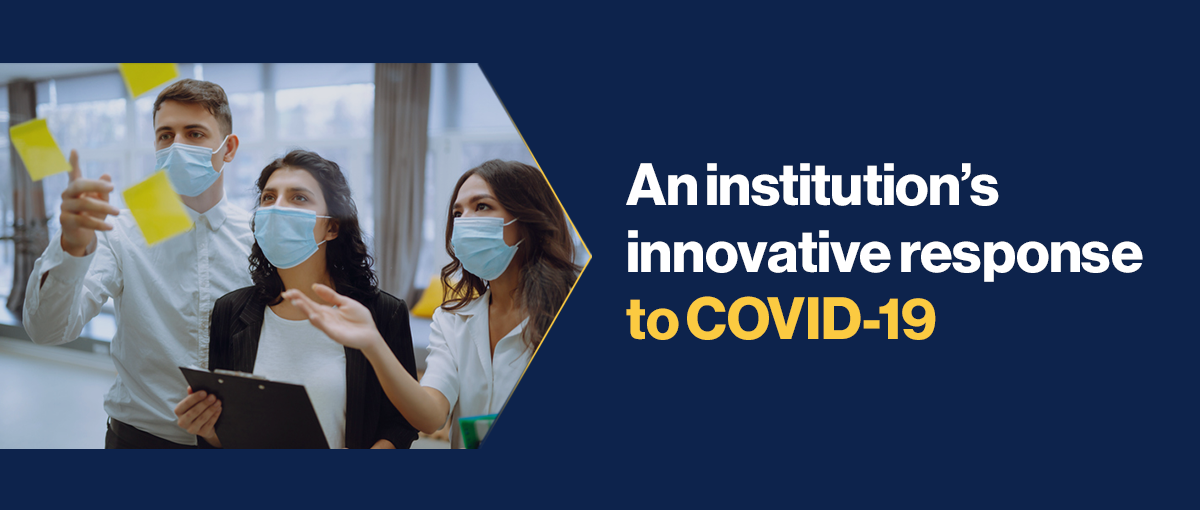 General Information & Background:
Harshita Mathur has 8+ years of experience in the resilience field, and is currently working in the higher education sector as a Business Analyst within the Middle East. The higher education institution she works for has an established Business Continuity Management System (BCMS) as well as a Crisis Management Team (CMT) and Incident Response Team (IRT), with defined roles and responsibilities in managing disruptions across the entity.
Key business issue / need:
This past year was unprecedented, requiring all organizations globally to rely on their existing business continuity plans or prompt organizations to develop plans if not previously established, in response to COVID-19. Within the higher education sector, institutions have had to consider multiple variables in addition to the continuity of operational activities carried out by administrative staff. These include managing incoming and outgoing students (based on evolving travel regulations across multiple countries), maintaining health and safety across dormitories and common spaces as well as considerations for continuing research projects. The widespread impact of COVID-19 shook all organizations to their core and as it is natural for any disruption to an organization to raise awareness of the importance of business continuity by providing lessons learned, the response to this global pandemic involved another level of planning, coordination and continuous pivoting based on the evolving nature of this particular incident.
The initial response across the higher education institution incorporated efficient decision making from the CMT in conjunction with effective actions taken by the IRT. In addition, the establishment of a Covid Response Team (CRT) was critical to advise students, staff, faculty and senior leadership on health-related matters pertaining to the COVID-19 virus, as well as work with health authorities to conduct testing and ensure effective contact tracing, as required. Health professionals and subject matter experts made up the CRT and all teams worked (and continue to work) tirelessly to ensure the safety of community members.
As we are over one year into the pandemic, a longer-term approach to business continuity has been required, bearing in mind institutional priorities and traditional disaster management.
Previously used solution/alternatives that were not successful:
A classic disaster management approach to an incident occurring follows a linear perspective where an incident occurs, followed by the immediate response and then a period of recovery which in time allows the situation to return to business as usual. Traditional business continuity plans are built upon this structure, with a focus on recovering prioritized business activities, however the cascading impacts involved in the complexities of a pandemic require further planning, inclusive of the realization that 'business as usual' must now evolve into something new.
Solution:
The approach adopted by the higher education entity included mobilizing a team built up of existing skillsets utilizing processes that were already established within the organization combined with business continuity strategies such as implementing a remote working protocol. A governance structure was developed as the institution's response to COVID-19, which replicated project management and business analysis frameworks that were typically used to drive process improvements, change management and data analytics.
The governance structure (Figure 1) focused on 5 key portfolios, with assigned project management personnel working collaboratively with members of senior leadership, leading their respective areas. Some areas had a focus on student-related topics whereas others were focused on academic or research priorities in addition to operational and health matters. Within each portfolio, many overlaps occurred through various workstreams, requiring a high level of coordination and effective communication amongst all representatives.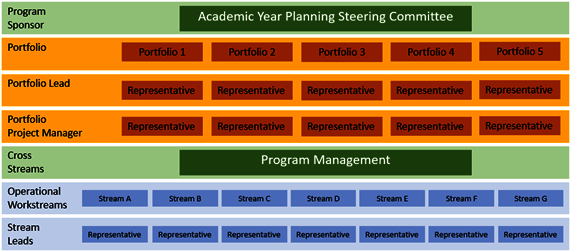 Whilst adopting a project management framework to the overall structure, the institution's response factored in business continuity methodologies by way of involving key personnel and enabling protocols to continue key business operations. Prioritization and effective decision making were conducted at the steering committee level, leading to not only an effective response, but a clear path to constantly monitor the situation and adjust response strategies accordingly. The institution re-evaluated risk levels within the context of the pandemic and to align with country risk levels as well as input from governing authorities.
With rapid turnaround and continuous improvement, some key initiatives developed and implemented through multiple teams across the institution including the program management team were:
An application for all stakeholders to check their symptoms prior to accessing physical workspaces
A process to manage incoming requests for individuals to access workspaces as well as a database to monitor population levels in different spaces
Interval testing for all stakeholders accessing workspaces as well as an advanced research study on new testing procedures
A periodic memo released to the community to ensure transparency and regular communication from senior leadership on COVID-19 related updates
These initiatives allowed for greater efficiency in monitoring COVID-19 across the institution, leading to key institutional priorities (such as research and academics) being continued, albeit through new avenues and with advanced health measures taken into consideration.
Lessons learned & key takeaways:
This pandemic has taught many organizations that the characteristics of incidents can vary tremendously, and often more so than one can plan for. The incident itself has inevitably raised awareness of business continuity across the institution, however the organizational response has provided a new lens to continuity. The recurring waves of the virus called for multiple layers of response, requiring a collaborative effort between BC/crisis/emergency management professionals as well as project managers business analysts and portfolio subject matter experts.
Looking at the future:
Going forward, business continuity plans and strategies shall be updated from lessons learned during this pandemic. The focus on building resilience across the entity has already been evident, from establishing new policies that facilitate remote working to integrating business continuity perspectives into process improvement efforts.
As the complexity of disruptive incidents increase, so can the methodology that is adopted to continue business operations. Traditional business continuity plans and strategies require constant re-evaluation and amendments to better understand the nature of the business and be truly embedded within an institution. The institutional response to COVID-19 has both transformed its business continuity approach whilst revolutionizing the workplace environment, creating new strategies and pathways for greater resilience going forward.
More on