Announcing the new BCI Portugal Chapter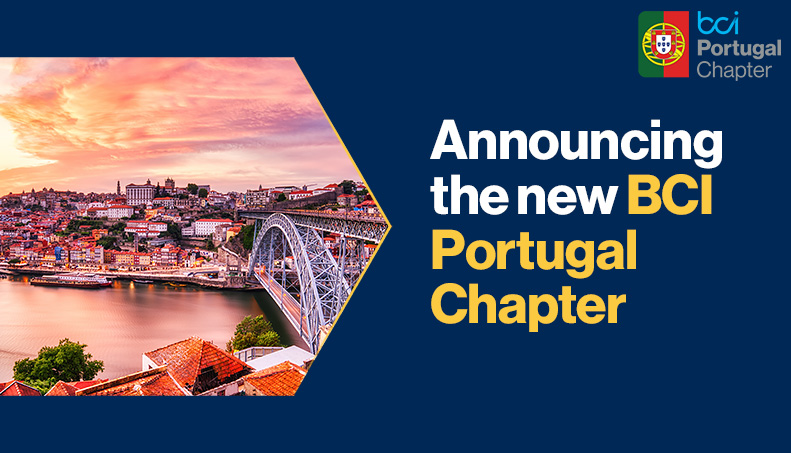 The BCI is pleased to announce the formation of its latest regional Chapter — Portugal.
Regional groups are critical in fostering collaboration, knowledge sharing, and professional development within the business continuity and resilience community. As such, the Portuguese Chapter aims to become a reference in the field, organise relevant events, and create a platform for networking and collaboration for business continuity (BC) and resilience professionals.
"We are very pleased about the Chapter and the numerous opportunities it will bring to our members. The Chapter serves as a platform for professionals in the business continuity and resilience field to come together, collaborate, and grow collectively. We believe that by fostering an engaged community, we can embed BC and resilience culture in Portugal," says Daniela Santos MBCI, Leader of the new Chapter.
Daniela also shared that the strategic vision for the Chapter is formed around three core pillars:
Community engagement and inclusivity: "We aim to create an inclusive environment that encourages diversity and welcomes professionals from various backgrounds and experiences. Through interactive events, mentorship programmes, and knowledge-sharing initiatives, we aspire to strengthen the bond within our community."
Thought leadership and innovation: "Our Chapter will be the Portuguese hub for knowledge exchange, creative solutions, and experience sharing, empowering our members to lead and thrive in their respective fields."
Collaboration and partnerships: "Collaboration is key to our success. We will actively seek partnerships with organizations, institutions, and industry leaders, both locally and internationally, to leverage their expertise, resources, and networks, creating a collective force that drives growth and development in Portugal."
Daniela adds that the Chapter has been started due to the growing interest in BC within Portugal and, "as the field evolves, the demand for knowledge sharing, skill development, and networking opportunities has increased. The Chapter will address these needs effectively," she says.
Looking ahead, she notes that a key part of the Chapter's success will be defined by the active participation and engagement of its members. "We encourage everyone to take an active role in shaping the Chapter's journey, contributing ideas, and making a positive impact. Together, we can foster an environment where everyone can thrive and achieve their professional goals," adds Daniela.
"We are excited to embark on this journey with each one of you, and we look forward to building a strong and influential community that drives BC and resilience forward," she concludes.
We will be releasing a further spotlight interview with the new Chapter leadership soon. For more information on the Portugal Chapter, please follow the link below:
More on
About the author

Resilience Specialist
Global Business Continuity and Resilience Specialist.
Broad experience and expertise in various subjects: business continuity management, crisis management, risk management and compliance management.
Expert in all areas of business continuity management, from development and implementation through exercising and reviewing.

ISO 22301 implementation and certification experience.
Member of Business Continiuty Institute (MBCI).
Leader of Portugal Chapter Committee.
Project Management's Master Degree Invited Professor.
Very proactive person, driving results with good inter-personnel communication.
Teamwork oriented, with good management and negotiation skills.