BCI appoints new Board Chair: Christopher Horne FBCI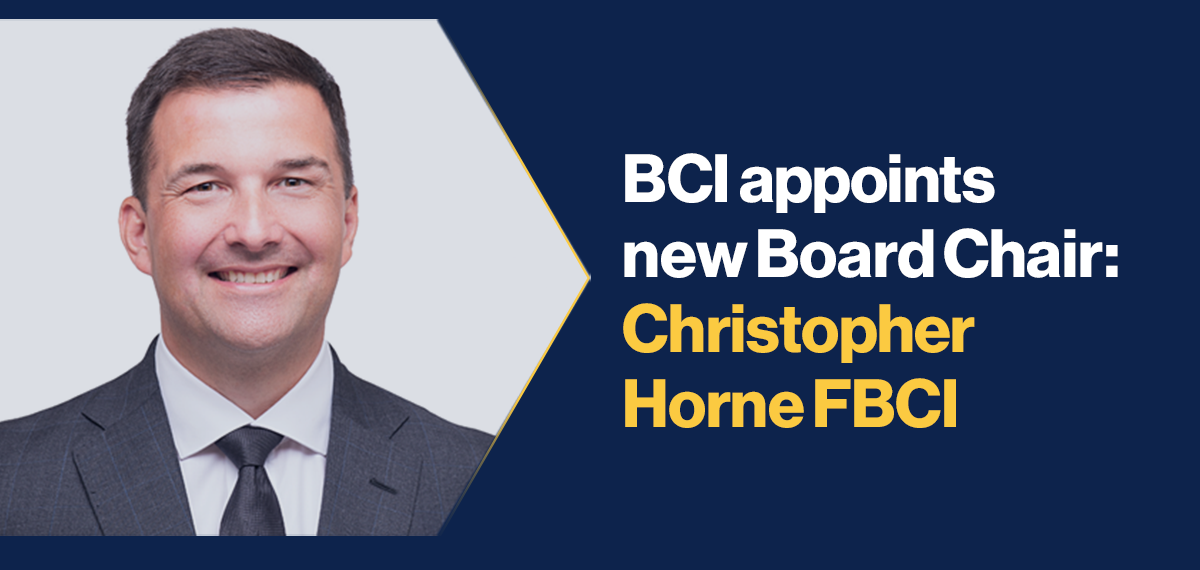 We are delighted to announce that Christopher Horne, FBCI, has been appointed as the new chair of the BCI Board – taking over from Tim Janes, Hon FBCI.
Chris joined the BCI in 2005 as an AMBCI before becoming a MBCI in 2006; and in 2017 he received the FBCI grade. He has been an active volunteer for the BCI Canada Chapter where he has held various positions including: Chapter Communications Coordinator and President as well as previously been the leader of the Greater Toronto Area (GTA) forum.
In February of 2018 he became a member of the BCI Board of Directors and between November 2018 and November 2020 he has held the role of Vice Chair of the board.
Chris is an experienced risk and resilience professional with an extensive background in Business Continuity Management. He has over 17 years of experience in Business Continuity, which includes planning for the retail, energy, banking, financial services, and insurance industries. He has been responsible for leading Canadian, North American, and International Business Continuity programs with parent organizations located in Canada, the US, and in the UK. He has also led a large Canadian financial services provider in the alignment of their Business Continuity program to the ISO standard for Business Continuity Management Systems (ISO 22301), which culminated in the company's certification to the standard by the BSI.
On taking up the post, Chris commented:
"It is an honour to be named the Chair of the BCI Board. In these unprecedented times it would be an understatement to say that 2020 has been a challenging year. Globally we have all been impacted differently by Covid in our personal lives and whether you work in the public or private sector, or are part of a small, medium, or large organization you have likely either been impacted by disruptions or been part of the response through established plans. Business continuity and resilience has never been under a greater focus. I am humbled and excited to have the opportunity to represent our membership and work with the board on our strategy and direction over the next two years."
About the author

Digital Marketing Manager , The BCI