BCI Global Award Winners 2020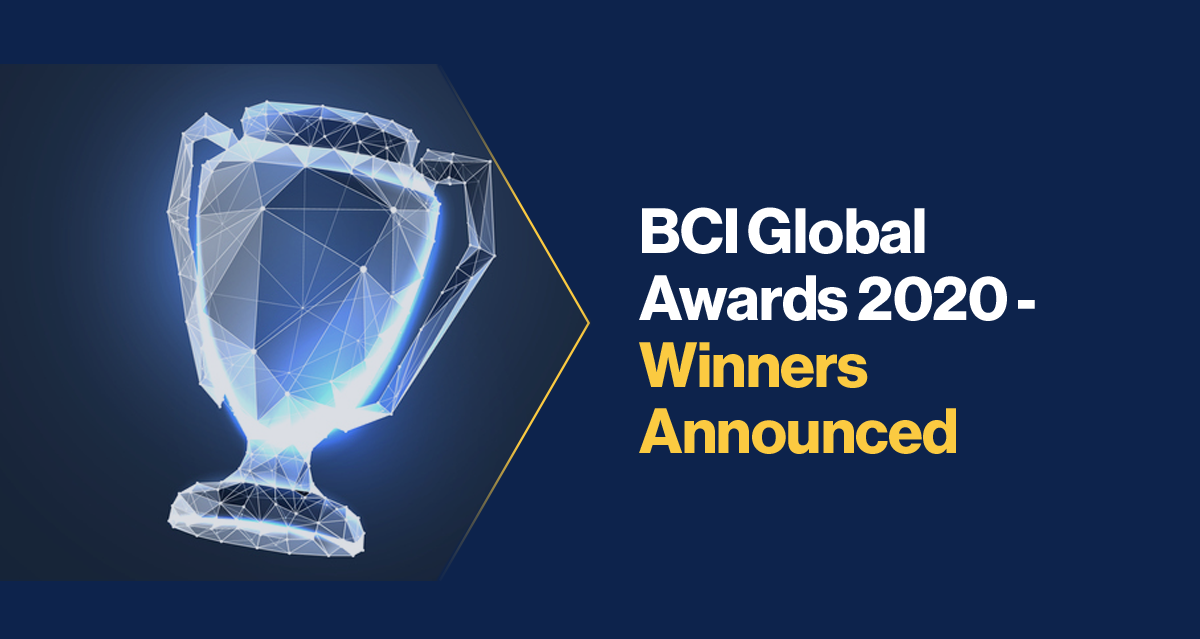 The BCI Global Awards recognise the achievements of individuals, teams, and organizations working in business continuity and resilience across the world – and this year more than ever it is important that we celebrate the winners!
In this unique year, the BCI Global Awards were delivered via a virtual ceremony, meaning even more of the winners & shortlist were able to attend and participate.
Each of the following has not only won their regional category, but they have also been selected as the best globally at what they do in 2020. Congratulations to the 2020 winners:
Continuity and Resilience Consultant 2020
Tracey Linnell MBCI (Africa)
Continuity and Resilience Professional Private Sector 2020
Rob van den Eijnden FBCI (Europe)
Continuity and Resilience Professional Public Sector 2020
Yasmine Elhamouly MBCI (Middle East)
Most Effective Recovery 2020
South Yorkshire Fire & Rescue (Europe)
Continuity and Resilience Newcomer 2020
Patrick Meidenbauer AMBCI (Americas)
Continuity and Resilience Team 2020
Cognizant Corporate Business Continuity Management Team (India)
Continuity and Resilience Provider 2020
Enterprise Health Security Centre + Consulting (International SOS) (APAC)
Continuity and Resilience Innovation 2020
New Expansion Module for ReadiNow Business Continuity Management Suite (APAC)
Continuity and Resilience Contributor 2020
Elaine Tomlin MBCI (Europe)
Collaboration in Resilience 2020
King Abdullah University of Science & Technology (KAUST) (Middle East)
We would also like to take this opportunity to congratulate and recognise the achievements of the following individuals who have received Honorary, Merit or Achievement Awards:
Gary Dade – Honorary Fellowship
Alice Kaltenmark – Honorary Fellowship
Michael Davies – Honorary Fellowship
Pierre Wettergren - Honorary Fellowship
John Frost - Honorary MBCI
Steve Daniels – BCI Merit
Rachel Micallef – BCI Merit
Rhona Moodly – BCI Merit
Sam Chari - BCI Merit
Lynnda Nelson – BCI Achievement
Kate Needham-Bennett AMBCI – BCI Achievement
Gianna Detoni FBCI - BCI Achievement
You can watch the BCI Global Awards virtual ceremony here.