BCI Technology in Resilience Report highlights the growth of cloud and AI use in the resilience profession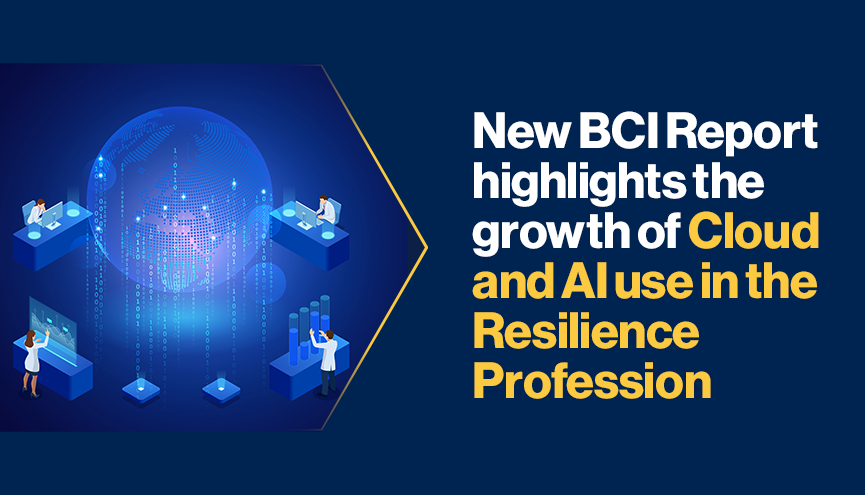 We are pleased to launch the BCI Technology in Resilience Report 2023 — a brand-new report, sponsored by iluminr, which examines technologies and their impact on the resilience industry.
Among the many impacts of COVID-19 on organizations has been the greater demand and application of technologies, particularly those which assisted organizations in adapting to a changing working environment — be it hybrid or completely virtual working patterns. Indeed, the BCI's Technology in Resilience Report 2023 finds that more than 90% of organizations have incorporated new technologies to various degrees. In addition, of the remaining 10%, half are considering investing.
Looking at the technology itself, 71.9% of respondents have significantly invested in the cloud, while the other main investments included predictive analytics, virtual training and exercising, user experience personification, and the Internet of Things.
How is this technology being used to improve resilience?
It is no surprise to see cloud technology topping the list in terms of investments, since it has played a key role in enabling the changing working patterns. However, it is prudent to note that, despite its obvious advantages, some practitioners still reference cloud's record with regards to data security as a potential concern for organizations. Importantly, though, this is not an issue that affects cloud technologies in isolation, as security risks were found to be one of the leading barriers to introducing new technologies in general into an organization.
Elsewhere, virtual training and exercising also represented one of the most popular investments in technology, with this solution implemented across most organizations surveyed for this report. A key benefit of this technology is that it can increase the accessibility of an organization's training and exercising programmes while also reducing the time commitment (or spreading it out over a flexible period of time). Of course, this also means that organizations can train and exercise staff more regularly, thereby helping them to further develop their own resilience.
The report also considers the key features of technology when it comes to assisting practitioners build resilience within organizations. On this, respondents ranked the ability of technology to identify key vulnerabilities and single points of failure as the most desirable characteristic (72.9%). However, in third place, 40.6% of professionals found the automation of the business impact analysis (BIA) process to be a desirable feature in resilience software. On a practical basis, this would still see BC professionals involved but some aspects would be automated, which could go some way to ensuring that BIAs are updated more frequently and that any subjectivity between departments is removed.
When it comes to using these technological tools to build resilience, it is also worth considering the potential impact of artificial intelligence (AI) since most of the top features for business continuity and resilience practitioners, as described above, would be likely to use it in some form. Indeed, 47.3% see AI improving the risk assessment process and 46.2% find that it would allow for faster and better decision-making. Although, of course, it pays to be aware of the risk of algorithmic bias and discrimination when using this technology.
Strategy and implementation
Just over half of organizations have an overall strategy for new resilience and business continuity technologies and those with a strategy in place assign more investment to emerging and/or disruptive technologies (such as augmented reality, blockchain, and virtual training and exercising) than those without. Since those features identified by practitioners as most desirable in building resilience are likely to be classed as emerging or disruptive technologies, we can therefore see the importance of having a strategy when it comes to getting investment for these tools.
Other key findings:
The larger the organization, the more likely it is that technology purchasing decisions are made by their IT department.
41.4% of respondents considered security risk an extremely important or important barrier for the incorporation of new technology.
On average, 70.6% of business continuity and resilience professionals' roles currently rely on technology. However, in five years this figure is expected to rise to 82.4%.
Rachael Elliott, Head of Thought Leadership, The BCI, commented:
"The findings from the report clearly demonstrate that COVID-19 has moved technology from being a 'nice to have' in resilience settings, to one which is quickly becoming the enabler of resilience in organizations. When compared to the BCI Disruptive Technologies Report 2019, artificial intelligence and drone use within resilience settings has grown by 550% and 236%, respectively, showing just how fast the use of new technologies is rising within organizations. There are still concerns around cyber resilience and data security, but most resilience professionals are embracing the changes: more than 4 in 10 would like to see some degree of automation within the BIA process, something that was seldom mentioned in conversations only four years ago."
Joshua Shields, Founder and CEO, iluminr, added:
"In the face of rapid and disruptive change, technology has emerged as a critical enabler of resilience. This Technology in Resilience Report underscores the pivotal role of technology in empowering organizations to proactively identify vulnerabilities, bring training and exercising programmes to life, foster agility, and enable greater adaptability through continuous learning and improvement.
As we look to the future, emerging technologies such as AI, augmented reality, and blockchain will play an even larger role in building resilience. It is crucial for organizations to have a strategic approach to technology adoption in resilience, as it can greatly impact their ability to proactively navigate change and thrive in today's dynamic business environment."
Click on the link below to download your copy of the report:
More on