BCI World Hybrid 2023 - Call for Presentations now Open!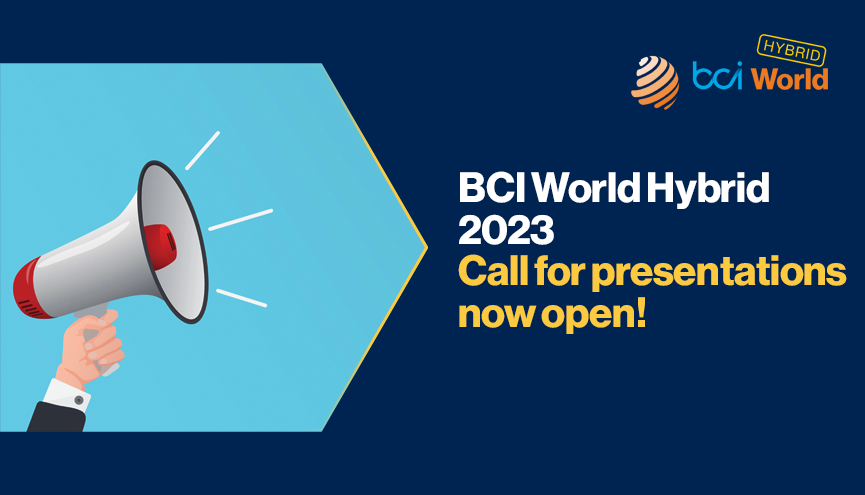 We are excited to announce that call for presentations for BCI World Hybrid 2023 is officially open!
Submit your presentation proposal for a chance to become a speaker at this year's conference. This is a fantastic opportunity to showcase your talent, knowledge, and professional experience in front of a cohort of international resilience professionals.
Submissions should look to address a problem or challenge, illustrate how it has been, or is currently being, addressed, and it should provide the audience with practical takeaways that they can use and implement in their own organizations. Presentations should also be forward-looking, focussing on one of the seven specific subject areas:
Back to Basics
Cyber Security & IT Resilience
Emergency Planning & Crisis Management
Organizational Resilience
Operational Resilience
Personal Resilience
Supply Chain Resilience
For more information and/or to submit your presentation idea, please follow the link below:
The Theme: 'Rising to the Resilience Challenge'
As businesses face an unprecedented series of disruptive events that put their resilience to the test, from natural disasters and the conflict in Ukraine to supply chain disruptions and an energy supply crisis, this year's BCI World theme aims to put the focus on how business resilience is developed and maintained. Building an organization's resilience capability is an ongoing process but, the more it is developed and maintained, the more it will be able to thrive in the face of adversity.
Following the success of last year's hybrid programme, this urgent theme will be represented throughout the two days of physical and virtual events - taking place on 1-2 November 2023.
The physical event will be held at the Leonardo Royal London Hotel Tower Bridge, London, using its dedicated conferencing facility. It will comprise of keynotes and breakout sessions across the two days, as well as a large exhibition, networking drinks and a Global Awards dinner. Meanwhile, the virtual event will consist of live streamed keynotes and breakout sessions, which will be recorded and available on demand, plus a virtual exhibition and networking stream.
For more information, please visit: