BCI World Hybrid 2023: Meet the Programme Advisory Group (PAG)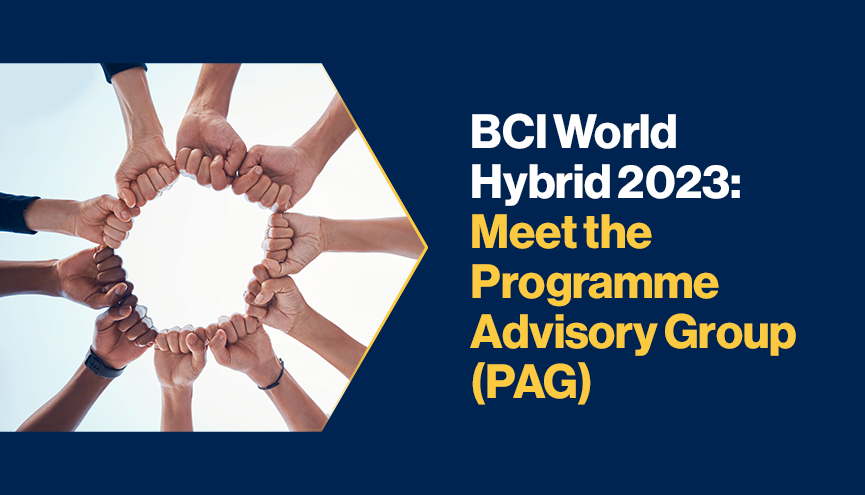 We are excited to introduce the members of this year's Programme Advisory Group (PAG) for BCI World Hybrid.
For more information about BCI World Hybrid 2023 please click here
Alice Kaltenmark Hon FBCI (PAG Leader)

Service Continuity Manager, , LexisNexis Legal & Professional, USA

Alice is a recognised business resilience expert who contributes as a resilience thought leader, mentor, and evangelist. Alice's professional experience spans over 20 years in Business Continuity and Disaster Recovery in the information solutions industry, and over 40 years in IT.

She leads the global technical resilience (ITDR) governance programme for the LexisNexis Legal business of RELX and leads the LexisNexis Infrastructure & Technology Operations Business Continuity and Disaster Recovery programme. Alice chairs the RELX Technical Resilience Working Group setting, guiding TR requirements and best practices for RELX businesses.

Alice served as the BCI USA Chapter past president and as the treasurer and past president, Continuity Professionals of Ohio, a regional non-profit professional association. She is an active member of the ISO TSC292 US TAG WG2 and WG9.
Joshua Adams AMBCI

Resilience Specialist, Colt Technology Services, UK

Joshua (BSc Hons Disaster Management and Emergency Planning) is a Resilience SME for Colt Technology Services, responsible for the BCMS and Crisis Response Framework for 22 countries.

He has been working in the Resilience sector for 11 years, in the field of Crisis Management, Ops Resilience, BC and Emergency Planning. Whilst recently working in the technology sector, he has worked across CNI operators globally, National Power Companies, and within local authorities, with experience in the third sector for disaster response in the UK.

Joshua is keen on training and facilitating, and takes a pragmatic approach to delivering resilience programmes for the organizations he supports.
Maribeth Anderson, BCI Affiliate

Global Senior Director – BC and Corporate Security, Xylem, USA

Maribeth Anderson, CSP is the Global Senior Director, Business Continuity and Corporate Security for Xylem Inc, a Fortune 1000 global water technology provider, which conducts business in over 150 countries. She has over 20 years' experience managing and mitigating risk in a variety of industries including manufacturing, water, oil & gas, aviation, and retail operations.

She is a Certified Safety Professional (CSP), who holds a Master of Public Administration degree from the Illinois Institute of Technology. Maribeth is also an active member of the American Society of Safety Professionals and has twice served on the Board of Directors.

Her career within Business Continuity began at O'Hare International Airport, managing through 9/11, and she has been actively involved in a variety of other large-scale response efforts including Deep Water Horizon, Hurricane Harvey, the COVID-19 pandemic, and Russia/Ukraine war.

As a safety professional, her focus on resilience begins with people, to ensure their safety and their respective contributions to ensure a resilient organization. She influences her stakeholders to understand their role within Business Continuity and how their contributions are critical to develop a whole-organization approach which operates proactively versus reactively.
Vaidyanathan Chandramouli MBCI

Partner - Cybersecurity & Risk Service , Wipro Ltd, India

Vaidyanathan is a techno-management leader with over 25 years of rich and extensive experience in the information technology industry. His areas of expertise include Governance Risk & Compliance, Business Continuity Management, Internal Controls, and operational excellence.

He is a Partner with Wipro Ltd, providing strategic advisory services on Cyber Security, Resilience, and Risk Management to global customers. Before this role, he led the enterprise's Business Continuity programme. He was responsible for overall operations resilience during a disruption, regarding people, technology, and facilities.

Vaidyanathan is a certified independent director, and national security database empanelled Cyber Security scholar. He talks in areas of Business Resilience, Cyber Security, Governance, Operational Excellence, Crisis Management, Crisis Leadership, ESG, and Positive Psychology.
Rina Feria CBCI

Chevron Crisis Advisor, Corporate Real Estate, Philippines

Going on 12 years, Rina is the Crisis Advisor for all of the Philippine offices in Chevron.

A professional Occupational Therapist, she obtained her license by 2009 with years of practice under her belt. She then completed a certificate course on Disaster Resilience in the Asian Institute of Management last April 2022. This has helped strengthen her expertise for Business Continuity and Crisis Management after being certified as a BCP professional by the BCI in March 2021.

Organizational resilience has not only been her key role in Chevron. She is also one of the certified practitioners, building personal resilience with her peers, under the StRaw (Sustaining Resilience at Work) programme.
Jennifer MacKenzie MBCI

Operational Resilience Business Partner, abrdn, UK

Jennifer is an Operational Resilience Business Partner for a FTSE 100 financial services company, managing the Operational Resilience Programme and Global Business Continuity Programme.

She has over 15 years' experience within the Risk, Continuity and Resilience industry, across both public and private sectors globally. She also developed her knowledge and expertise within the industry during this time and currently has multiple qualifications, including being a certified member of the BCI (MBCI), an ISO22301 Lead Auditor and holding a degree in Risk Management.

Jennifer's varied career has seen her involved in many large-scale incidents and events, such as the London 2012 Olympic and Paralympic games, Boston Marathon Bombing, Charlie Hebdo Paris Shootings, Berlin Market attacks, COVID-19 pandemic, and the Russia/Ukraine War – which provides her with a unique global view on all things resilience.
Wasim Malik FBCI

Principal Consultant GRC, CyberCX, Australia

Wasim Malik (FBCI, MBCP, GRI, CRISC, GRCP/A, ITIL Expert) is a highly experienced and respected expert in the field of Business Continuity, with over 20 years of experience in Disaster Recovery and Crisis Management. He is a Fellow of the BCI and was inducted into their Hall of Fame in 2018 for his significant contributions to the industry.

Wasim is known for his expertise in developing and implementing BC solutions that help organizations minimise the impact of disruptive events. He has worked with a wide range of organizations across industries and is a registered trainer and auditor for ISO standards related to BC, information security, and environmental management.

Wasim has also contributed extensively to the industry through his leadership in industry associations, speaking at events, conducting audits and training, authoring articles, and participating in the development of industry tools and guides. He is a big advocate of ESG and believes that ESG is an integral part of resilience and should be integrated into organizational strategies.

Overall, Wasim is a highly respected and accomplished professional in the field of Business Continuity.
Stephen Pybus AMBCI

Operations Resilience Manager, NATS, UK

Dr Stephen M Pybus (BSc (Hons) MSc MBA DBA AMBCI CEng FIET) started his career with the UK Civil Aviation Authority (now NATS) in 1989 as a Graduate Engineer and has progressed within the Engineering and Operations divisions, now accruing c.35 years' experience within the Air Traffic Management (ATM) field.

During his career he has undertaken various roles within NATS, including systems engineering; requirements management; capital investment appraisal; advanced concept development; business case development; customer consultation; safety case development; and external stakeholder engagement.

His current role as Operations Resilience Manager is focused on Business Continuity to ensure that NATS Operations can provide resilient and efficient services when faced with unexpected adverse situations, events and incidents. He is experienced in Business Continuity, Incident Management and Operational Contingency.

Steve is a Fellow of the Institution of Engineering and Technology (FIET), a Chartered Engineer (CEng) and an Associate Member of the BCI (AMBCI).
Meredith Spong MBCI

Director, Resilient Consultancy N.V., Suriname

Meredith has more than 17 years of experience across multiple industries and geographies in areas of Enterprise Risk Management, Business Continuity Management and Compliance.

She is Director of Resilient Consultancy, a consultancy firm based in Suriname; a certified member of the Business Continuity Institute (MBCI); a certified trainer with the BCI; and PECB Certified ISO22301 Senior Lead Implementer.
Bethany Warren AMBCI

Business Continuity Professional, Marsh Advisory, UK

Bethany Warren (MSc AMBCI) is a Business Continuity professional, currently working at Marsh Advisory within their Resilience team.

She has particular expertise in Business Continuity and Resilience, and supports clients across the globe, from a number of industries. She is a qualified lead implementer for ISO 22301 and frequently attends and contributes to industry webinars, thought leadership and events.

Bethany was named Business Continuity Newcomer of the Year in the CIR Business Continuity Awards 2020 and spoke at the BCI World Conference in 2021. She sits on the BCI Women in Resilience (WiR) committee and the BCI London Chapter committee.