Commissioner Shane Fitzsimmons announced as keynote speaker for BCI World Horizons 2021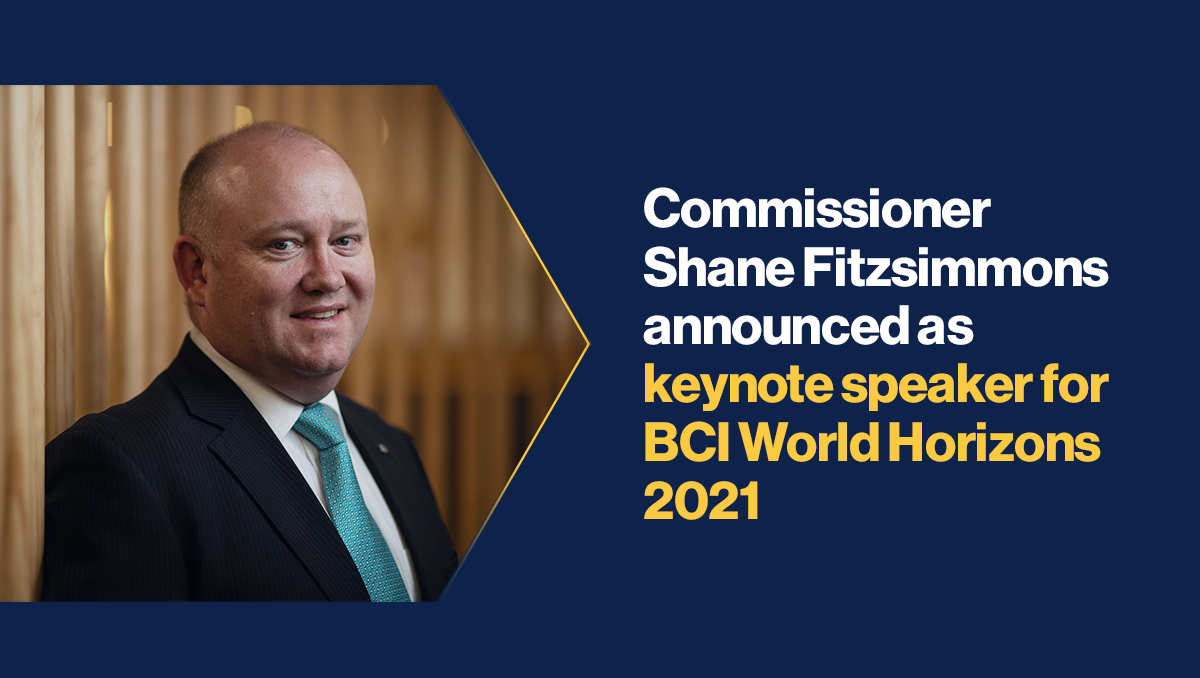 BCI World Horizons – the first ever virtual conference designed especially for those residing in Australasia, Asia, India, and the Middle East – promises to be a pioneer event for professionals and practitioners working in the business continuity & resilience industry.
The programme, which launched on 11th March, features an outstanding line-up of experienced speakers leading insightful sessions that will provide the audience with great learning opportunities.
…but what about the keynotes? Don't worry, we've got you covered!
It is with great delight that we announce Shane Fitzsimmons AFSM, Commissioner of Resilience NSW, as the next keynote speaker for BCI World Horizons 2021.
Commissioner Fitzsimmons is currently the chair of the State Emergency Management Committee (SEMC), the State Recovery Committee (SRC), Board of Commissioners (BOC) and the National Emergency Medal Committee (NEMC).
He has both worked and volunteered for the NSW Rural Fire Service of over 35 years and has been awarded the Rural Fire Service Long-Service Medal, the National Medal, and the Australian Fire Service Medal (AFSM). He has also been acknowledged with a Paul Harris Fellow and a Paul Harris Fellow Sapphire through Rotary Clubs of Berowra and Sydney.
Commissioner Fitzsimmons has most recently been announced as the 2021 NSW Australian of the Year, and the Australian Father of the Year 2020 through The Shepherd Centre.
At BCI World Horizons, he will take part in a live streamed interview, "In conversation with Shane Fitzsimmons", that will be facilitated by a BCI presenter. In this 40-minute interview, Commissioner Fitzsimmons will discuss the 2019-20 disaster season, he will reflect on leadership during a crisis, and the importance of mental health & wellbeing within the workplace. The audience will have the opportunity to engage with Commissioner Fitzsimmons in the post-interview live Q&A session.
"In conversation with Shane Fitzsimmons" will be live streamed on Thursday, 17th June, 2pm-3pm AEST (4am-5am UTC)
For more information about BCI World Horizons please click on the link below.
About the author

Digital Marketing Manager , The BCI