Community Resilience Volunteer Week - Case Study: Sevalaya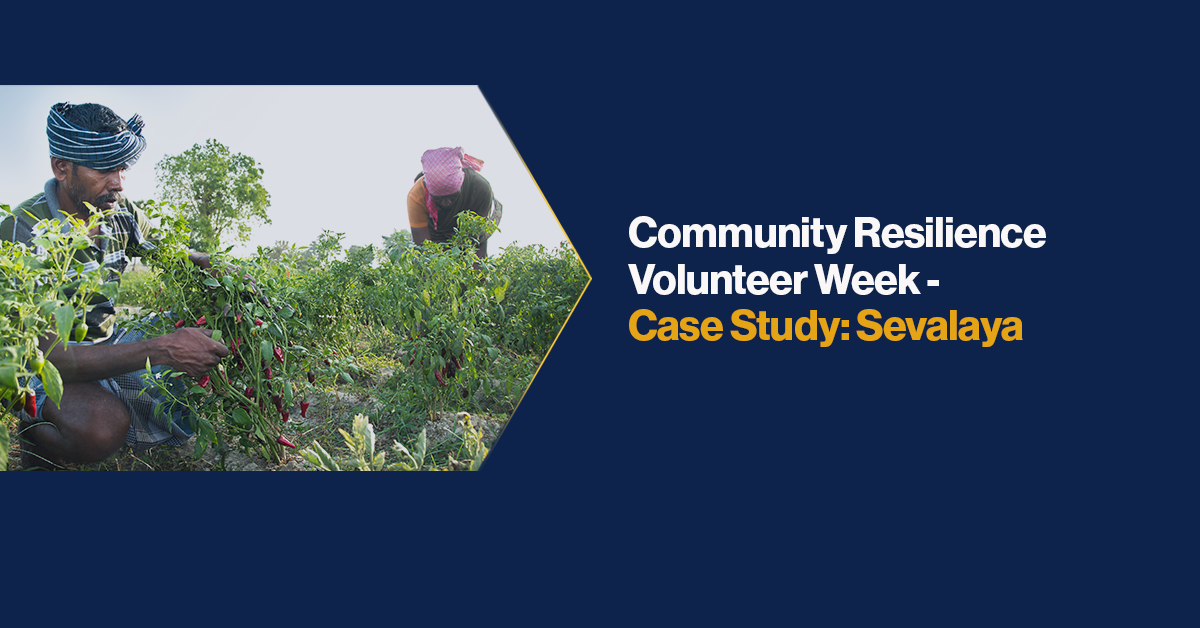 In June this year, the BCI is holding the 3rd Community Resilience Volunteer Week (CRVW) which seeks to encourage business continuity and resilience professionals to participate in pro bono work to enable communities to benefit from their valuable skillsets.
BCI member Daman Dev Sood FBCI has been working with one of his local organisations, Sevalaya, to improve their resilience and business continuity plans. Daman has committed to delivering regular lectures for them on business continuity awareness with the first one happening on 27th March. In the lead up to CRVW Daman will be contributing one session per month with risk management, crisis management and organisational resilience the next topics scheduled. He has also offered to help them create business continuity, risk and crisis management plans.

Sevalaya is a registered charitable Trust established in 1988, head quartered in Chennai and doing charitable activities in Chennai, Tiruvallur, Tenkasi, Kanchipuram, Trichy, Tirunelveli, Thanjavur, Nilgiris, Chengalpet districts and Puducherry. We run free school, hospital, medical centres, mobile medical services, community colleges, old age homes, organic farming, gaushala, Tuition Centre and many other services to the orphan and destitute children, rural youth, senior citizens and animals.

The organization is professionally managed and is governed by a Board of Trustees drawn from industry and social sectors, with a deep commitment to social development. Sevalaya draws its inspiration from Mahatma Gandhi, Swami Vivekananda and the patriotic poet Mahakavi Subramaniya Bharathiyar and their philosophies.

The vision of Sevalaya is to serve the underprivileged and transform them in to an equitable,happy and fulfilled society with an improved quality of life
Sevalaya's mission is to offer high quality inputs and services free of cost.
Ensuring excellent education, life skills, physical and mental wellbeing as also character building, to prepare children for responsible and happy lives.
Caring for the elders and ensuring their physical, mental, emotional and spiritual well-being, for them to lead their lives with dignity.
Capability enhancement of the poor, for self sustaining livelihood.
Rural development, leading to creation of model villages.
Relief and rehabilitation interventions in response to natural calamities.
Leadership and capacity enhancement of NGO sector.
Their values are;
Service and sharing
Equality
Moral uprightness
Excellence
Transparency
All their services are rendered absolutely free of charge, without any discrimination on caste, creed, religion, or gender.

If you would like to be involved with CRVW either as a volunteer or as an organization please click here for more information.
About the author

International Resilience Trainer & Consultant
As BCI's Continuity & Resilience Contributor (Global, India & South Asia) Winner 2021, Continuity & Resilience Contributor (Middle East) Winner 2020 and Global Finalist, Merit Award (Global) Winner 2012, Business Continuity Manager of the Year (India) Winner 2009; ILAs' Global Outstanding Leadership Award Winner 2021; DRII's Lifetime Achievement Award 2021 Finalist; Finalist in Parivartan Sustainability Leadership Awards 2014, and with over 35 years' experience in the Industry, I am and Independent Trainer & Consultant. Earlier I worked with Continuity & Resilience (VP, Practice Head, CIO, COO, Advisor); Steria (Head Business Continuity Management - UK, India & Head Green Activities – India; TCS for over 20 years in various roles and positions. I have rich experience in Organisational Resilience, Environmental Sustainability, Business Continuity Management, Risk Management, Crisis Management, Business Excellence and Consulting (BCM, Green IT, Quality/ Process/ Malcolm Baldrige) and Training. I am a Technical Expert & Lead Auditor for ISO 22301 (Business Continuity Management System). I am also an Energy Management Expert (ISO 50001). I am Accredited Tutor for BCS "Foundation Certificate in Green IT" course. I have been a BCI Approved Instructor (2012 – 2021) and a member of the BCI's Speakers Bureau. I am IEEE Ambassador, Fellow of the BCS (British Computer Society), Fellow of the BCI, Senior Member of IEEE. I am also a member of AIMA (All India Management Association) and Member of DMA (Delhi Management Association). I am a Life Member of the CSI (Computer Society of India). I have served clients in various industries and sectors like IT/ IT-eS, Banking, Finance, Insurance, Retail, Manufacturing, Automobile, Pharma, Real Estate, Marine, Trading, Government, PSU, Telecom, Aviation, Energy/ Oil & Gas, Media, Power etc. I have delivered over 500 talks/ workshops in national and international events. I am an expert in Disaster/ Crisis Simulation Exercises including for the top management of organisations in different countries and industry sectors. With over 9500 hours of training+teaching experience, I am a Certified International Trainer and Certified Corporate Trainer. I am also a Qualified Independent Director. My services cover standards like ISO 22316, ISO 22301, NCEMA 7000, BS 11200, ISO 31000 etc.