Conducttr partners with Controlled Events to launch the Practical Guide to Exercising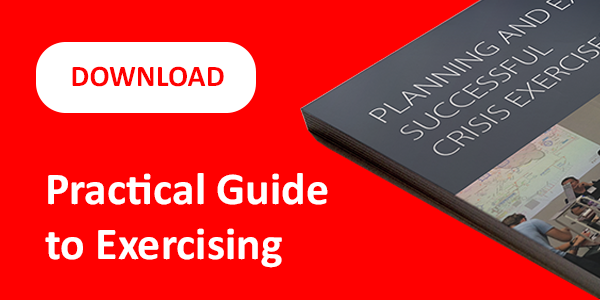 Conducttr crisis simulation software and Controlled Events resilience and events consultancy have teamed up to reveal tips and tricks to design and deliver effective Business Continuity exercises.
Conducttr has just launched the Practical Guide to Exercising, a free practical e-book full of proven tips and definitions that will help to plan and execute successful crisis scenarios and business continuity simulations.
"There is a lot of content out there on the importance of training and getting prepared" Robert Walley, MD at Controlled Events states, "but there is a lack of information on how to prepare an actual crisis session which matches the maturity of the audience, the available time to prepare a scenario and the mode of delivery. Using a technology like Conducttr on a daily basis has provided us with helpful insights we wanted to share in this guide."
With the goal of making planning and executing exercises more accessible to BC managers, this new book is full of proven tips, important considerations and quick reference diagrams and tables.
"We wanted this to be a speed-read go-to resource" said Robert Pratten, CEO at Conducttr "Controlled Events' experience in designing, delivering and debriefing exercise simulations to a variety of exercise types and sectors was important to create a truly practical e-book"
The Practical Guide to Exercising is packed with valuable on-the-ground experience and rules that can be applied straight-away in already existing and up-coming exercises.
With an average of an exercise every fortnight, remotely delivered due to COVID-19, both partners have been learning from every simulation and will keep the guide up to date to reflect experience and feedback.
This free resource can be downloaded here: https://www.conducttr.com/practical-guide-to-exercising
More on