The BCI Future Leaders Initiative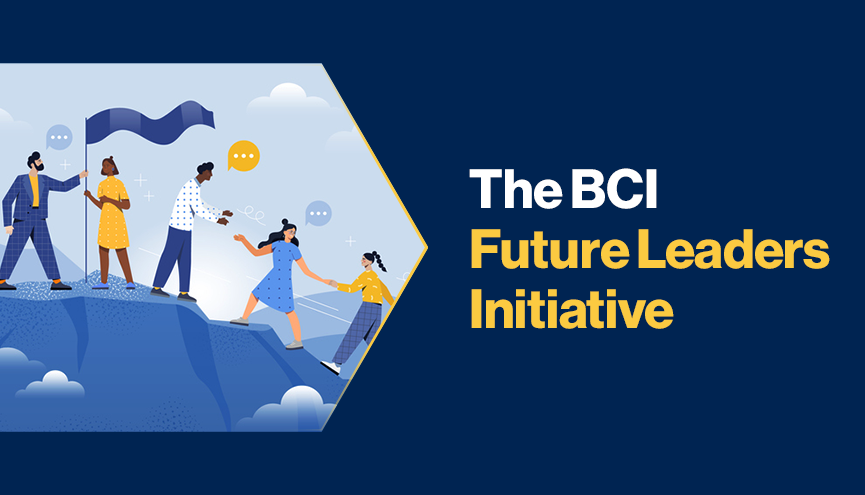 The BCI Future Leaders initiative
The Board of the BCI is pleased to announce the launch of the BCI Future Leaders initiative. This is designed to present a unique development opportunity for those in the early stages of their career within the profession, whether the candidate is in their first professional role or has just made a recent career change.
This voluntary role is a non-voting 2-year fixed term position on the Global Board. The individual will gain exposure into, and ability to influence, strategic leadership discussions and decisions.
In return for your time and commitment, the Board is offering a structured learning and development package to be completed through the course of your term. This includes, but is not limited to:
Institute of Directors (UK) training on the role of the Director and the Board
Leadership learning modules
Rolling sub board commitments to also sit on the BCI Finance, Audit and Risk Committee (FARCOM) and the BCI Equality Diversity & Inclusion (ED&I) working groups
Rolling Mentor & Mentee opportunity across the leadership team
Completion of a "Life of a Board Member" taskbook, covering all aspects of an elected BCI board member
On completion, you will have gained training, knowledge and hands-on experience to aid you in future leadership roles.
Suitability:
We are looking for business continuity professionals with the CBCI qualification who are within the first five years of their BC career. Whilst experience is important, we are seeking an individual who has well-rounded business skills and a strong commitment to personal and professional development. An individual who is confident in their views and capable of challenging other board members and contributing to the direction taken by the BCI. This role is open to all BCI members who meet the above criteria.
Application Process:
Initially, please send your CV along with a covering letter telling us why you will be the perfect candidate to be the first appointment to our Global Board of Directors Future Leaders programme. We want to see evidence of commitment to developing your career within the BC and Resilience profession and also evidence of a willingness to take responsibility and to participate in group activity. This should be sent to [email protected]
The closing date for applications is Wednesday 21st December 2022.
Interviews will take place virtually by 13th January 2023 and an appointment will be made at that time.
The successful candidate will be invited to attend their first face-to-face board meeting in Reading, UK taking place over the weekend of 4th and 5th February 2023.