How could postal delivery strikes impact organizations?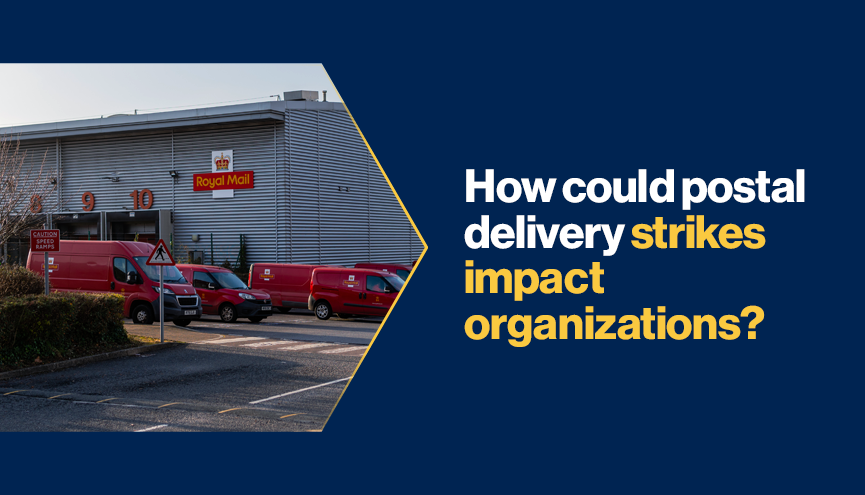 Royal Mail workers are planning to take national strike action on certain days throughout December (14, 15, 23, 24th), with this action already affecting customers and organizations who use the postal service.
"Royal Mail has well-developed contingency plans, but we cannot fully replace the daily efforts of our frontline workforce. We'll be doing what we can to keep services running, but we are sorry this planned strike action is likely to cause you some disruption," according to a statement on its website.
The organization will not deliver letters on strike days, but still aims to deliver as many special delivery and tracked parcels as possible during the strike.
For those organizations who rely on these services, it is important to understand how this may impact operations. It is also important to plan for the ripple effects caused by the loss of a large supplier on the wider delivery network.
For instance, December is a high-demand period for large- and small-scale online retail organizations that rely on distributors to transport their products to customers. If such a business is relying on one service supplier to deliver items before Christmas, they will need to assess the impact of the loss of these services. This includes reputational damage if products are not received by customers, decline in revenue (customers may choose to make a purchase from a physical location instead), and the associated costs for expedited postal services, replacement products if not received, more staff to handle customer queries, etc.
Of course, as this strike action is taking place in the middle of winter, it may represent a further delay to product distribution following the recent impacts of severe weather (snow and ice) in some regions as well as a rise in seasonal illnesses affecting postal staff, both of which may already be delaying postal services.
When asked about how resiliency could be built into supply chains to protect against the effects of the strikes, David Window, Director at Continuity Shop, says that the "first element is to acknowledge the size of the organization that is at the heart of the issue. The complexity that comes from smaller organizations using larger organizations to make deliveries, adds another dimension. Most organizations will not have leverage with an organization like Royal Mail individually, but only as a cohort of clients. Therefore, an organization is unlikely to ask them to see their plans before embarking on a contractual relationship."
Therefore, David adds that his first recommendation to organizations "is to understand their place in the market from which they are buying. Are you a client that commands attention or, if you are dealing with a bigger player, do you really have any influence at all? In such cases, the organization must take steps to mitigate its supply chain risk itself without total reliance on the supplier. The next step is to have a BC plan that has a solution for the loss of such a priority supplier. A large dependency on one supplier should lead to considering a solution that deals with the loss of that supplier. This means understanding the alternatives and the additional costs that may be incurred."
Small businesses will also need to be aware of the effects of large organizations securing contracts with alternative distributors. Large organizations are likely to have contracts with alternative suppliers, or look to put some in place, and will shift a heavier load onto their alternative delivery providers. As these alternative delivery providers will have limited availability, they may well prioritise delivering services for those organizations where service level agreements are in place.
"Consider having a diverse solution, where the organization not only relies on one supplier but operates diverse supply contracts with the supplier's competitors. If the organization uses a post-incident acquisition solution it may fail as the competitors who have current over-capacity will soon be used by others," says David.
Indeed, during the current strike, alternative suppliers are having trouble completing orders due to the sudden increase of demand in an already strained environment (the holiday season)[1].
A few solutions for resilience
The key is to be aware of the supply chain risks and dependencies and deal with the issues before incidents occur by having preventative risk mitigation and responsive actions through a good BC plan, says David. He also outlined three rules which organizations can follow to increase supply chain resilience in this scenario:
Understand your organization's priority suppliers and how the organization depends on them. If control of that supplier is limited, then take steps to mitigate the risk and consider solutions before an incident occurs that will reduce the dependency. Even attempting a replication solution requires a pre-agreed contractual service level agreement (SLA).
Collaborate more closely with procurement professionals and bring them into the process of designing BC solutions.
Understand the strengths and weaknesses in any SLAs and take mitigating actions against the weaknesses and use the strengths to the organization's advantage.
Returning to normal service levels
Organizations will also need to be aware that there may be delays to distributing products before and after strike days, due to increased demand and a backlog. However, Royal Mail has announced that it will bring additional capacity online after strike days to counter the effects of this:
"After industrial action takes place, we'll be increasing our network capacity and using additional resources to assist with getting services back to normal. Collections from business customers, Post Offices and post boxes will resume the day after strike action finishes. Deliveries will also resume the day after strike action finishes. This will include accelerating the delivery of NHS and healthcare letters and critical Government mailings in the days following strike action."
---
[1] https://www.telegraph.co.uk/news/2022/12/11/private-delivery-firms-struggle-huge-demand-royal-mail-workers/
More on
About the author