How have Work Area Recovery providers been impacted and evolved since the pandemic?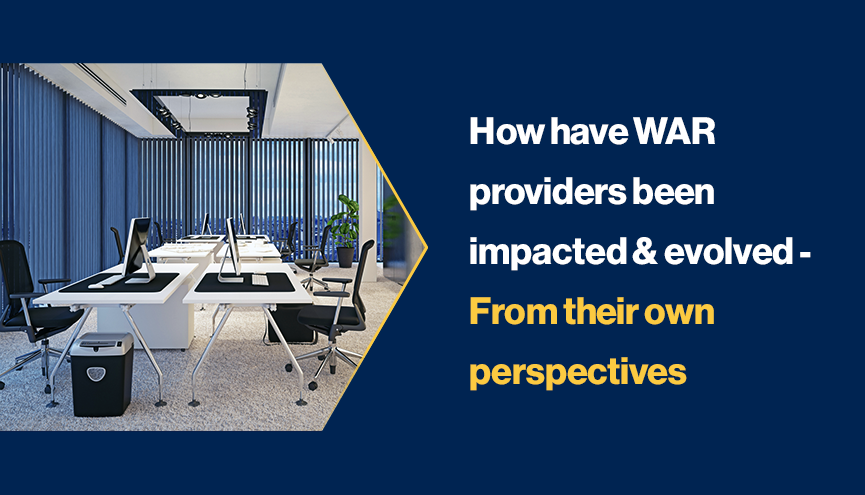 From their own perspectives ....
When the pandemic hit in early 2020 many offices around the globe had to close, and this was no different for Work Area Recovery (WAR) sites. We sat down with some of the key players in the industry to see how the pandemic has affected them and how they have moved forward.
We would like thank Daisy, Regus, FortressAS, and Sungard Availability Services (Sungard AS) for their contributions to this article.
The initial impact of the pandemic
As Daisy pointed out starkly, 'Providing customers with use of shared work area services especially during the early phases of the pandemic was simply not possible.' With governments around the world enforcing 'lockdowns', companies had to shut their office doors and the same applied to WAR sites. However, lockdowns created an additional problem for WAR suppliers, Daisy explains that many customers started 'questioning the value of the shared work area service as they changed their business model to working from home'. Moreover, as reducing business costs became high on the list of priorities, there was a reduction or complete removal of work area services. This sentiment was echoed across all suppliers with FortressAS commenting 'as we realised that we could work productively from home, organisations decided that there was no longer a need to pay subscriptions for fallback offices,' and adding, 'the shared work area recovery market has disappeared - we have had no new opportunities for this since March 2020,' after having a full pipeline of enquiries prior to the pandemic.
However, it is important to point out that 'for customers that had dedicated work area recovery - delivery of services did, and still does, continue working within the health and safety guidelines and laws laid down by government,' as confirmed by Daisy. Moreover, Sungard AS noted that some organizations were actually 'buying dedicated or serviced workplace instead.'
The impact the pandemic had on WAR suppliers was huge, first they had to shut their doors and then demand for their services fell off a cliff, how would they survive and move forwards?
Service propositions have changed since COVID.
No doubt the pandemic took the world by surprise, and this was no different for WAR suppliers, but they quickly realised the severity of the pandemic and the impact that it may have had on their business models. 'We realised early on that the pandemic would change the industry and we had to move fast and be creative to remain relevant and continue to deliver value to our customers,' explained FortressAS, whilst Daisy told how 'initially it was information gathering from our customers and the market at large,' to then be able to adapt their offerings for the 'new world'.
Some of the changes implemented at WAR sites:
Regus confirmed they are still offering their full service, but they have implemented social distancing measures and installed barriers to minimize viral spread.
Sungard AS has removed all declaration fees and enabled their shared suites to be used for planned events. They have allocated more seats than under contract to allow for social distancing. They have also launched Sungard AS' Serviced Workplace offering for greater flexibility. This new solution provides customers with on-demand access to fully dedicated, bespoke working areas. Each suite provides the necessary IT equipment and connectivity, housed within buildings with hardened infrastructure, such as UPS and generators. The offering enables businesses to move workforces partially or entirely to a new location on-demand as their business needs evolve.
FortressAS have implemented social distancing measures to their spaces and ensure that they have dual feed power and dual feed communications, UPSs and Generators to guarantee resilience. They have also developed a new resilience solution discussed later in the piece.
Daisy's efforts were directed to anticipating and meeting the needs of their customers and satisfying customer demand with as much flexibility as possible. Most of their customers were having difficulty rounding up a team to rehearse, so they supported them by carrying out managed testing using remote services, reducing the need for travel and footfall in buildings.
Split team working
Most suppliers are now offering split team working (if they were not before). Sungard AS commented 'Traditionally, suites were not designed to accommodate permanent working. We've introduced offering modifications, like our Serviced Workplace offering for greater flexibility and accessibility – in essence, the same suite resilience but designed with staff comfort and well-being in mind. Daisy noted that they 'are now offering a "tech-enabled" serviced office approach that fits into the hybrid working strategy that businesses are now adopting. Customer teams can be permanently based at our serviced offices, and we also support flexible short- and long-term office requirements. Our traditional Work Area Recovery customers will be able to use their contracted positions for planned events as part of their service'. Regus commented that they have always had this service within their offering.
It has been well documented how some organizations have had such success with their staff working from home (WFH) that they are now considering abandoning their permanent offices altogether, perhaps this split team way of working at WAR sites is win-win for consumers and suppliers. Consumers have a permanent location available when needed for those critical staff, or those that cannot WFH, and suppliers have their WAR sites in regular use.
Requirement changes
When asked to consider how consumer requirements have changed all four suppliers were in agreement in the four things customers are now demanding:
Contract flexibility and the ability to use space for split team working and homeworkers on demand
Reduction in volume of contracted space
Increase in space between desks
Private rooms
All four were fairly predictable requirements.
Organizations are looking for as much flexibility as possible, we are still not clear of the pandemic - with some countries in the northern hemisphere already introducing some forms of lockdown as it enters the winter period – so organizations are looking to keep their options open. Some organizations are still trying to work out what they intend to do long term with their offices and staff, again adding to the uncertainty and the need for flexibility.
The second two points are standard - not just in office space requirements - but in life at present. People want to have more space around them and limit the number of people they come into contact with, so it is only right that their employers try to accommodate this in their work environment as well.
All four suppliers agreed that they have, are, or will be re-modelling their sites over the coming months. These changes are clearly linked to the changing demands and requirements of the customers with the suppliers increasing the number of private rooms and upgrading facilities to be more suitable for full time occupancy. Daisy commented 'As we gain more understanding about what our customers want and how businesses are adapting to flexible working, we will be remodelling our recovery centres. We've already started this following the rollout of our serviced office proposition.'
Is home working a 'safe' option?
This is a debate that has often been had in the industry over the last 18 months – we have heard the claims about cyber security being a major issue, but what do these suppliers think …
Sungard AS stated 'the hybrid working genie is out of the bottle, now is a good time to take stock and consider how the experiences of the past 18 months might influence how we approach resilience going forward.' Sungard AS went on to claim there are three main considerations we need to take into account:
There is no one-size-fits-all solution and no playbook – as different functions and sectors all have unique needs.
Remote working has emphasised the importance of security and has certainly caused a few headaches. Use of poorly configured domestic Wi-Fi, slow domestic network speeds, use of personal devices, and unsupervised access to sensitive information all represent potential areas of concern.
Probably the most important consideration is the very real mental health impact on staff of working remotely. Prolonged lone working has required many organizations to allow more vulnerable staff to return to the office environment. Conversely, some staff adopted an "always on" approach, leading to a significant increase in the number of hours being worked. Onboarding new starters remotely has been challenging, and in general WFH was not an attractive option for younger staff who would prefer a return to the office. For the majority of staff, it was the lack of informal face to face interaction and challenges with collaborative working that were cited as the main areas missed by staff during prolonged periods of home working.
So, from Sungard AS' perspective the main issues were – Security (both IT and physical) and staff Mental Health and wellbeing.
The other suppliers also focused on the impact of IT security with Daisy commenting 'Working from home negates any of the enforcement of company standards of working health and safety, physical and cyber security, regulatory controls and so on. It completely changes the risk profile and creates a huge opportunity for cyber-crime, presenting many single points of vulnerability and potential failure. The threat of cyber-crime is very real and having distributed staff working from home significantly increases the risk of attack.'
Daisy also went on to comment 'Working from home traditionally has been part of an organisation's business continuity plan, so what is the business continuity plan if that becomes BAU?' An interesting question and possibly time to change those plans?
Reskube pointed out some other challenges that home working may cause, 'many staff may live in a similar location and not far from the office. If this is the case and there is an area wide problem with power or internet, then neither home nor office will be usable as a fallback. Also, if the organisation is hit by ransomware and PCs/laptops are locked neither the home or office will be usable, and a fully equipped Recovery Centre will save your organisation many hours and potentially days without critical infrastructure.'
One further point for consideration was noted out by Regus, 'Area wide weather events also affect home-based workers longer as residential areas are typically restored after the commercial sectors.'
As described by the four suppliers, there are many considerations for BC professionals and organizations to think about when considering the option of home working on a permanent basis – but there is not a 'one size fits all answer,' this will depend on the unique circumstances of each organization.
New solutions for homeworkers
As homeworking continues throughout the pandemic, and looks set to stay permanently for some, we were interested to find out about any solutions developed for those individuals and organizations.
Regus confirmed, 'we are now offering a home worker recovery product that allows for the home worker to self-provision recovery at the time and location that best meets their need without going through a central office. Then we provide monthly reporting to their BC team so that they can make adjustment to their work and recovery strategies.'
Daisy also noted, 'We have been providing solutions to support homeworking since the start of the pandemic - we were able to work with our global vendor partners to help our customers make the change to homeworking and deliver leading cloud and unified communications solutions to make homeworking more productive. As part of that, we offer 'homeworker bundles' to make it as easy as possible for customers to match the best technology options for their respective environments.'
Fortress went one step further and developed a separate standalone product – Reskube.
Reskube noted, 'Many homeworkers can fall back to the office or to Recovery Centres if there is a power or internet issue at their home. However, some staff (we find it is between 5-10%) need RESILIENCE at home rather than just fall-back provision. These staff are undertaking activities that must not be interrupted or that are time critical. These are a surprisingly broad range of activities.'
They continued, 'As an enterprise with 100s or 1000s of staff you could send out UPSs and 4G Failover Routers with the required cables etc. But staff are generally not technical, and they may not set the equipment up, or set it up incorrectly. Working remotely, you can never be sure what the situation is. The result is a support headache and a lack of control and visibility.' With this in mind Reskube was developed, according to them it is 'a simple answer to a complex problem.' Essentially, it is a 'simple to deploy and manage solution that provides resilient power and internet to homeworkers.'
So, the answer is 'yes, 'these suppliers and many others have been working on solutions to improve stability, reliability, and security for homeworkers and over the coming months and years we will probably see more solutions on the market.
Financial Services still leading the way
When asked if there had been any change over the last 18 months of those organizations using WAR sites, the answer was unanimous. It is still those sectors that are regulated that are the leading users – namely financial services.
Daisy commented, 'Mostly the mature risk-averse companies see the advantages of work area recovery. Any company that has critical services agreements will have this as part of their business continuity plan - the financial services sector being the most obvious example where regulatory demands make it an essential requirement for their business.' Regus did largely concur but stated, 'We have all size type companies as clients from 10 person to 100,000+. But typically, they are larger firms that have someone in charge of risk/BC programs internally. Sectors would include, Financial Services, Oil/Gas, Pharma, Legal, Retail, Healthcare, Gov and Insurance.
Daisy did also point out that 'any organization that has a customer service or call centre environment, especially those that need to be always available and those driven by meeting customer service targets or those that need to accommodate seasonal peaks in activity.'
Considering using WAR sites?
What are key elements we should consider before signing up …
'Best practice is to go through a risk assessment of your business, examine what is critical to the business estimating how long the business can do without the various components that make up the services. It is quite a shock to most to list all the vulnerabilities. Consider your staff, how they work, how far they travel and how the location of a recovery site fits in to meet these demands,' is the advice from Daisy.
Sungard AS went a little further and gave an example of one of their clients, 'Regardless of where you work, if you don't put the customer at the centre, you'll be falling behind competitors that focus on putting the customer at the forefront of all solutions. We had a Call Centre provider working in our Workplace Recovery facilities throughout the various UK lockdowns, who was winning work from their competition on the basis that they were responding to calls well within SLAs, with reliable network and telco connections, all from a secure office environment. So, you can convince yourself that WFH is the way forward, right up to the point where you are losing business to those who have done more.'
So, what is the future for the industry?
It is safe to say the future will be - different. The pandemic has put the move to remote and homeworking into light speed and it will not be returning, as Sungard AS commented 'the genie is out'. It is now up to these and all other suppliers to meet the changing needs and demands of businesses and potentially diversify their offering where possible.
Daisy's thoughts on the subject: 'There is likely to be a reduction in the number of suppliers and locations as a direct result of the impact of the pandemic and the reduction in revenues. There is evidence this is already happening and will continue to happen over the coming year or two. Whilst the demand will reduce, there will be a residual requirement driven by industry sectors and the regulatory or supply chain requirements to meet the needs of operational resilience. It is likely that organisations will want flexible access to work area services but in smaller numbers with larger organisations utilising more dedicated services but again in lower capacities.'
Thank you once again to the four contributors to this article - Daisy, Regus, FortressAS, and Sungard Availability Services (Sungard AS).
More on