Hurricane Ian set to make US landfall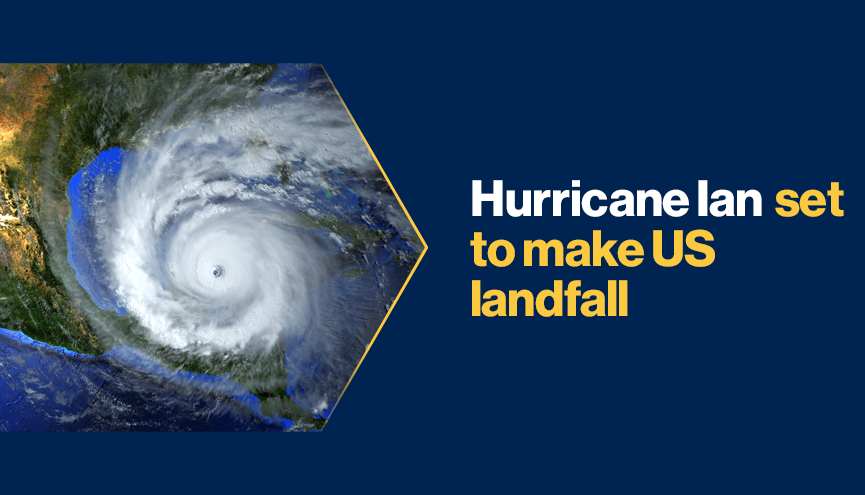 Hurricane Ian struck western Cuba on Tuesday and brought impacts ranging from infrastructure devastation to a total collapse of the country's electrical grid. As a result, more than 11 million people were left without power, with this expected to be restored gradually over Tuesday and Wednesday. Particular attention will be paid to restoring services at the Antonio Guiteras power plant – the most significant power-generating facility on the island.
However, there will be more lasting impacts from the hurricane with homes and businesses damaged by the storm. Indeed, it remains to be seen how severe the damage was to the country's tobacco farming industry, one of its main exports.
A strengthening Hurricane Ian is expected to hit the west coast of Florida over the course of Wednesday. The hurricane is now classified as Category 4, which, according to the Met Office, is 'extreme' and means evacuation is probable. In fact, evacuation orders are already in place along the coast and many organizations in the path of the storm have already announced they will be closing their doors on Wednesday.
What can businesses do to prepare for hurricane disruption?
Many organizations in the region will have plans in place for this situation due to the frequency of hurricane occurrences in the area. However, Tampa, which is expected to see some of the most severe impacts of Hurricane Ian, has not experienced a major storm such as this in more than a century. We are seeing an escalation of these so-called 'once-in-a-century' events more and more in recent years, alongside an increase in their impact. Therefore, it is key organizations have a plan and are prepared for them as much as possible.
When preparing for a severe weather event, such as a hurricane, a few key steps can be taken in advance. The safety and wellbeing of employees is a priority, with organizations in the path of the hurricane recognizing this by closing their doors, thereby protecting their staff and the customers who may have travelled to the business. It is also vital that a clear communication process is in place, so organizations know where their staff are and also that staff know their role throughout the incident – even if that role is to just stay home.
For example, if an organization closes in the event of severe weather, this plan should be clearly communicated in advance and it should be clear when this plan has been activated. Some organizations may rely on a mass emergency communications system to send out a brief message to all staff members.
Furthermore, for critical services in the organization, a pre-installed uninterrupted power supply (UPS) may be required when or if the electrical grid is compromised. Also, in advance of hurricane season, the Business Continuity plan for this incident could be tested, so key staff members are familiar with their role and responsibilities in case of activation. Any lessons from this process can then be integrated into the plans before any live activation of the plan is required.
Organizations with operations in affected areas, or those who rely on products from the region, may also need to evaluate the impact to their supply chain or critical services to customers, in the event of a long-term disruption.

More on
About the author