Interactive - Business Continuity Plan Template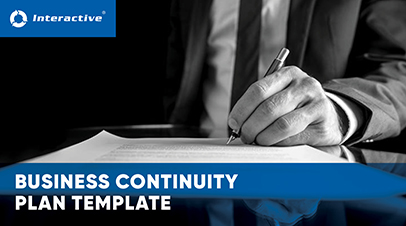 BCI partner, Interactive, have released a Business Continuity Plan template.
Business Continuity is a primary element of any risk management strategy. Developing a Business Continuity Plan helps to enable your business to be resilient in the event of an interruption or major disaster. Unfortunately, major disasters are becoming more frequent, therefore making the BCP a cornerstone feature any business plan. This year alone, Australian businesses have been devastated by bushfires and now are trying to cope with the COVID-19 pandemic. These events could not be predicted but can be managed with a comprehensive and well tested Business Continuity Plan.
But where do you start when you build a comprehensive plan? What areas should you focus on within your business? What elements are the most crucial to help your business to resume operations promptly? How do you know your business continuity plan is effective?
Building a unique Business Continuity Plan for your company can be considered complicated, stressful, and expensive. However, as each business is different, a generic BCP document will not be effective in mitigating your company's risk either. This leaves many businesses lost on where to start when building a plan or how to modify their current plan to be more effective without spending excessive time and resources.
Interactive have found there are fundamental and common elements used when building a BC plan and when testing its resilience. To assist you, we have compiled this information and expertise into our complimentary Business Continuity Plan Template. The template will provide sound guidance when building your plan and answer many common questions businesses have regarding Business Continuity. In the document, we focus on helping you establish a business impact analysis to determine the programme scope, identify potential threats with a risk assessment, and explore recovery solutions. The template will help to prepare your business to be resilient in the event of a disaster and mitigate risk when it is most vulnerable.
More on