Lebanon faces water shortage as the national power grid collapse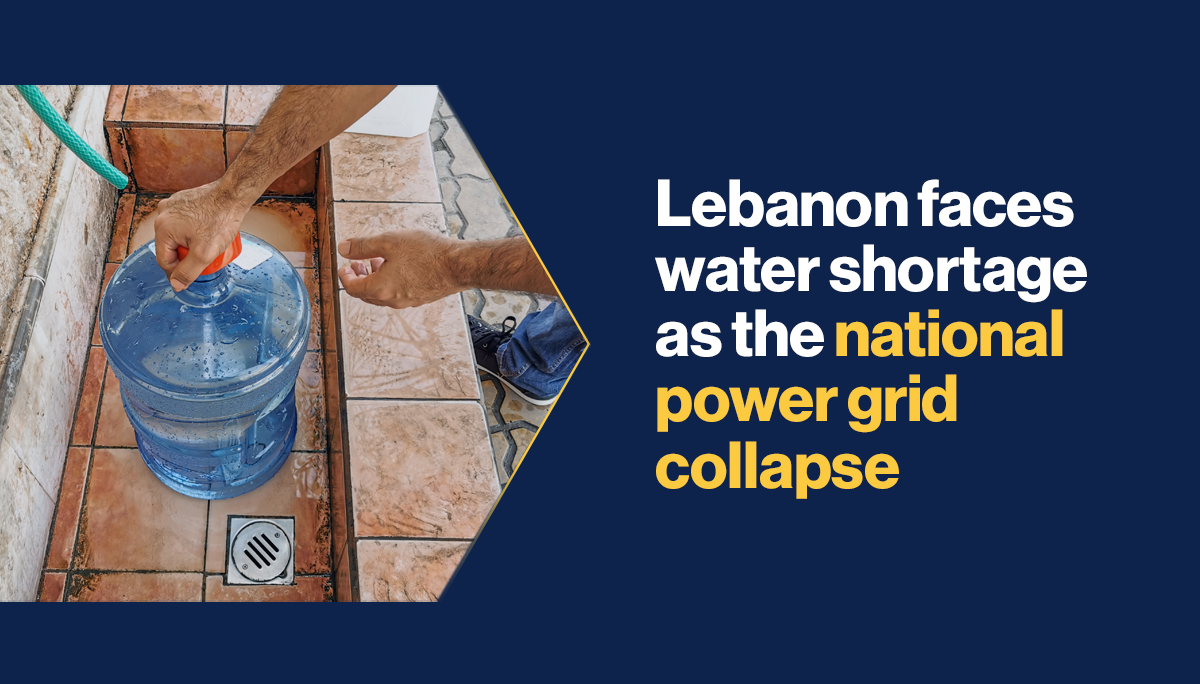 Lebanon's water shortage is now being deemed a crisis as the shortage could impact the lives millions of people and organizations
The water supply is in desperate need of repair according to Mission Network News as millions of people face water shortages. Private generators - brought in to sustain water short term after the national grid collapsed - have not managed to obtain a steady water supply. Under severe pressure by the major fuel shortages, the distribution of water is now under dyer threat.
Economic impacts could be severe with people and organizations facing higher water costs, which may cause businesses to relocate their operations to avoid disruption, especially if the business relies on water as a strategic resource. Beverage manufacturers, restaurants, mining operations and powerplants for example could be severely impacted.
Regulations could also be a threat as businesses may end up competing with the local community for water supplies, which should be a consideration for risk managers. A report by Zurich forecasts regulations such as water licensing and litigation around water rights may be possible in the face of growing scarcity. As a life sustaining resource, companies will likely face allocation disputes in the future if the crisis continues.
The electricity to power the water pumps are no longer available and the costs for maintenance are reportedly higher than the country can afford. UNICEF estimated water costs could increase at an exponential rate of 200% a month. The UN agency said it needed $40m a year to secure minimum levels of fuel required for operations to persist.
It was only last month, Al Jazeera reported that 70% of the Lebanese population were at risk of running out of water within days as the affordability of clean water is too high for a population in poverty. Currently, the country has the highest petrol and diesel costs in the world after Lebanon's central bank announced it could no longer finance fuel imports at heavily subsidized exchange rates. This has caused a domino effect on the entire country with power outages and blackouts forcing hospitals and businesses to scale down or close. workers are also unable to work remotely and the reliance on fuel to allow business to continue becomes dyer.
Wissam Nasrallah from LSESD told Mission Network News that people are unable to go to work as the don't have enough gas to run the basic of errands. This spills over into the healthcare system as doctors also fall into this category. Thousands of workers have immigrated as a result, leaving the country without skilled workers and unemployment rates are soaring.
Lebanon has recently come under new administration as billionaire Prime Minister Najib Mikati stepped in from the previous government who disappeared after the port explosion. Under pressure from foreign governments in France and Beirut, the new Prime Minister has promised to introduce reforms into what The World bank has stated as one of the most severe economic crisis in 150 years.
A recent financial lifeline thrown out by the Lebanese caretaker of social affairs and economy ministers is a long awaited cash card. The cash card is a financial lifeline for families in need and the government have invested half a million into topping up the cards. The cards will be active for one year and will provide $25-$126 for each household with citizens over 64 receiving additional payments.
The country will allow foreign auditing to ensure only the families who need the cash will get it and the Economy Minister said the government will be working alongside Central Inspection to ensure digital security and transparency.
More on
About the author

Journalist
Lisa Hanley is an In - house Journalist working for The BCI. With a Masters degree in Televison Journalism from City, University of London, Lisa has previously worked as a Freelance Producer and Journalist for London Live, PA Media and Thomson Reuters Foundation. Her experience varies from producing documentaries, films and podcasts, to producing news packages for television and voiceovers for radio.