Maharashtra banks to provide loans to flood affected businesses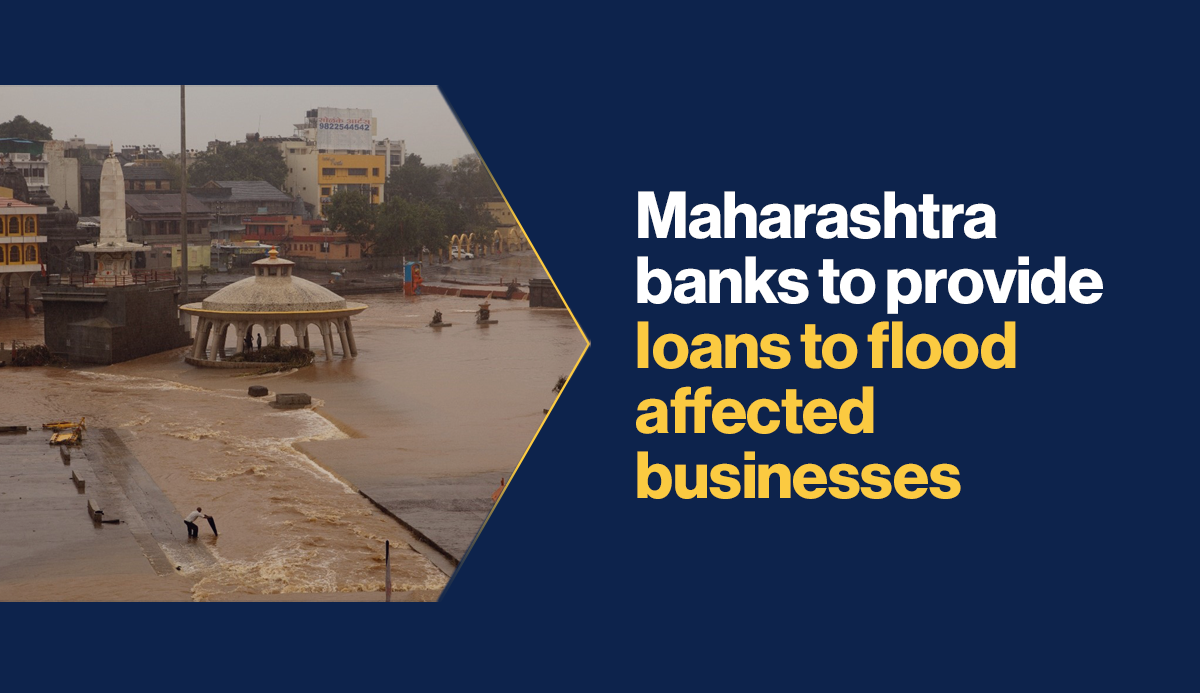 Businessmen, traders and shopkeepers are in line to receive bank loans in an attempt to support the continuation of trade amid flood disruption
District level banks will provide relief for shopkeepers, businessmen, and traders affected by the devastating floods and landslides last month. The scheme is open to businesses in six districts affected include Pune, Satara, Ratnagiri, Sindhudurg, Kolhapur and Raigad.
In late July, over 4,000 acres of land was damaged after a recorded 2, 823mm of heavy rain flooded Raigad. An official reported that in comparison to the same time in 2020, the flood accounted for 89% of the district's annual rainfall.
In July, the district administration said 3,709 shops and houses were completely destroyed. Small business owners already impacted by the ongoing pandemic and lockdowns said flood water had entered filled units, doubling the losses in profits and goods. Shop owners told ANI that they hope for relief from the government after losses in good impacts their ability to pay rents and staff salaries.
Road infrastructure was ravaged with flood water, leading to the closure of up to 290 roads. The movement of vehicles was affected on 469 motorways and bridges also suffered damages.
Farmers and crops have also been impacted with over 2 lakh hectares of crop area being damaged, leaving the leading state in the country for agriculture produce at risk of a deficit. Ranking first in the generation of horticultural crops such as fruits and vegetables which are strictly weather dependent, this could potentially be a huge blow to the economy. Estimates of over 10,000 farmers have been affected in Pune district, with farmers saying crops are easily damaged as their roots extend only a few 'feet into the ground'.
The state agricultural department received reports in late July of losses in paddy, soybeans and vegetables. Shriram Gadhave, President of the vegetables Growers Association told Times of India that there multiple vegetables have been affected and onions in storage structures which have been affected by floodwater could also be damaged due to premature rotting.
In the recent Pune Resiliency Survey conducted by The BCI Pune Chapter leaders Mr. Sanjiv Agarwala, FBCI and Ms. Debarati Rana, CBCP, floods, heavy rains and a lack of proper infrastructure were the top 2 risks identified by Business continuity professionals. This suggested early intervention into environmental disaster planning could have been an area for growth. In an instance such as flooding in Maharashtra, scenario testing could have led to the development of a resilience model which prompts the investment into alternative infrastructure locations for the storage of crops and supplies, or even pushing business leaders to think about stress testing infrastructure.
More on
About the author

Journalist
Lisa Hanley is an In - house Journalist working for The BCI. With a Masters degree in Televison Journalism from City, University of London, Lisa has previously worked as a Freelance Producer and Journalist for London Live, PA Media and Thomson Reuters Foundation. Her experience varies from producing documentaries, films and podcasts, to producing news packages for television and voiceovers for radio.