Michelle McMillan, Operations Manager (Risk & Resilience), shares top 5 tips to improve BC awareness within an organization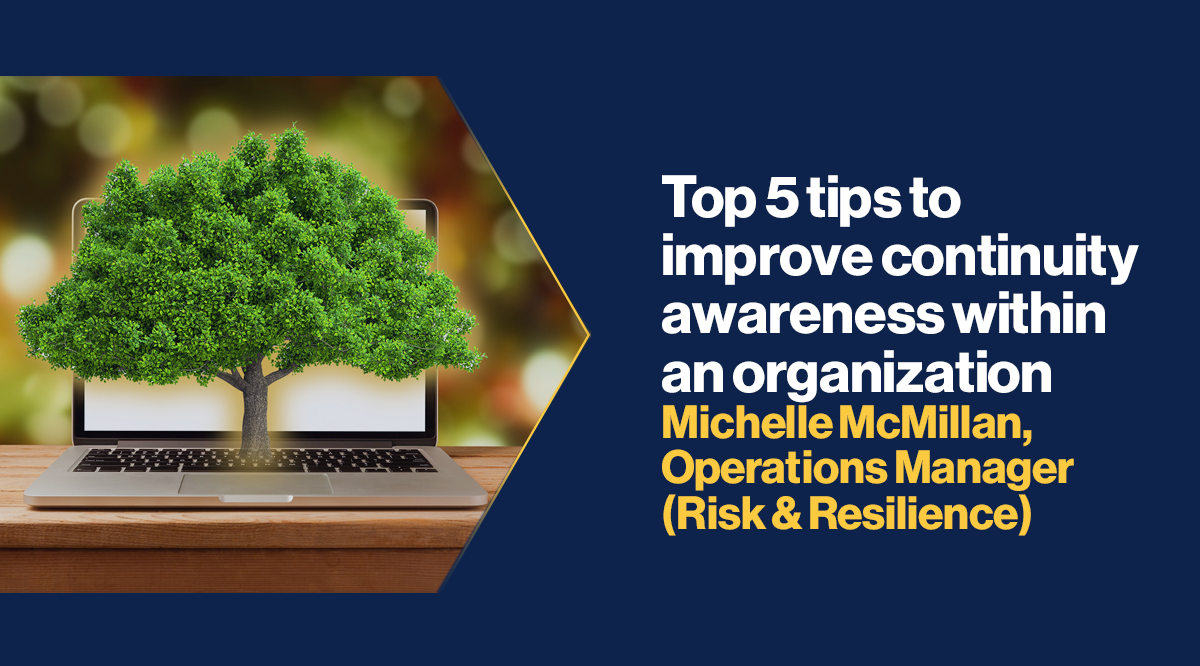 During BCAW 2021 we have reached out to professionals and practitioners in the Business Continuity & Resilience community and asked them to share five tips on how they embed Business Continuity within their organizations.
Throughout Education Month we will publish these tips in these short blogs…
Isomorphism – Understanding and learning from within the organisation A continual focus on learning from within the organisation, with a focus on understanding the organisation comprehensively. Conducting for example workshops and focus groups and taking risk based approached to business continuity enables an understanding of business continuity risks as well as the quality of mitigation/further actions required. Colleagues should see the business continuity function as an open door to discuss risks, issues and opportunities. Use learning to inform the organisations business continuity risk profile.
Risk Communication. When we do great things relating to business continuity and/or have fantastic advice to communicate we need to ensure this is undertaken effectively with all key stakeholders. The perception of key messaging should be carefully managed especially where business continuity actions are required to ensure what teams are asked to do is completed as required. In our virtual word there are so many opportunities to communicate to key teams as well as on mass across the organisation to ensure everyone is clear on business continuity objectives and how we are managing objectives, through the business continuity framework and associated risk methodology.
High Reliability – Lets have a healthy obsession with failure We need to recognise and continually be aware of arising business continuity risks, a healthy obsession with failure, identifying risks, mitigating and sharing good news stories around this is key. The organisations risk culture should enable these approaches.
Use and promote the Business Continuity Cycle with an emphasis on lessons learned Encourage teams to think about the Business Continuity Cycle in terms of how they manage and embed Business Continuity is essential. Encourage colleagues to talk about and promote lessons learned with a focus on improvement not failure – a positive objective lead outlook makes all the difference.
Test, test and test some more! Test long term / short term scenarios, low/medium and high impact ikelihood risks. Have real world tests – what happens if your senior management are not around the day of the scenarios? Empower colleagues to undertake regular scenario testing in teams themselves on a regular basis feeding into the Business Continuity Cycle. Use tests as a business continuity decision making tool. Be creative with the tests, it's all about the stories that gets colleagues thinking about the mitigations.