Mitigating the impact of natural disasters: The case of Flooding in Germany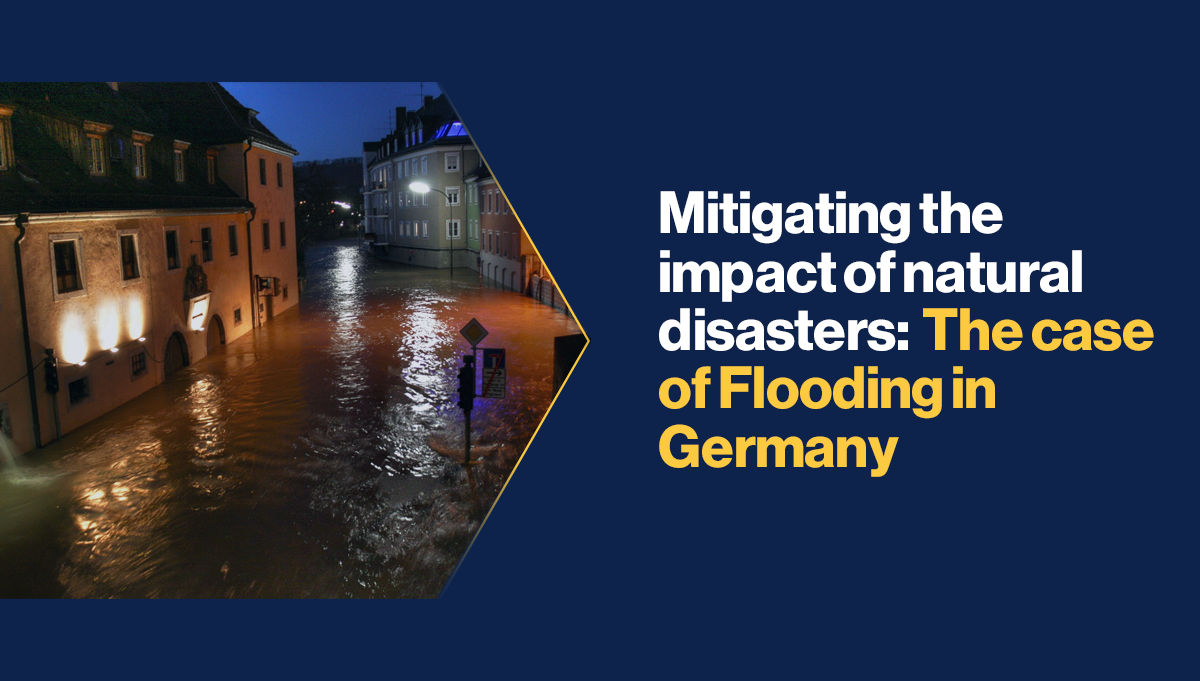 "A disaster is like an X-ray. It shows the system's vulnerability and shows all these interdependencies in the water, urban,infrastructure and societal systems. If you really take a closer look then you can learn how to prepare better for future challenges. I think that is now the burden but also the opportunity." Henk Ovink, Flood expert and Netherlands' special envoy for international water affairs.
In this article, Matthias Rosenberg FBCI, CEO of Controllit AG, provides an insightful account into the flooding that dramatically hit Germany last July. Thanks to the use of examples, practical advice - as well as his experience with these kind of events as a Business Continuity Expert, Rosenberg will discuss the importance of natural disaster preparedness by using the case of the German Flooding.
The impact of this year's heavy rains and the associated flooding in many parts of Germany took everyone completely by surprise. In the past, some regions in Germany had witnessed large floods, but never like the ones that occurred last July. There were only a few companies that were adequately prepared for such a far-reaching event, explains Rosenberg. In most cases both organizations and individuals were neither prepared nor insured for the impact of such a disastrous flood; and small and medium-sized enterprises were the least prepared and the most affected.
In Bad Neuenahr-Ahrweiler, Automotive supplier ZF was forced to shut down production as the flooding had cause large infrastructural damage. Production halls and warehouses were completely flooded – in some locations the water was two meters high. In Stolberg, copper recycler Aurubis had to stop its production and evacuate the plant as the entire company premises were affected by the flooding. The Steigenberger Hotel on the Ahr had just been renovated and short after it was hit by the flooding. Guests had to be moved to another hotel quickly, electricity failed, and the EDP was destroyed. Currently, the hotel's website says that the hotel is temporarily shut down.
From a transportation and telecommunication point of view, the flooding damaged several railway stations and track sections. Deutsche Bahn reported large damages to 80 railway stations & stops. In North Rhine-Westphalia and Rhineland-Palatinate, it was reported that over 600 kilometres of tracks had been disrupted or damaged. Major damages were also reported by Deutsche Telekom, Vodafone, and Telefónica Deutschland.
Germany's government and local authorities have been accused of poor preparedness, alerting methods, as well as disaster management, but the speed and impact of the flood has raised questions on whether this was the case. Local businesses are now pushing for the government to put in place appropriate infrastructure and measures to mitigate the impact of these natural events. For them, financial aid post-crisis is not enough.
"Maybe it sounds cynical, but I'm afraid that as terrible as these events are, people forget very quickly what happened once the damage has been repaired" - says Rosenberg.
However, organizations need to start doing their 'part' when it comes to preparing for natural disasters. Rosenberg argues that companies should have insurance policies in place for these kind of events. There is currently a discussion in Germany about whether it should be compulsory for organizations to have insurance for natural disasters. He also adds, that while large companies should deal intensively with location risks and draw the right conclusions from the results. All organizations - small, medium, and large - should start implementing Business Continuity Plans and find ways that can help them increase their organizational resilience.
Rosenberg believes that the greatest challenges are faced by large production & manufacturing organizations, and those involved with supply chains. Indeed, while during the pandemic many other industry sectors (banking, insurance, consulting etc..) have moved to remote working solutions, for manufacturing & productions businesses this model was not applicable. For this reason, explains Rosenberg, manufacturing organizations must have BCM systems in place, but they also need for their top-management to make "fundamental strategic decisions in the selection of production locations according to risk aspects"; something that requires a "rethink on the part of the decision-makers" but also "further education on our part [as BC Professionals]".
Germany is not alone in dealing with how to prepare with weather events. Most parts of Europe have been affected by similar natural events –mostly caused by climate change – and only likely to get worse in the coming years.
More on