New BCI members Code of Professional Conduct launched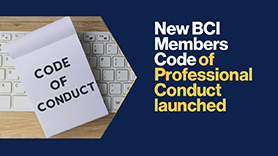 Following extensive consultation with BCI members and benchmarking against the professional codes of a number of other associations, the BCI Board is pleased to announce the release of an updated BCI members' Code of Professional Conduct. The new code can be viewed here.
The Code of Professional Conduct sets out the standards of professional and ethical behaviour that the BCI expects of all its members. All members commit to meeting the obligations of the Code when they join the BCI, regardless of membership grade, career stage or the countries in which they work.
The standards of conduct expected of BCI members have always been high and this new code does not contain any fundamental changes in what is required of our members, but it does update the language used to communicate the Code and clarifies the exact requirements.
If you have any questions about the new code please email [email protected]