New report shows organizations are battling the complex crisis management landscape with confidence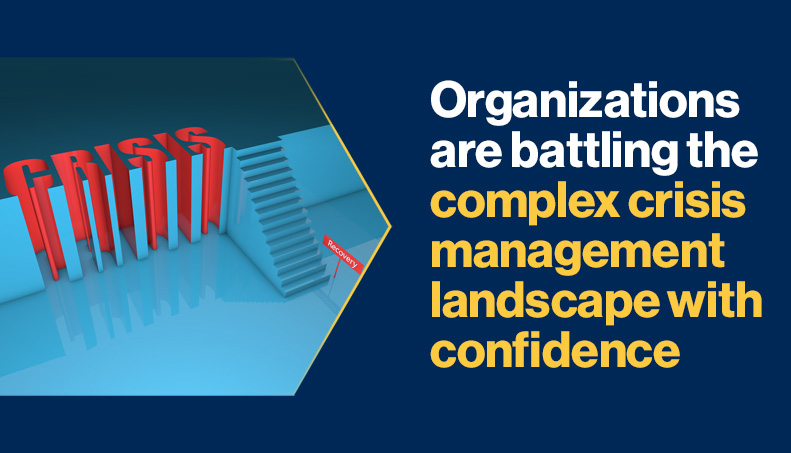 Confidence levels in the abilities of the crisis management function remain high, despite facing complex challenges.
Siloing of information is still all too common: staff are unaware of crisis plans in a third of organizations, increasing the chance of confusion in a crisis event.
More organizations are centralising their approach to crisis management.
Crisis management approaches have developed as a result of lessons learned during the COVID-19 pandemic.
The BCI has launched its Crisis Management Report 2023, which examines the current status of crisis management capabilities within organizations, as well as the structure of this function and its relationship with other key disciplines in the resilience field. Sponsored by F24, the report uses survey responses and structured interviews with senior resilience professionals to provide an in-depth analysis of this critical area.
The report highlights the complexity of challenges facing organizations in the crisis management field, but reveals proactivity, adaptability, and better use of technology are enabling crisis teams to activate more effective and timely responses.
Nearly two thirds (61.1%) of respondents consider their crisis management function to be excellent (19.5%) or good (41.6%). However, regional data reveals a more mixed picture: while 81.9% of respondents from the Middle East had confidence in their crisis management processes, only 39.1% of those in North America shared this sentiment.
A key challenge identified by the BCI Crisis Management Report 2023 was that of organizational silos. In around a third of organizations (28.9%), employees outside the confines of the resilience and senior management teams are unaware of crisis plans and their contents. This was seen to be the main issue of concern in 2023; and one which has grown substantially since the same report in 2021, where only 19.8% of respondents expressed concern about this area.
Who leads crisis management?
The board or senior management team now takes the lead during crises in nearly three-quarters (74.4%) of organizations as well as being actively involved in the development of crisis plans. Senior management's involvement in crisis programmes and activities helps to ensure organizational support and engagement from all employees. Where this is not the case, the crisis team may lack the authority to make quick decisions, confusion with roles may appear, and the organization's crisis management strategy might not be cascaded through the organization.
As well as being led by senior figures, crisis management is a centralised function in many organizations. 80% of practitioners report some degree of centralisation within their crisis management processes, which helps to provide a better managed and coherent approach. However the most effective crisis responses seem to come from organizations who take a hybrid approach, offering a degree of regional autonomy where required, in addition to centralised management.
Lessons learnt from COVID-19
The report has also shone a light on the legacy of the COVID-19 pandemic on crisis management. Among the main lessons learned from the response to the pandemic, respondents noted that having an element of adaptability with crisis plans is significant, as this allows plans to be quickly modified to suit the requirements of any event. In addition organizational reviews of communications systems, subsequent improvements in related protocols, and investments in new tools and resources have all brought improvements.
Commenting on the report results, Rachael Elliott, Head of Thought Leadership, BCI said:
Although COVID-19 is still very much with us, it is encouraging to see organizations are already adapting their plans and processes as a result of learnings made. As the crisis landscape becomes more complex, organizations are being more proactive in their approach, adopting flexibility within the team and exploiting technology to collaborate, analyse, and react more effectively in a crisis situation. With management now taking more of a leading role within crisis management, we look forward to seeing crisis management capabilities improve even more over time.

Head of Thought Leadership, BCI
Benjamin Jansen, Senior Vice President Sales ENS/CM at F24 added:
For a growing number of organizations, crisis situations are no longer the exception but the rule. And businesses are recognizing the need for cultivating resilience, to effectively address any situation across all levels in this age of permacrisis. It is especially encouraging to see that a large share of companies are very willing to invest in technology, training and exercising for the next five years.

Senior Vice President Sales ENS/CM, F24
---
More on