Obituary - Jim Burtles Hon FBCI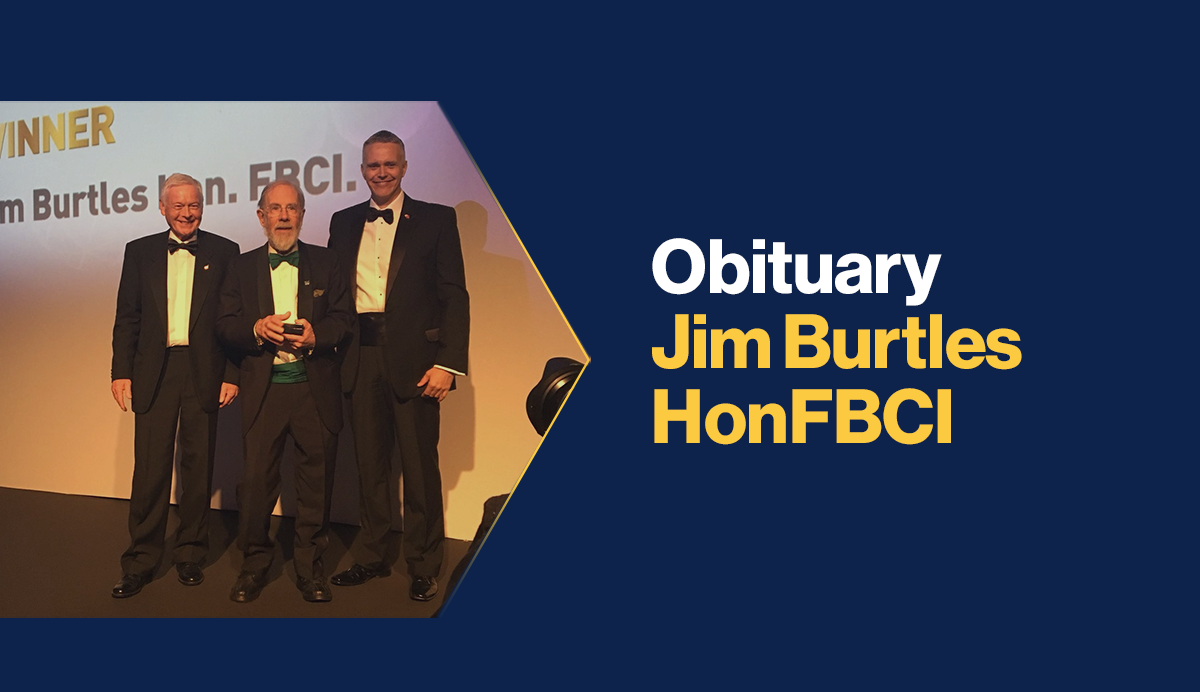 The BCI was saddened to hear that one of our founding members, Jim Burtles Hon FBCI, recently passed away.
Working as an IBM field engineer, in the mid-70s he took on the role of a rescue engineer, helping customers recover their damaged systems in the wake of fires, floods, and bombings. This type of work was the beginning of what later became known as disaster recovery. During the 80s, he became an early pioneer of what was then the emerging business continuity profession and in 1994 he was one of the founding group of members that started the BCI.
Over the past 40 years, Jim introduced more than 3,500 people into the business continuity profession through formal training programs and has provided specialist training for many more through workshops covering specific subjects or skill areas. For several years he was a regular visiting lecturer at Coventry University.
He was granted Freedom of the City of London in 1992. In 2005, he was granted the rank of a Knight of Grace in the Military and Hospitaller Order of St. Lazarus of Jerusalem, an ancient and charitable order which cares for those afflicted with leprosy and similar debilitating diseases.
He was an enthusiastic volunteer with the BCI and was a global board member, active member of the BCI London Chapter, contributor to the BCI's Good Practice Guidelines and a regular speaker at BCI World and other events.
Jim was awarded an Honorary Fellowship by the BCI in 2010 and was the inaugural recipient of the BCI's lifetime achievement award in 2017.
In an online tribute Philip Jan Rothstein FBCI noted that Jim was a compassionate, generous, intellectually gifted, simply wonderful man.
Paul Kirvan, Hon FBCI, said "Much can be written about Jim Burtles, and in this post on the BCI web site, you've seen that Jim's influence and impact were far-reaching. I met with Jim on many of my trips to London from the Survive! days to the early days of the BCI in 1994. I always came away with more knowledge and insight from those meetings than I had before I met with Jim. I visited him twice at his home in Maida Vale, a lovely neighborhood in London. He and his wife Britta were wonderful hosts and their collective energy was captivating. "
Des O'Callaghan, Hon FBCI, commented that "It is sad to say goodbye to one of the true legends of our profession. I am fortunate to have met Jim a couple of times in England back in my Global Membership Council (GMC) days with the BCI in 2014-2015. Jim was absolutely a gentleman with a lovely voice, manner and sense of humour, not to mention his wisdom concerning our line of work. There are those who can never really be replaced and Jim is high on that list."
Robin Gaddum FBCI said "To paraphrase Sir Isaac Newton, Jim was one of those giants upon whose shoulders so many in our profession now stand. I recall an exchange of ideas with Jim years ago and being struck by his open, kind, modest, intellectual curiosity and generosity of spirit. A year or so after our conversation, I was surprised and delighted to find myself acknowledged in one of his books. How thoughtful; he was a true gentleman. Jim earned the respect and admiration of so many in our profession who came to know him. Many more will stand on the shoulders of his legacy to our profesion. Rest in peace, Jim! "