Organizations are now investing more in specialist emergency and crisis management tools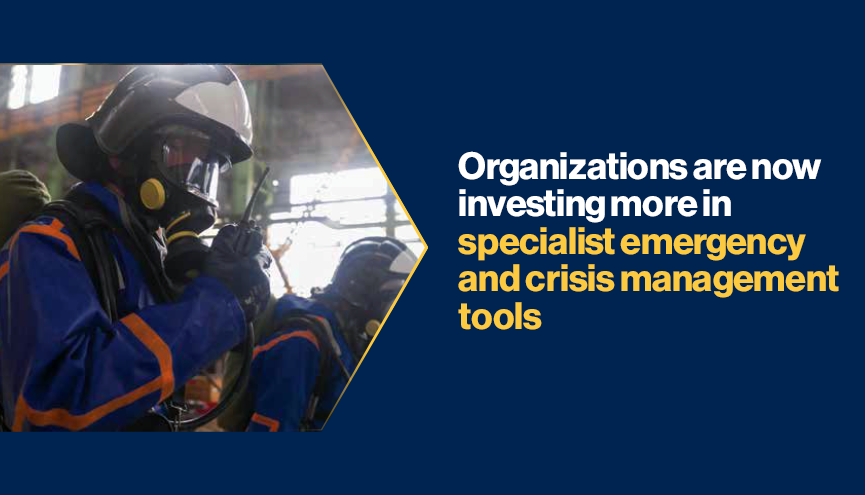 The BCI has released this year's Emergency & Crisis Communications Report, sponsored by F24. This report looks at how organizations are choosing to communicate in emergency situations, as well as the evolving role of technology in this field and what businesses are looking for in the communication tools of the future.
Ways of working determine emergency communication tools
The surge in remote working throughout the pandemic has resulted in the usage of software-as-a-service (SaaS) solutions seeing a sharp rise over the past few years, as organizations ensured that emergency communications systems could be accessed across multiple devices in remote environments. While the increase in SaaS usage has only marginally increased this year (up to 74.2% from 74.1% in 2021), there is still an expectation that businesses will invest in new technology to enhance their own range of in-house solutions this year.
Indeed, the report has found that organizations are now investing more in specialist emergency and crisis management tools to support remote business operations. This follows the trend of last year's report, which saw a decline in free-to-use messaging applications, such as WhatsApp, as a tool for emergency communication. Organizations are finding that some tools, such as Microsoft Teams and Zoom, have been pushed to their use limit and are now looking for added functionality to match the unique requirements of their business. The sharpest increase for this has been in small- to mid-sized businesses, those which had previously viewed the investment as not worthwhile.
One particular tool is growing in importance even more, with organizations reporting the mobile phone as the most used device in a crisis. The functionality of SaaS applications on mobile phones has been a factor in the mobile phone becoming the dominant tool for an emergency response.
Not only is remote working influencing the overall trends, but a return to the office and an increase in hybrid working has also resulted in on-site technology (such as walkie-talkies/radios) beginning to record a comeback for emergency communications this year.
Response times are evolving
The 'golden hour' target for organizations to respond to a crisis and execute their emergency communications plan is still in play for more than 80% of respondents. In fact, the 'golden five minutes' is now a valid option for just under a quarter. However, the number of organizations who can activate their plan within five minutes has decreased from that seen last year. Alongside different survey demographics, this is likely a result of senior management requiring events to be analyzed more closely before action is taken, as well as a decline in incidents which need a response within 30 minutes.
Exercising remains key
The report remains firm that it is usually people, not technology, that represent the first point of failure in an emergency communications plan. Despite this, the number of organizations exercising their emergency communications plans at least once a year has fallen to 78.6% from 82.3% in 2021. This could be due to a difficulty testing response plans in remote environments or a unwillingness to exercise the plans due to a rise in real-life activations serving the same purpose. Although, it is exactly after a large-scale change in environment or working practices that an emergency communications response plan should be exercised.
Other findings:
More than a third of organizations have yet to introduce emergency communications tools and software
Respondents say the most important feature of an emergency communications tool was the 'constant exchange of information to enable decision-making'
When asked how their organization ensured the acquisition of timely and reliable information in a crisis, 67.6% of respondents said it was by keeping employee contact details updated.
"We have seen the emergency and crisis communication market evolve dramatically during COVID: there was a spike in the take-up of emergency communication tools and software in 2020 as organizations grappled to address communication issues in the early part of the pandemic. A rise in activations of emergency communication plans as a result of COVID ensured staff gained familiarity with process and procedures, and management pushed investment for new communication technologies.
"However, 2021 saw a slight cooling in the uptake of emergency and crisis communication tools after the burst of activity in 2020. What we are noting is organizations becoming far more discerning when choosing solutions: they are seeking solutions which still work during communication blackouts, demanding tools which have the facility for team collaboration during a crisis and requesting extra security from their solutions. Last year was all also all about speed of communication, with organizations chasing to get plans activated within five minutes. This year, organizations have learnt the value of trading speed over insight, with response times going out towards 30 minutes as management become more demanding of information in the early stages of an incident."