Restoring communication key first step after Tonga tsunami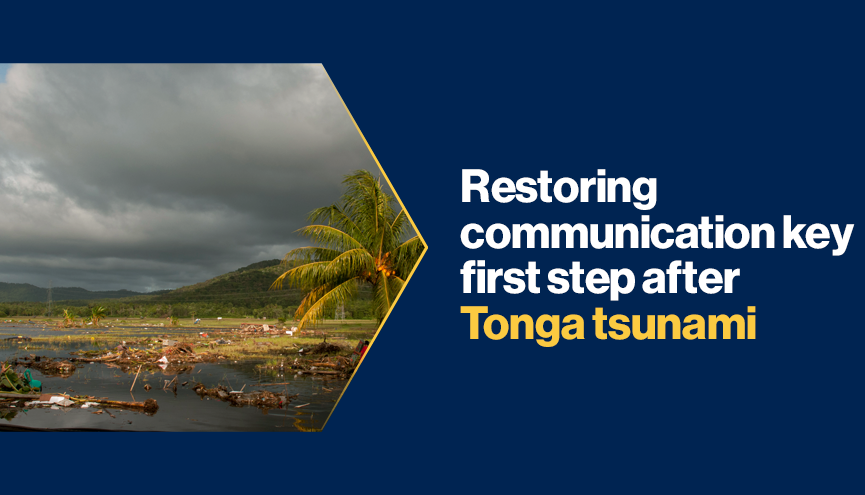 The impact of the tsunami which hit Tonga on Saturday following a volcanic eruption is still being determined, as communications from the islands remain limited.
The operation of an undersea communications cable has been affected, according to a press conference delivered by the Prime Minister of New Zealand, Jacinda Ardern, on Sunday. Internet and telephone communications are also limited, with fears that this may have a larger impact on the more remote areas of the country.
Therefore, while the scale has yet to be determined, the impact on the people and businesses of Tonga is expected to be considerable. Indeed, a video seen by The Guardian showed the downtown area of Patangata, near the country's capital of Nuku'alofa, had been submerged, an area which includes the Royal Palace and Tonga's largest bank.
To compound the issue, the ash cloud emitted by the eruption has delayed the international response to the crisis as flights were initially made impossible. As a result, surveillance flights from Australia and New Zealand were only able to depart on Monday. The flights are expected to return information regarding the status of the country after the damaging effects of the tsunami.
The area which is expected to have seen the most severe damage is the western coast of the country, where many resorts for the critical tourism industry are based. One of these resorts, Ha'atafu Beach Resort, reported on its social media page that it was "wiped out".
"From what little updates we have, the scale of the devastation could be immense - especially for outer lying Islands," said Katie Greenwood, IFRC's Pacific Head of Delegation.
Work is underway to restore the telephone and internet links within the country but it is currently unclear how long this will take.
Further problems could arise from the need to quarantine any international aid received, while COVID restrictions could restrict on-ground personnel from entering the country to assist.
It remains clear that restoring communication is a priority in the near-term, while a measured international response is likely to be required to assist in any recovery process for the country.
More on
About the author