Rina Singh: Newly appointed Chair of BCI WiR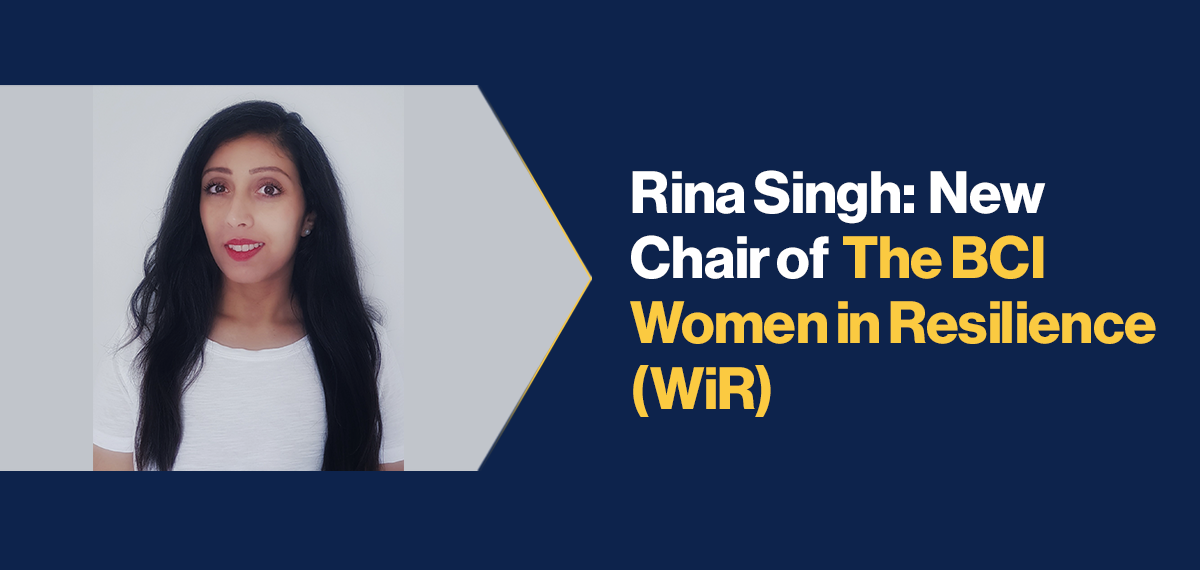 Founder and Host of Resilience Pod talks to the The BCI about her new role and the future plans for the organisation
Newly appointed Chair of the BCI Women in Resilience Group (WiR), Rina Singh aims to champion women in the workplace by giving them a platform to showcase their thought leadership. She hopes to form an open support system which will inspire, connect and allow women to share information and opportunities to thrive and succeed in their career.
Rina hopes the WiR group will be a chance for women in resilience to leave a legacy, and be apart of a group that not only addresses equality but also sets the industry standard for the next generation of female leaders.
Since the launch of the WiR in 2018, the group's core activities have been delivered by women, for women, and have been centred specifically to attract more women in the industry and champion those currently working in the field.
Spotlighting women in the industry for instance, helps a female professional showcase their talent, highlight their challenges and career journey.
Ally Spotlight series showcases the allyship of those with different genders who have contributed to championing women in the industry.
Planned and executed events which includes participation in BCI World Global Conferences tailored specifically for Women in Resilience can be done virtually, and physically and allow those in the organisation to network.
Webinars exploring technical nuisances of our disciplines and personal resilience.
Articles and Journals provide an international platform for women to express thought leadership.
Private LinkedIn group dedicated to allow members to discuss and gain advice without judgement.
She said, "In our world where equal standing still doesn't exist, continuing groups like WiR are still absolutely necessary. Yes, we may have reached many milestones, but the fact is, women still go through a myriad of unique challenges. At present around 30% of BCI members are female, as is around 25% of the active volunteer pool leading chapters, forums, and groups. There are currently only two women (22%) on the BCI board. The resilience industry needs more women to not only provide diverse perspectives but drive growth to our industries talent pipeline."
This new role allows her the opportunity to take the group in a new direction. When asked about her plans for the future of WiR she told me that she would like the group to be a hub where women can be vulnerable and truly express themselves. A group where job opportunities and support groups are started, whilst welcoming the input of new diverse voices. "We want to hear from brand new and diverse voices, get support from our allies in resilience and make global connections. We also want to share the tools we learn along the way with the next generation of women in resilience to have the confidence to break those glass ceilings should they desire."
More on