Setting the standard for business continuity in the Middle East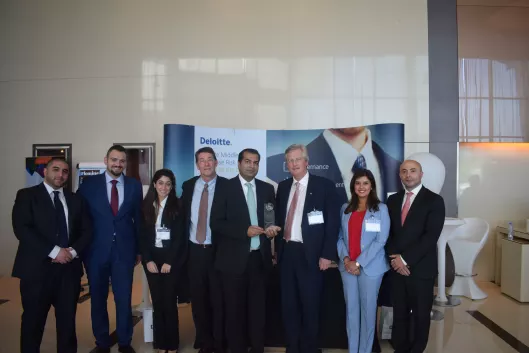 At the Fleming 6th Annual Business Continuity and Emergency Response Forum in Abu Dhabi, the Business Continuity Institute presented its annual Middle East Awards to recognize the high standard of excellence demonstrated by business continuity and resilience professionals and organizations across the region.
The BCI Middle East Awards consist of nine categories – eight of which are decided by a panel of judges with the winner of the final category (Industry Personality of the Year) being voted for by their peers.
Reflecting the growing maturity of the industry in the Middle East, the quality of submissions received was exceptional. There can be only one winner in each of the categories however, and those were:
Continuity and Resilience Newcomer
Pauline Kolset CBCI, Administration Manager, Risk Management at Jumeirah Group
Continuity and Resilience Consultant
Tom Keegan FBCI, Enterprise Resilience Leader at Control Risks
Continuity and Resilience Professional (Private Sector)
Abdullah Alrebdi AMBCI, Business Continuity Senior Analyst at the Saudi Stock Exchange (Tadawul)
Continuity and Resilience Professional (Public Sector)
Mahmoud Abu Farha MBCI, Head of Business Continuity Management at the Palestine Monetary Authority
Continuity and Resilience Team
Roads and Transport Authority Crisis Management Team
Continuity and Resilience Provider (Service/Product)
Deloitte and Touche, Resiliency and Continuity Services
Continuity and Resilience Innovation
Estmrarya Academy 'Learn and be more Resilient'
Most Effective Recovery
Commercial International Bank - Egypt
Industry Personality
Fatima Azeem AMBCI, Executive Officer in Business Continuity at the National Emergency Crisis & Disaster Management Authority
The BCI Middle East Awards are one of seven regional awards hosted by the BCI, which culminate in the annual Global Awards held in November during the Institute's annual conference in London, England. All winners of a BCI Regional Award are automatically entered into the Global Awards.