South Africa: Political unrest leads to business and supply chain disruptions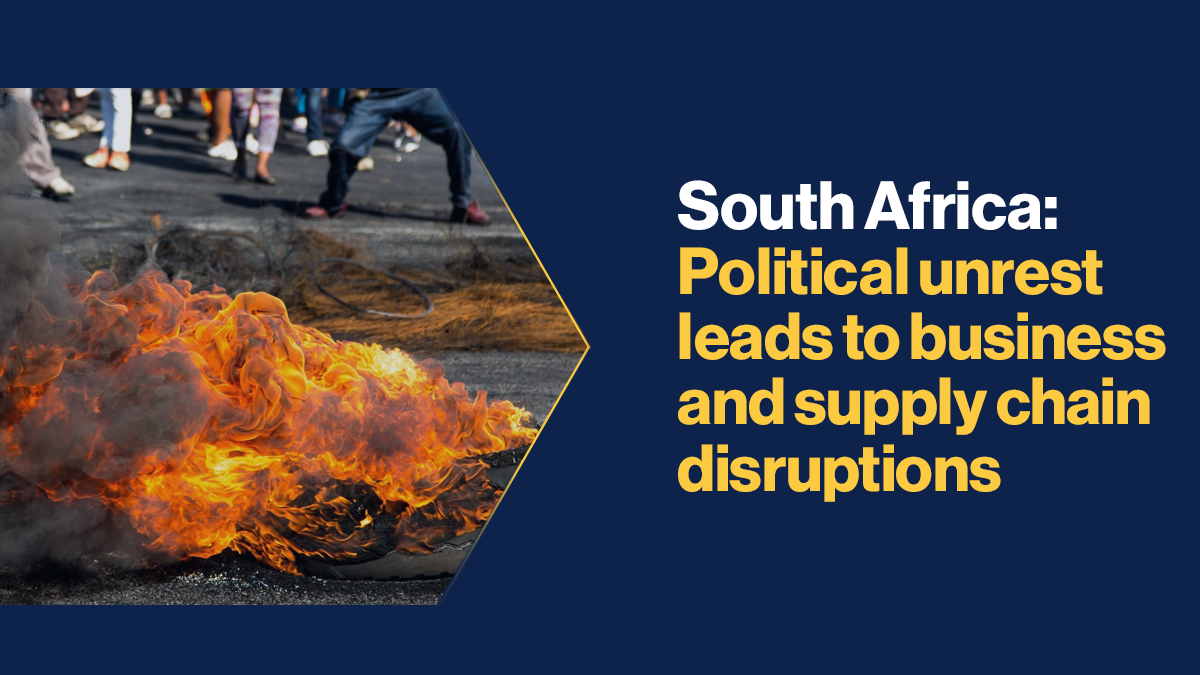 South Africa lose business confidence and access to key trade routes after days of chaotic violence following the jailing of former President Jacob Zuma
Days of protests erupted into violence in KwaZulu – Natal, following the jailing of former South African president Jacob Zuma. The arrest triggered days of civil unrest including protests, arson and looting of businesses.
Major food shortages are reported to be a consequence of rioters looting supermarkets and setting fire to lorries, carrying goods. One of the largest food manufacturers in the country, 'Tiger Brands' have seen a major impact on business operations as a direct result of the civil unrest [Businesstech].
Today (July 15), the group have said in a statement, "It is currently estimated that the loss of stock is in excess of R150 million. The loss of profit due to business interruption is still being quantified. The situation in KZN remains volatile, presenting a further risk to other Tiger Brands facilities in the area."
The group have since suspended business operations which include the distribution and deliveries of bread to KZN, as well as the closure of stores. This follows a risk assessment concluding the suspension of operations would be "prudent". The brand has told shareholders the move is also appropriate insurance cover.
Shopping malls and businesses have been set on fire forcing many companies to close their doors. According to iAfrica, the closures come over fear of attacks, as well as ensuring the safety of their employees unable to reach their place of work, due to protesters disrupting entries and exits from communities.
This would be a blow to companies recovering from the pandemic and who rely on in person activities.
The Telegraph reported that more than 35 lorries had been burned and damaged on the road before reaching the rest of the continent. The N3 highway which is the thriving travel route for trade between Cedara and Harrismith, has now been shut as a precautionary measure. The closure could threaten to cut off essential supplies such as food and medicines.
The N3 Toll Concession updates have tweeted: #N3TollRoute between #Cedara and #Harrismith is CLOSED to all traffic for #safety & #security until further notice. Please avoid travel to this area.

The country's Road Freight Association alerted that N3 closures could cost billions if the disruption continues to spread and even lead to countries turning away from South Africa, as a trading hub.
Significant destruction of property has led to losses in income and has delayed hope for a rebuild of the South African economy post pandemic.
More on
About the author
Journalist
Lisa Hanley is an In - house Journalist working for The BCI. With a Masters degree in Televison Journalism from City, University of London, Lisa has previously worked as a Freelance Producer and Journalist for London Live, PA Media and Thomson Reuters Foundation. Her experience varies from producing documentaries, films and podcasts to producing news packages for television and voiceovers for radio.
Lisa is the creator and host of the investigative podcast, The Scrutiny Hour and blogger for www.lisajournoldn.com.