Supply chain: Recovering from the Shanghai lockdown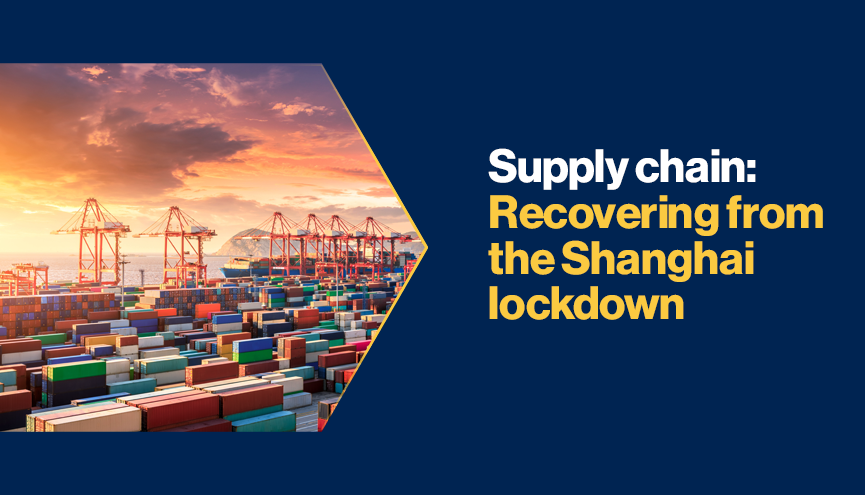 Over the course of Shanghai's lockdown, now lasting more than a month in duration, questions have been raised about how the residual impact on the supply chain after a shutdown in operations throughout the financial and manufacturing hub.
The fact that a gradual reopening of the city is could[1] begin shortly will come as a relief to those organizations based in the city. Indeed, Tesla is currently aiming to add more shifts and return production to a level seen before the lockdown in March, according to a Reuters article[2].
However, the lockdown may already have already done a considerable amount of damage to global supply chains through the backlog and congestion of container ships already seen at one of the busiest container ports in the world, despite Shanghai port remaining open throughout the lockdown period. The backlog has been partially caused by a lack of staff availability in the logistics sector for the transport of goods into and out of the port itself.
As part of the lessons learned after the global shipping disruption repeatedly seen over the past two years, caused by various lockdowns, organizations should be holding reserve inventories of essential stock to counteract eventualities such as this. Although, as Shanghai is such a major player in the shipment of technology and manufacturing equipment, the impact on certain industries will be difficult to minimize. Some of these impacts are likely to take the form of delays and/or price increases over the months ahead.
Will this happen again and what can organizations do to prepare?
As the last major economy still enforcing a zero-COVID policy[3], China's policy with regards to the pandemic will be a critical consideration for those organizations with operations in the country. If further lockdowns are enforced to try and keep cases of the highly-transmissible Omicron variant under control, it may impact those organizations at fairly short notice. Indeed, as one city nears the end of a lockdown, there are fears that China's capital of Beijing could be nearing a similar shutdown due to a rise in cases.
Aside from those directly impacted by the lockdowns, organizations throughout the supply chain should also be considering the impacts on their suppliers (first-tier, second, third, etc.) and mapping how to reduce an impact on priority services in the eventuality of there being further lockdowns ahead.
---
[1] https://www.bbc.co.uk/news/world-asia-china-61307148
[3] https://www.theguardian.com/world/2022/may/06/xi-jinping-attacks-doubters-as-he-doubles-down-on-chinas-zero-covid-policy
More on
About the author