Tech in Action | From Planning to Resilience: The Role of Technology to Advance Your BCM Program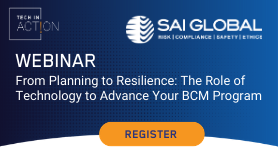 Webinar - April 29 | 10 AM ET | 3 PM BST | 4 PM CEST
The drive to achieve business resilience and ensure the continuous flow of goods and services in the face of a disruptive event is now more challenging than ever. Without purpose-built tools, organizations of all kinds will continue to scramble, react, and struggle to respond when disruption occurs.
Business continuity leaders need to engage their organizations with easy-to-use purpose-built BCM tools to assess risk, map dependencies, understand business impacts, develop and activate contingency plans, and communicate efficiently at the time of crisis, all in an organized and automated program that enables effective decision-making every step of the way.
In this 30-minute webinar, see how the latest software technology enables you to guide your organization to greater business resilience and become better prepared for your next disruption.
BCM experts will demonstrate:
How to standardize and rate risks & critical systems across multiple departments using BIAs and risk assessments
How best-practice plan templates and automatic workflows set plans into action when disaster strikes
How to optimize resilience by bringing cyber threats, vendor risk, enterprise risk, op risk and control monitoring together with the use of technology
How to continuously monitor your BCM plan & perform regular resilience testing
Register here
More on