The BCI earns accreditation as a Great Place to Work for the second year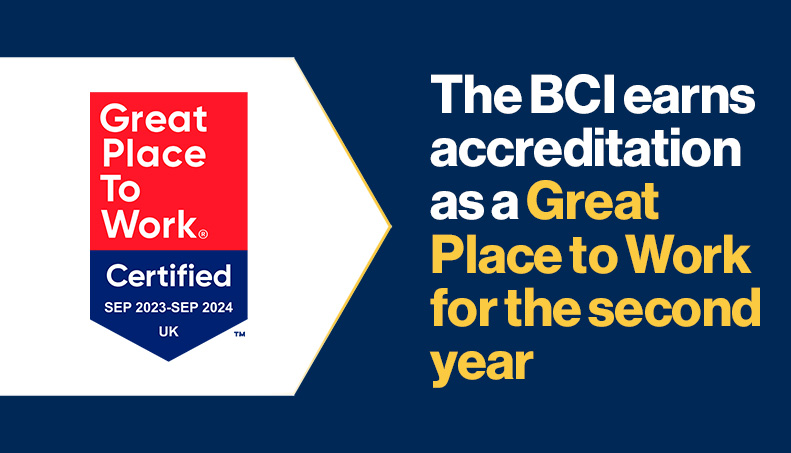 The BCI is delighted to announce that it has been certified as a Great Place to Work for the second consecutive year. Certification™ is based on validated employee feedback gathered by Great Place to Work® – the global authority on workplace culture.
Having an internal Wellbeing Committee working from employee feedback to develop an annual wellbeing programme is just one of the reasons why employees at the BCI believe that it's a great place to work. It may also be one of the reasons that it has been recognised on the UK's Best Workplaces™ for Wellbeing list in 2023. From the top down, it's imperative to the BCI that its staff are happy and healthy at work which is why employee engagement and wellbeing is at the heart of what we do. For example, all staff have access to a wellbeing portal in order to support their physical, mental, financial, and social health, as well as access to a funded health cashback scheme.
Great Place to Work's culture experts analysed thousands of employee surveys, assessing people's holistic experiences of wellbeing at work to determine the UK's Best Workplaces™ for Wellbeing list. The surveys asked employees to comment on how their company supports their work-life balance, sense of fulfilment, job satisfaction, psychological safety, and financial security.
Culturally, at the BCI, we value our staff above all else and strive to continually improve their working life. This is why we're continuously learning from what our Trust Index is telling us and implementing practical solutions to better support our staff. We're so pleased that's been shown in our recent results, with our average engagement score up 5% from last year.
Here's just some of what our staff had to say about the BCI:
"Work ethos is amazing"

"Empathy, a focus on the individual"

"Extremely collaborative, forward-thinking and open"

"The company truly cares about my wellbeing; they promote a sense of belonging which is not commonly found"

"I feel respected for who I am."