The BCI launches new Brazil Chapter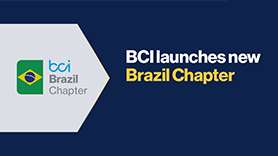 The BCI is delighted to announce the launch of their latest new chapter – Brazil.
The BCI global board approved the formation of the chapter following months of hard work by a group of Brazilian BCI members and volunteers that included the organisation of webinars for Brazil based business continuity and resilience professionals.
New Chapter Chair, Kleiton Kühn said "Brazil is the ninth largest economy in the world and the largest in South America. It is a country of continental proportions with a 2020 GDP of $1.84 trillion. The diversified Brazilian economy ranges from heavy industries such as aircraft, automotive production, power generation, mineral extraction, to service, trade, transport and large financial institutions, not to mention agribusiness (less than 6% of the planet's soil feeding more than 10% of the entire population of the world). Resilience in organizations, businesses and communities is essential. Not only to meet the increasing regulation of some sectors, but also to meet the increasing demands of "online" markets. In the country there are no earthquakes or volcanoes, nor large wildfires in populated regions, but it does have basic infrastructure challenges (such as rails, roads and ports with great opportunities for improvement). Threats and occurrences of strikes and risks of hydric and electrical outages are in the news daily. Brazil, and the whole LATAM region needs professionals prepared to meet these needs. The BCI Brazil chapter will be essential to support business continuity professionals, expand network, as well as level and know best practices in the country and other Portuguese-speaking regions."
Further details of the group can be viewed here.