The supply chain disruption still matters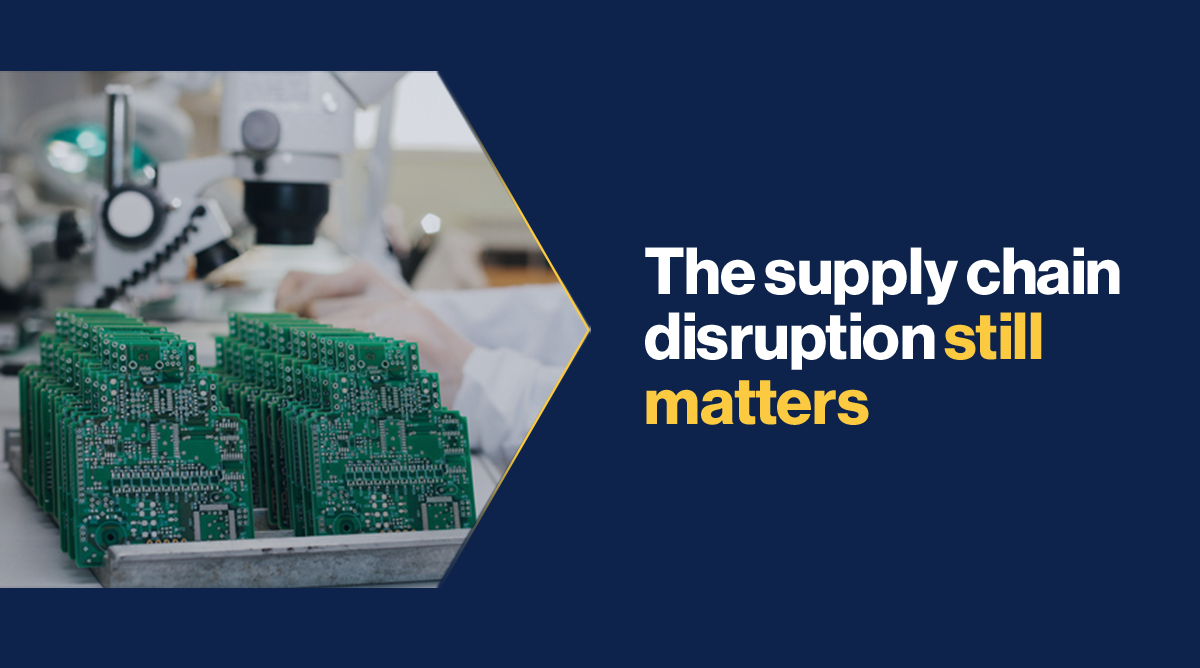 Scenario
We are still dealing with supply chain disruptions. The pandemic has created an unprecedented global shortage of semiconductors that has disrupted industries ranging from cars to consumer electronics. This is due to three main problems: 1) a slowdown followed by a rapid recovery in car sales, 2) a massive increase in demand for consumer electronics, 3) long-delivery times in chip production.
Car, smartphones, and technology equipment manufactures find difficulties to meet product demand in terms of procurement of semiconductors. The delay is due to "external forces" such as trade restrictions, offshoring and, and finally, the global pandemic.
As we know, most of the chip production - for U.S. and global automakers, smartphones, and equipment - is provided by Asian leading companies such as Taiwan Semiconductor Manufacturing and United Microelectronics. Furthermore, many countries are still suffering the disadvantage of an ecosystem with minimal onshore production capacity that has caused bottlenecks in the supply chain and longer delivery times throughout 2020 - a trend that will inevitably persist throughout 2021.
A perfect storm was on the horizon
Undoubtedly, the tense relationship with China, the catalyst factor of Covid-19, and the inaccurate forecasts - linked to the unknowns of a prolonged global pandemic - have heavily affected the supply chain of chips.
When Covid-19 hit China, this caused the first wave of supply chain disruptions. Chinese factories were closed to cope with the pandemic and caused a slowdown in the production of items requiring chips. Subsequently, as the pandemic spread around the world, the problem - for chip-dependent industries – produced potentially blocked demand which has led to poor chip availability.
At the same time, in the early days of the global pandemic, the demand for PCs, cameras, keyboards and displays increased unprecedentedly. Furthermore, because high lasted throughout 2020, it caused a shortage of chips. Covid-19 has radically changed our behavior, which has resulted in a greater purchase of smart TVs, streaming services and games-consoles, equipment that, like PCs, depend on chips. This extra demand was not expected.
Incorrect market trend predictions vs. Covid-19
Although there were all the pre-conditions for an extension of the pandemic situation - i.e. the so-called grey rhino that was lurking and could be feared at any time - no structured forecasts were made by economists and supply chain analysts in terms chip demand with respect to the following sectors:
Mobile/wi-fi equipment – Despite the pandemic, the demand for smartphones did not stop and in the fourth quarter it was at pre-pandemic levels – this was also stimulated by the introduction of Apple's 5G variant
Automotive sector – due to Covid-19, automakers, were forced to cut production forecasts. After a 15% decline throughout the first two quarters of 2020, an increase in demand for new vehicles was registered towards the end of the year, leaving many automakers, including GM. Ford, Honda, without chips to produce cars. The demand for new vehicles is expected to grow by around 10% in 2021 and will inevitably impact on semiconductor industry - as a new vehicle needs up to 50 chips, while hybrid models often require twice as many semiconductors as traditional vehicles.
Impacts to be considered
A "shortsighted" planning in terms of semiconductor production is generating important macro-economic impacts. The persistence of chip shortage in the forthcoming months could jeopardize the economic performance of companies and even have a negative impact on employment due to the contingent socio-economic and political scenarios.
As mentioned above, according to supply chain experts, the shortage of semiconductors will continue at least until the third quarter of 2021. Consequently, we will register a steady increase in prices until 2022, but on the other hand, a slowdown in global economic growth.
How to guarantee supply chain resilience
Both US and EU have begun to evaluate "initiatives" to reduce the impact of chip shortages on a wide variety of industry sectors.
President Joe Biden, in order to depend less on China – will be signing an executive order to accelerate the construction of chip supply chains, in collaboration with Asian-Pacific countries (i.e., Taiwan, Japan and South Korea and including Australia with respect to the supply of rare earths) and, at the same time, asking these partners to do less business with China.
To ensure the resilience of the chip supply chain and reduce technological dependence on Asia, the EU is considering to build a factory in Europe capable of producing semiconductors from 10 to 2 nanometers and bring back the production to in the old continent.
It is still a matter of supply chain resilience
The contingent situation with respect to chip shortage, still makes clear that supply chain managers urge a better market intelligence activity that can provide a more comprehensive and holistic view of production lines, from semiconductors to metals. It is not enough to look at first- or second-tier suppliers. Managers need to be able to monitor both suppliers at 3rd,4th and 5th tier levels and their competitors in order to better predict when shortages will occur. Therefore, in order to guarantee the continuity of the chip supply chain the following factors urge to be considered:
Resilience should be guaranteed when designing supply chain, i.e. alternative suppliers or components should be considered to meet both product objectives and more inter-functional needs.
Renewed flexible arrangements should be considered in order to increase or decrease stocks or surpluses accordingly in case the suppliers are unable to meet demands.
Available Data should be managed in a more structured and dynamic way by utilizing supply management applications, which are based on algorithms capable of analyzing in real time the global supply chain's main actors.
We must remember that, at present, the semiconductor industry is characterised by services and production often concentrated in a single country. Therefore, all the aspects of Supply Chain Disruption and Business Continuity need to be managed strategically in order guarantee the resilience of the chip supply chain, since a "bottleneck" along these crucial 'chains' may cause impacts not only on the semiconductor sector, but on all those other sectors that depend on them.
It will be also fundamental to analyse geopolitical factors that may also jeopardise supply chain resilience. Consequently, all efforts should be made in order to manage and monitor them, considering the fact that, for, tensions between the United States and China, are inducing governments and companies to question over-reliance on a limited number of technology providers.
Conclusions
The "maturity" and resilience of procurement and supply chain can be guaranteed during a crisis by performing a strategic and efficient activity of "intelligence" - with respect to the raw-material markets. There is also the need to implement risk management and business continuity principles in order avoid supply chain disruptions. Moreover, it will be also fundamental to consider ad hoc investment strategies to deal with the current trade wars and the contingent pandemic. However, national governments will have to promote the necessary changes of paradigms to balance the need for 'just-in-time delivery' with protection against delays or shutdowns by securing alternative sources of supply and ensuring that the labor force can continue to operate.
In conclusion, to establish dynamic planning processes that will enable to unlock the big moves, supply chain will require to be resilient and flexible enough to change direction if needed.
More on
About the author

Business Continuity & Risk Management Consultant
In possesso della certificazione Business Continuity - AMBCI BCI, UK e Risk Management FERMA Rimap ® è consulente di Business Continuity & Risk Management. Svolge attività di diffusione e di sviluppo della cultura della resilienza presso varie istituzioni ed università. 
Socia AIPSA ed UNI.
Membro de:
·         Board del BCI Italy Chapter
·         Board ANRA
·         Advisory Board di LIUC-ODES Project
·         Advisory Board EU SIMARGL Project
·         Comitato Scientifico di CLUSIT
·         Comitato CLUSIT-Artificial Intelligence/Risk Management
·         Conduct Professional Committee – BCI, UK
·         Judge at the International Organizational Resilience Awards
·         UNI/CT 016/GL 02 "Sistemi di gestione per la qualità" (ISO/TC 176/SC 2), UNI/CT 016/GL 09 "Governance delle organizzazioni" (ISO/TC 309) e UNI/CT 016/GL 89 "Gestione dell'innovazione" (ISO/TC 279) (Commissione Tecnica UNI/CT 016 "Gestione per la qualità e metodi statistici")
Membro de: Associazione Donne 4.0 (Coordinatrice Commissione Reti) e Women for Cyber Security (Comitato Tecnico)
Docente di moduli di introduzione di: ISO 22301 - Business Continuity & Resilience (Università POLIMI–BOCCONI e Università di Verona, Università di Cagliari, Master Ambientale Università di Padova); ISO 31000 - Risk Management (Università Statale di Milano)
Relatrice e moderatrice in diversi seminari, conferenze nazionali ed internazionali.
Autrice di numerosi articoli su diverse riviste online, (i.e.: AgendaDigitale, Cybersecurity360, AI4Business, Risk Management360, EnergyUp, Blockchain4Innovation, Internet4Things, Industry4Business, ANRA - RM Magazine, ISPI online, Insurance Review, INsurzine, UNI Magazine online, The BCI Blog, Data Manager).
Partecipato, in qualità di co-autrice, alle edizioni 2020 e 2021 del Rapporto Clusit - Cyber Security.