Travel disruption in Dover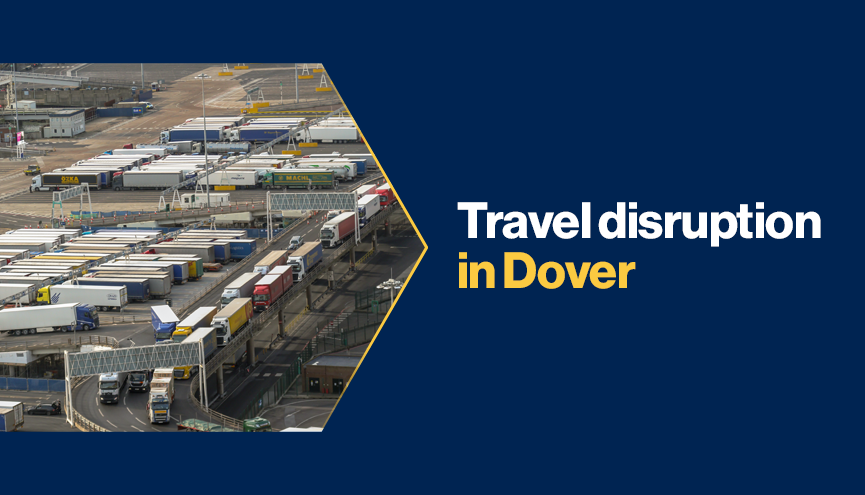 A whole suite of disruptions have caused delays at the Port of Dover over the past week, causing particular concern for European supply chains.
The delays have been attributed to the suspension of P&O ferry services from the port, as previously reported, as well as peak Easter demand, IT systems outages and the impacts of bad weather for other service operators.
Tourist traffic through the port appears to be flowing with relatively small delays, but the scale of demand for services was recently noted on the website for the port:
"Last weekend, port staff together with Ferry Operators and Kent Partners worked tirelessly to move traffic as effectively as possible. We served 30,000 departing passengers, triple that of the corresponding weekend in 2021. Tourist vehicles moved continuously through the port, with no queuing outside the port. Unfortunately, the commencement of the busy Easter getaway period coincided with the ongoing impact of reduced ferry services and bad weather that affected remaining operators earlier in the week, causing one vessel to be taken out of service for a couple of days. This caused some delays, notably for freight," said a statement on the Port of Dover website on Thursday.
As a result of the travel disruption, traffic contingency measures have been put in place to separate the backed-up freight traffic and keep the motorway moving in both directions around the port. According to Highways England, Operation Brock is "part of a series of measures to improve Kent's resilience in the event of disruption to services across the English Channel." The measure has reportedly exceeded its designed capacity for vehicles over the past week.
Haulage operators have also been left considering the impact of a lengthy outage on a government trade portal which issues a goods movement reference – documentation that is required in order to leave the country[1]. As it issues a scannable barcode, the new portal is thought to have saved processing time but its unavailability means other documents would be required at the border. As such, drivers will likely need to keep the required documents on board as a contingency for when this portal does not operate effectively.
Supply chain impact
The impact of the delay on those freight operators transporting perishable goods is now also starting to become apparent. Some vehicles transporting meat have had to wait up to 24hrs to cross into Europe, with this having a knock-on impact down the supply chain on the product's eventual shelf-life[2].
Throughout this period of high demand for ferry crossings, freight operators can only ensure they are holding the correct documentation to ensure the crossing is as efficient as possible, while those organizations waiting on the delivery of perishable goods from their international suppliers will need to consider the risk and financial impacts of a potential delay.
---
[1] https://www.theguardian.com/uk-news/2022/apr/07/customs-it-meltdown-adds-to-long-delays-at-port-of-dover
[2] https://news.sky.com/story/dover-crossing-delays-mean-that-british-hauliers-lose-800-per-lorry-as-products-go-off-12587111
More on
About the author