Two-day holiday declared after Tropical Cyclone cause Oman shutdown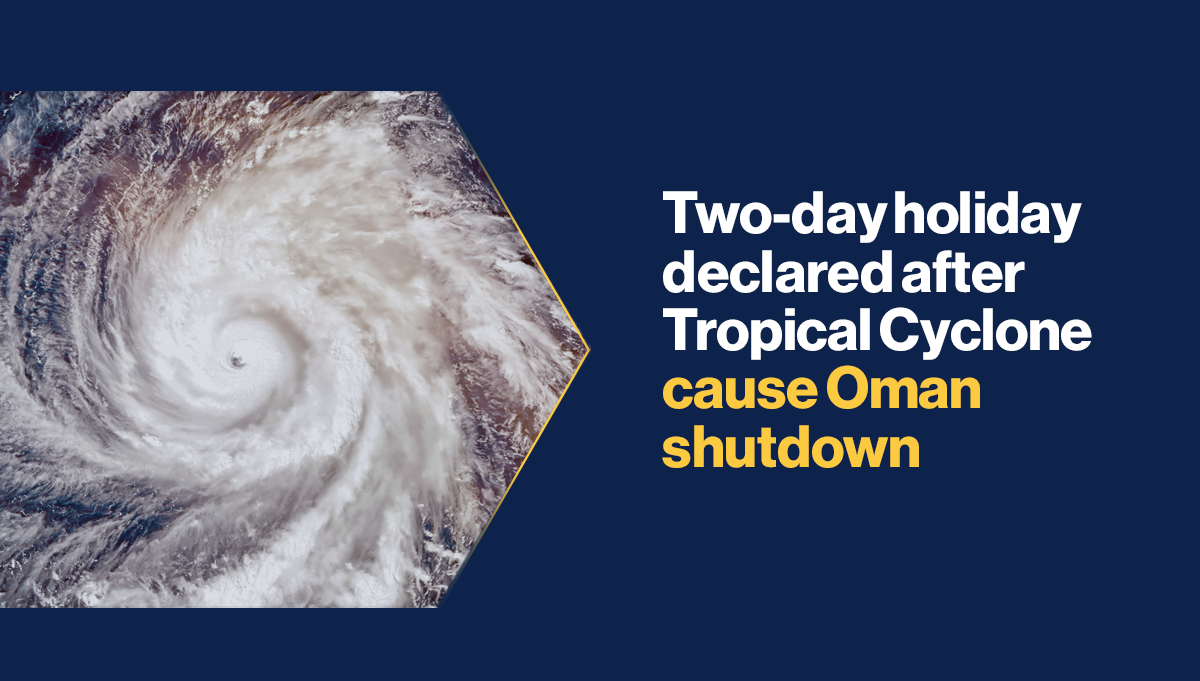 Announcements for a two-day holiday following Tropical Cyclone Shaheen which caused major disruption for businesses, transport and supermarkets
Due to adverse climate conditions, Oman have announced a two-day holiday for employees of the departments of the state administrative apparatus, other legal entities, and private sector establishments on Sunday 3rd and Monday 4th of October. After the devastation of Tropical Cyclone Shaheen on Sunday, the two-day holiday has been announced to ensure the safety of public and private employees.
Tropical Cyclone Shaheen made major landfall in Oman on Sunday after heavy rains flooding the streets prompted the need for mass evacuations from coastal areas. Omani authorities reporting wind speeds of up to 120km/h and 150km/h, and waves expected to rise to 3 to 5 meters in the sea of Oman. The cyclone has reportedly taken the lives of four civilians and rescue operations are underway. Today, up to 5,000 people are in emergency shelters and at least 80 shelters have been setup across various governorates for people who have been affected.
National transportation such as buses and ferry services has been suspended across all governorates from the 3rd October. Many roads around the capital are only open to vehicles on emergency humanitarian journeys as the storm continues to submerge vehicles in some areas. This has caused a disruption and traffic as of this morning (4th October) are being diverted to alternative routes.
Flights have been suspended and delayed coming in and out of the capital, Muscat. Major flights from the UAE to Oman have been delayed.
Oman announced a shutdown of public and private sectors from October 3rd to 4th as they brace for the worst of the cyclone. Private sector employees in al-Ain which is on the border of Oman were urged to work remotely this week and authorities told residents to only leave their homes for emergencies. Residents responded by flooding to the local supermarkets and Hypermarkets in mega shopping centers to stock up on essential foods such as milk, bread, and eggs. Gulf News reported supermarkets 'filled to the brim' threatening the risk of potential shortages.
Electricity has been cut off in Wilayas of Barka, Musannah and Suwaiq. The National Committee for Emergency Management said in a statement to the Times of Oman: " "The electricity service was interrupted in the wilayat's of Barka and Al Musannah in the South Al Batinah Governorate and the Wilayat of Suwaiq in the North Al Batinah Governorate."
The UAE and Saudi Arabia are also on high alert after the hit in Oman. Throughout the week, several regions are expected to be hit by high winds and flooding the Abu Dhabi Government Media office reported. The National Emergency Committee said the power supply would be shut just east of the capital in al-Qurm 'to avoid accidents'.
More on
About the author

Journalist
Lisa Hanley is an In - house Journalist working for The BCI. With a Masters degree in Televison Journalism from City, University of London, Lisa has previously worked as a Freelance Producer and Journalist for London Live, PA Media and Thomson Reuters Foundation. Her experience varies from producing documentaries, films and podcasts, to producing news packages for television and voiceovers for radio.