UK Military deployed to support with fuel supply shortage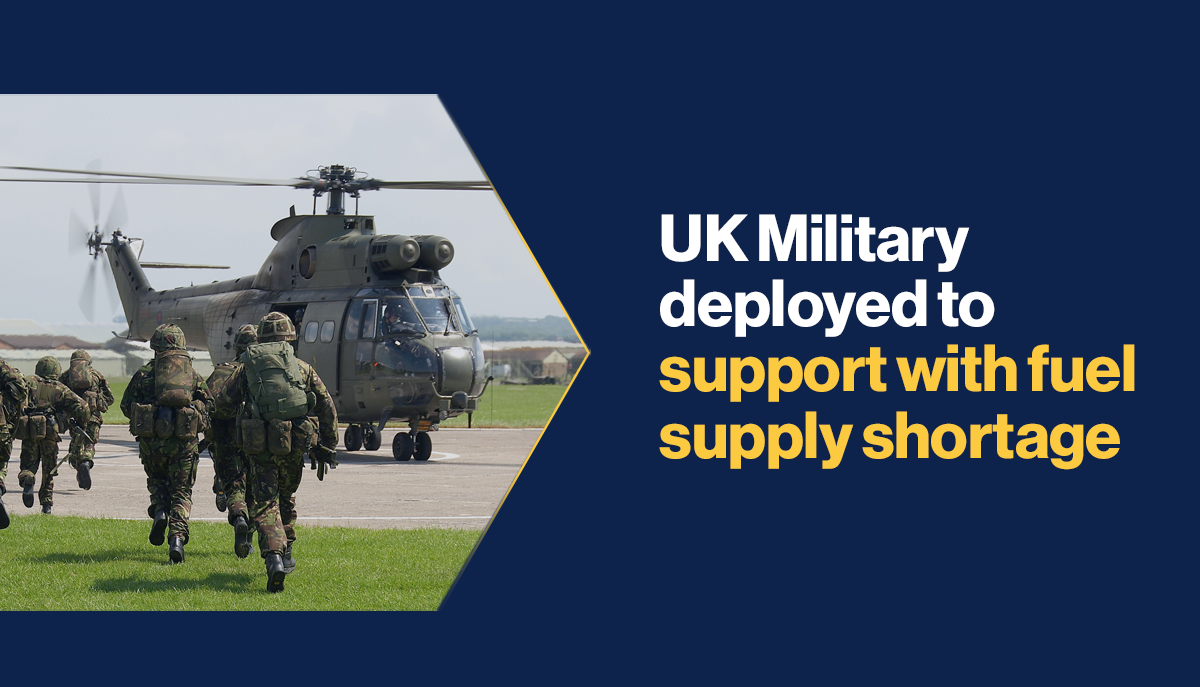 Almost 200 military tanker personnel have been deployed across the country to deliver fuel this week to relieve the supply chain pressures
As the fuel shortage persists around London and South East England, the British government have deployed up to 200 military tanker drivers to deliver fuel to gas stations across the country. After a chaotic past few weeks which saw the panic buying of petrol and diesel across the UK leaving 22% of petrol stations in London and the South East without fuel.
Executive director of the Petrol Retailers Association, Gordon Balmer said the shortages were still ongoing in the South due to the higher population and lower number of fuel stations per driver. He went on to say it could take a further 10 days for fuel stations to restock even with the military help.
The fuel shortage was reported to have been caused by a number of reasons, one of the main being the severe truck driver shortages - especially those who could transport heavy goods. The military have been undergoing training over the weekend in hauler sites across the country to be deployed this week to areas severely affected.
Other contributing factors to the shortage have been reports of Brexit, an ageing workforce, low wages, poor working conditions and more recently, a shortage of examiners for drivers waiting to take their tests.
The deployment is a temporary solution as the lookout for drivers to fill critical vacancies is still ongoing. Temporary visas have been issued for up to 300 overseas fuel drivers and 4,700 visas intended for foreign food haulage drivers will be extended by two months lasting until the end of February next year. The ongoing pressure of driver shortages are not only an issue for the fuel industry, but for the food haulage industry too.
The UK government has said the pressures have come as a result of the pandemic and the global economy 'rebounding around the world', but the UK Prime Minister believes UK supply chains are still "very resilient" in light of the ongoing disruptions.
Business Secretary, Kwasi Kwarteng, said: "We are seeing continued signs the situation at the pumps is slowly improving. UK forecourt stock levels are trending up, deliveries of fuel to forecourts are above normal levels and fuel demand is stabilizing"
He went on to suggest that employers should be making long term investments in the UK domestic workforce instead of relying on overseas labor and temporary visas, as this will not be a long term solution to sustaining the industry.
Already due to the shortage and lack of qualified drivers, HGV drivers salaries have seen a rise of up to £850 a week in some companies for class 1 drivers - with some of the lowest fares being £11.50 an hour, still above the average minimum wage.
What stands between domestic applicants and higher salaries is experience and training qualifications which according to the Road Haul Association, is further contributing to the shortage. On their website they write: "We're calling for government to make training to be an HGV driver more accessible and more affordable, as we tackle the UK's shortage of over 100,000 truck drivers."
More on
About the author

Journalist
Lisa Hanley is an In - house Journalist working for The BCI. With a Masters degree in Televison Journalism from City, University of London, Lisa has previously worked as a Freelance Producer and Journalist for London Live, PA Media and Thomson Reuters Foundation. Her experience varies from producing documentaries, films and podcasts, to producing news packages for television and voiceovers for radio.