Venyu supported Louisiana companies in their Hurricane Disaster recovery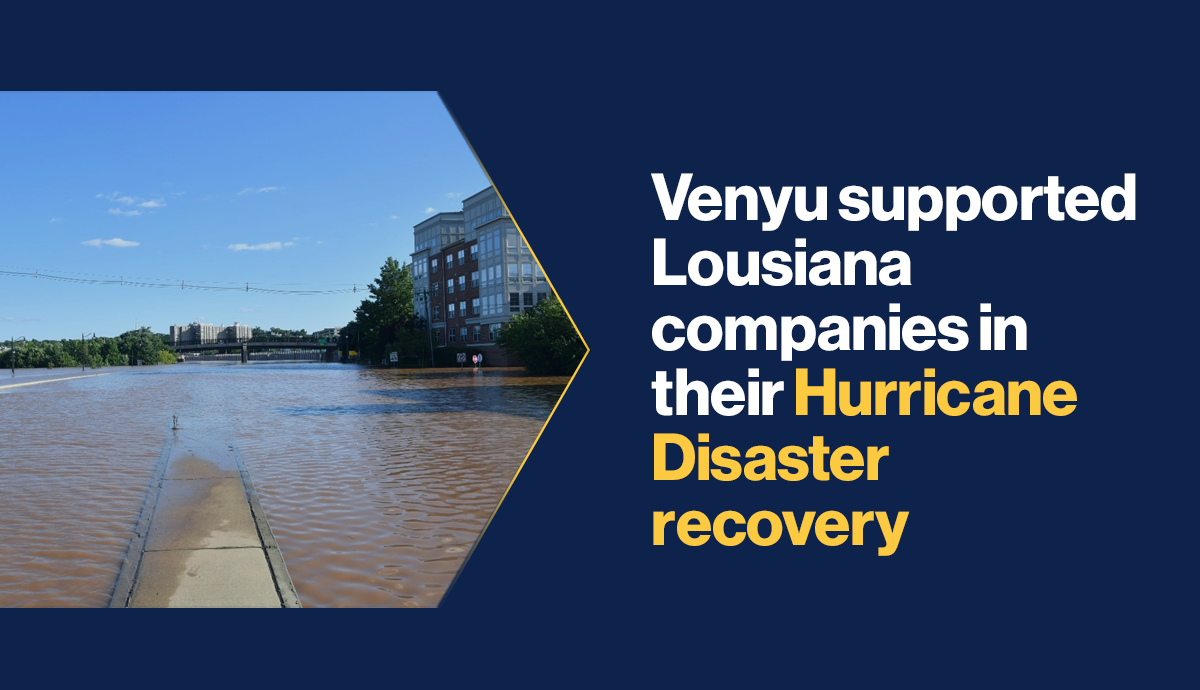 After the unexpected impact of Hurricane Ida, Venyu opens up their Business Continuity Centre for businesses and staff recovering after the crisis
Hurricane Ida, labelled as a Category 4 hurricane on August 29th, made landfall in Louisiana cutting access to power and fuel. Today, PowerOutage.US has documented that up to half a million people in the area are still without power.
Authorities are pressing ahead to restore power with some residents having to face the reality of living without electricity for weeks ahead. Utility Company Entergy Louisiana told The Associated Press that some areas may have to wait until the 29th September for the power to be restored.
Entergy, who provides the electric services to over one million customers around the state, reported that the storm damaged 208 power transmission lines, 216 substations, 550 transformers and 2, 438 poles. Over 1, 800 miles of transmission lines remained out of service as the hurricane caused transmission towers to collapse. Entergy Louisiana president and CEO, Phillip May said, "At 150 mph, Hurricane Ida's winds were incredibly devastating".
In the City of Houma, Louisiana, many of the residents are living in a city of darkness as electricity is down and small business owners not only face the damage of their businesses but also their homes. For such a large scale a disaster, Business Continuity Manager for Bloomberg, Kevin Larson highlights the importance of staff safety and preparedness during an environmental crisis, he said, "Companies need to know despite the distance of the hurricane, it may hit them. Therefore, they need to plan like the crisis can hit at any time. Preparing people as if this is going to be a significant event is also helpful in creating awareness of the impact it could have, you get to answer the questions on whether your company can handle the impact, the additional workload, or even whether you need to leverage third party vendors and make sure they are ready."
He went on to say that personal preparedness in this type of disaster is also key for staff, "The first thing people think about isn't business operations, it's their families, friends, parents."
Up to 718,559 homes and businesses had no power by midday last Saturday said Louisiana Gov. John Bel Edwards. This could have an effect on staff who now have to consider external worries of their livelihoods and destruction of their homes, which will of course impact operations.
However, Commercial data centers, Venyu and EdgeConneX, remained online throughout the crisis according to company executives. The data centers relied on backup generators which allowed their them to continue operating in business continuity centers during the hurricane.
"We started running on generators Sunday evening, and have been on them for more than 48 hours," said Noah Boudreaux, General Manager of Venyu. As for fuel shortages, the company has a fuel provider on site and has seen a rise in other businesses reaching out to use their services and business continuity center which holds 93 workspaces, specifically to keep businesses operational during a disaster. This also rings true for EdgeConneX, whose operations were able to continue whilst the facility remained unscathed.
Venyu said it is ready to assist Louisiana companies with their recovery efforts and they say they expect to see many companies migrating their operations in the coming weeks.
Their business continuity centers also allow staff to put the safety of their families first, as many made sure their families were relocated prior to the event. Boudreaux said, "Our folks usually make sure that their families are relocated prior to any event. We have to make sure they're in good shape, so they can feel comfortable about being able to focus on work. We have to deal with this a lot. We see a lot of these natural events, and it gives us experience that only a few data centers have. We've learned to be as agile as possible".
More on
About the author

Journalist
Lisa Hanley is an In - house Journalist working for The BCI. With a Masters degree in Televison Journalism from City, University of London, Lisa has previously worked as a Freelance Producer and Journalist for London Live, PA Media and Thomson Reuters Foundation. Her experience varies from producing documentaries, films and podcasts, to producing news packages for television and voiceovers for radio.